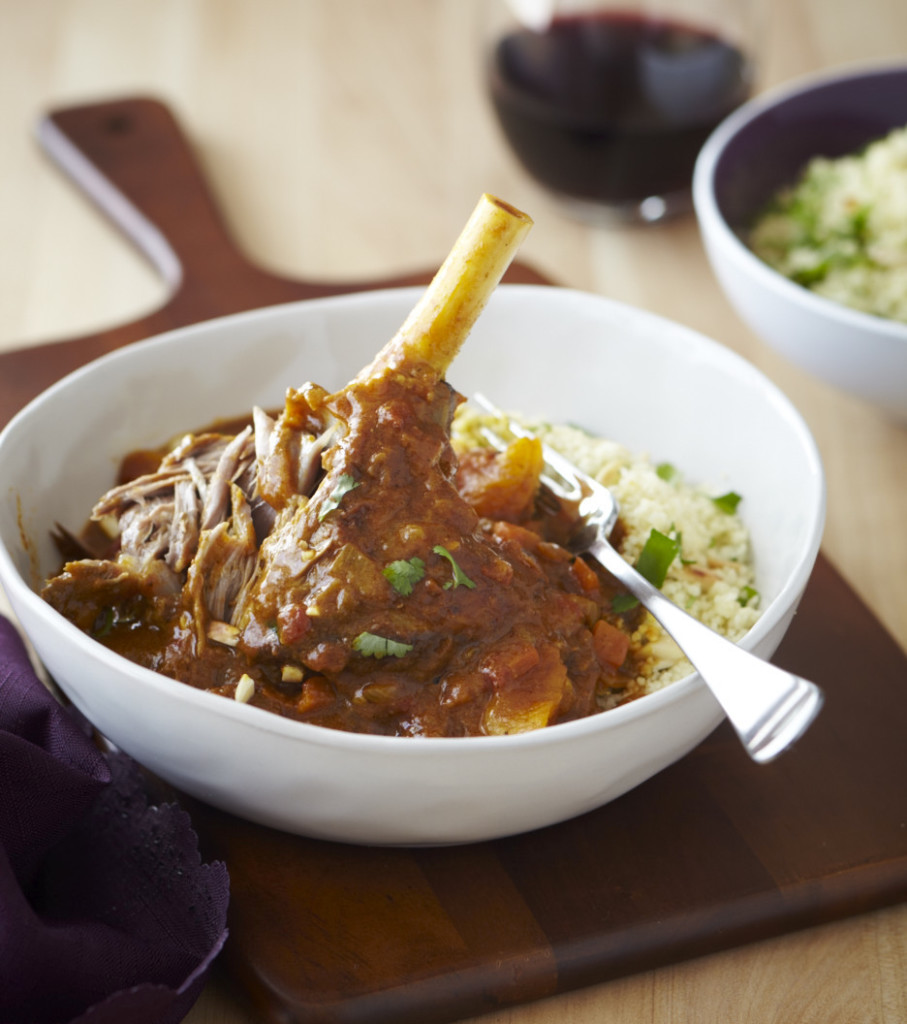 Lamb shanks are a beloved Kiwi classic, and it's not hard to see why. Although the shank is one of the least tender parts of the lamb (meaning it has excellent flavour), when it's slow cooked, it falls off the bone. I've put a Moroccan twist on this recipe – the lovely hum of all those delicious aromatic spices will warm you up on even the chilliest of evenings. This can also be made in a slow cooker on high for 3-4 hours, low for 6-8 hours.
Serves 4-6
Prep time – 25 minutes
Cooking time – 3.5 – 4 hours
Ingredients
4 lamb shanks
2 onions, chopped
5 cloves garlic, crushed
1 tablespoon fresh ginger, finely grated
1 tablespoon each ground coriander, turmeric and cumin
1 teaspoon each white pepper and mixed spice
2 cups lamb stock (or use half chicken half beef)
1/2 cup tomato paste
1 x 400g can chopped tomatoes
3/4 cup unsweetened yoghurt
1 carrot, finely chopped or grated
Zest of 1 lemon
1 cup dried apricots
Couscous
1 1/2 cups couscous
1/2 cup flaked almonds
1/2 cup fresh coriander or parsley, roughly chopped
Method
Bring lamb out of the fridge an hour before cooking.
Preheat oven to 140c conventional bake.
Cut through the tendon that connects the meat to the bone at the bottom of the shank – this will allow the meat to bunch up nicely. Brush the shanks with oil and season.
Heat a little oil in a large frying pan over a high heat. Sear the shanks, two at a time, to brown all over. Set aside in a large casserole dish with a lid.
Reduce the heat to medium, add a little more oil to the pan along with the onion and cook, stirring for 5 minutes to soften. Add the garlic, ginger, spices and pepper and cook for another 2 minutes. Continue stirring so the spices don't stick and burn. Turn up the heat, add the stock and tomato paste, bring to a rapid simmer and scrape up any bits of caramelised meat stuck to the bottom. Add the tomatoes, yoghurt, carrot, lemon zest and stir. Pour over the shanks, cover and cook in the oven for 3.5 – 4 hours. Add the apricots with 1 hour to go.
Remove from the oven and gently remove the shanks from the sauce (careful as they will be very delicate) and set aside covered in foil. If the sauce needs thickening, transfer to a saucepan, add 1/4 cup water mixed with 2 teaspoons cornflour and simmer for 5-10 minutes until thickened.
Cook according to packet directions. Just before serving, stir through half the almonds and herbs.
Spoon some couscous on serving plates, top with a shank, ladle on sauce and sprinkle with remaining almonds and herbs – and a dash of extra yoghurt if you like.
Tips & tricks
Browning creates the great depth of flavour you get once lamb shanks are cooked.
This recipe can be made in the slow cooker for around 8 hours on low or 6 hours on high. If the sauce isn't thick enough at the end, simmer it rapidly in a saucepan to reduce it.
Add a pinch of chilli or cayenne pepper if you like a little heat.
Beef and lamb are rich in iron, zinc and vitamin B12 helping your immune system fight off winter ails.