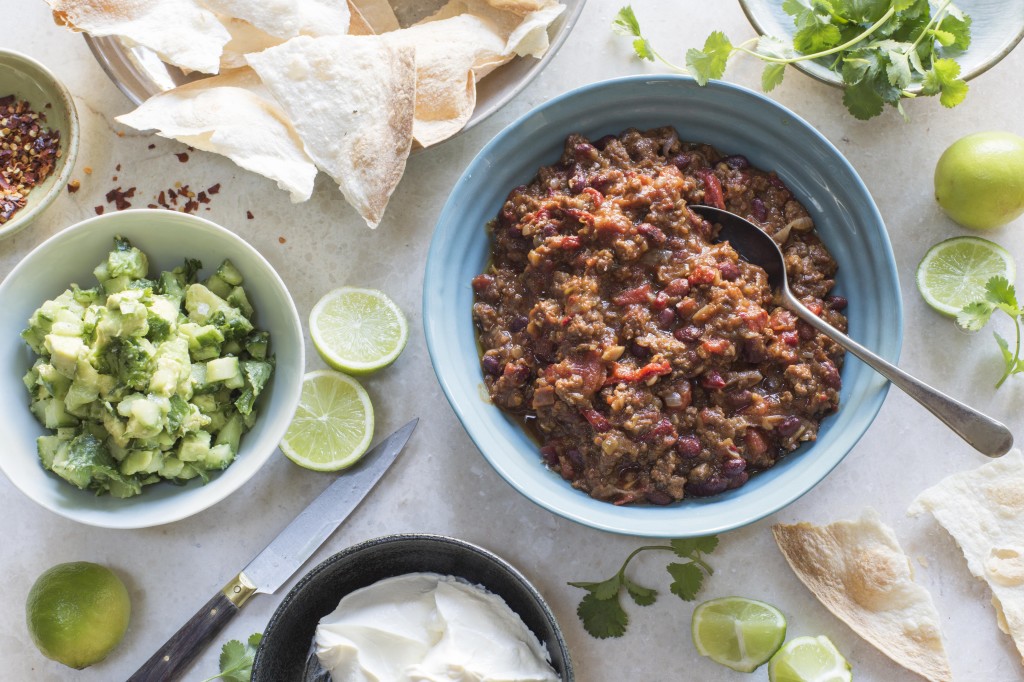 Healthy beef nachos with fresh avocado salsa
Serves: 4-6
Prep time: 15 minutes
Cooking time: 40 minutes
Mike really loves nachos (he's always requesting them for dinner), so I wanted to create a recipe with a healthy twist that was still utterly delicious. After all, real Mexican food isn't meant to be greasy. Here I've used lovely spices, fresh herbs and quality ingredients – and here's the kicker – instead of corn chips I've baked some wraps. They go super light and crispy, and I reckon ten times better than a greasy old chip!
Ingredients
500-600g beef mince
1 large onion, finely chopped
1 large red onion, sliced
5 cloves NZ garlic, crushed
2 tsp mild smoked paprika
2 tsp ground cumin
2 tsp ground coriander
½ tsp chilli powder (or 1 chopped red chilli)
400g can chopped tomatoes in juice
400g can red kidney beans, drained
2 cups beef stock
1 cup roasted and marinated red capsicum, sliced
1/4 cup tomato paste
1 tsp brown sugar or maple syrup
4-5 x white or wholemeal wraps
Salsa
1 large ripe avocado, diced
1 large cucumber, deseeded, diced
½ cup fresh coriander, chopped
Squeeze of lime juice
To serve
Sour cream
Fresh coriander
Grated cheese (optional)
Method
Preheat oven to 180c conventional bake.
Heat a little oil (rice bran or grape seed) in a large frying pan over a high heat. When very hot, fry the mince batches so it's nicely brown, drain off the oil and set the mince aside in a bowl.
Reduce the heat to medium and add 1 tbsp olive oil. Add the onions and garlic and cook, stirring, for about 8 minutes until soft. Add the mince back to the pan along with the paprika, cumin, coriander, chilli, tomatoes, beans, stock, tomato paste, capsicum and sugar. Simmer until reduced to a nice thick sauce (around 30 minutes). Season to taste with salt and pepper.
Brush the wraps lightly with oil, sprinkle with a little salt and place on oven trays. Bake in the oven for about 10 minutes or until just turning golden, turning over once. Break them into big chips. (They might not feel 100% crispy at first but they firm up out of the oven).
To make the salsa, combine the ingredients in a bowl just before serving and season with salt and pepper. Don't be afraid to mush the avocado up a bit.
To serve, have everything on the table and let people help themselves. I use the chips as a spoon, but you can be as classy as you like.
Chelsea's tips
If you like coriander, you can do what I do and finely chop up the stalks and add them to the sauce while simmering. The leaves you can use for serving and for the salsa.
I really like this dish with a tin of drained corn kernels added to the mince.
Feel free to add some chopped spinach or grated courgette to the sauce to get some greens in there.