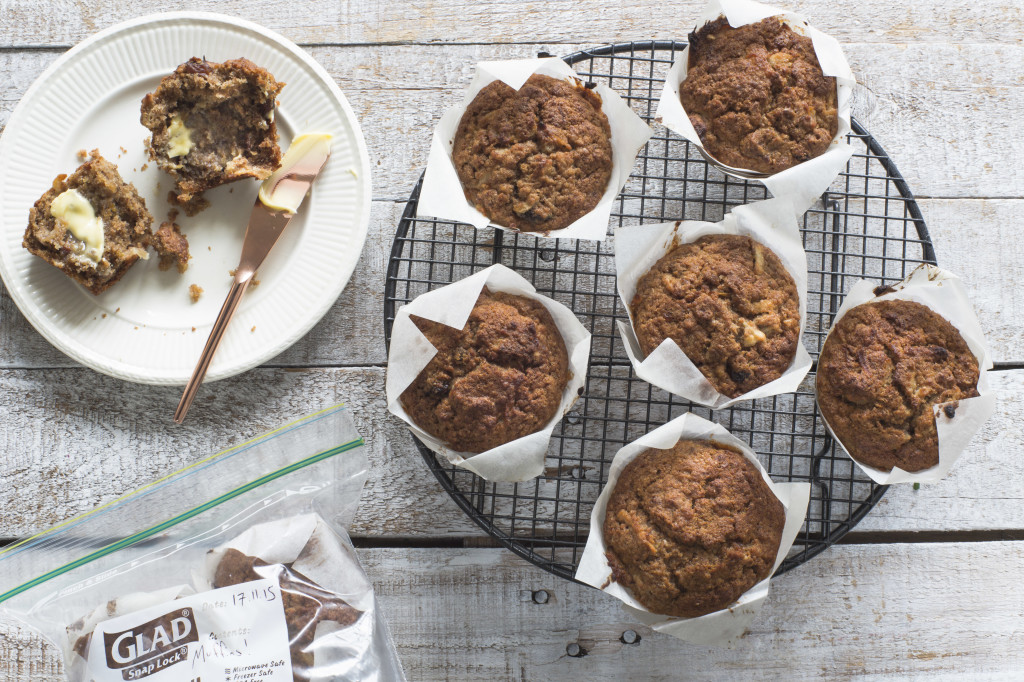 Wholemeal apple, raisin & cinnamon muffins
Homemade lunchbox treats don't need to be a chore! These muffins are quick, easy and absolutely delectable – they make the perfect back-to-school lunchbox filler. The best part is they freeze well, so you can pop them into individual resealable bags, (I use Glad snap lock bags as they are freezer safe, BPA free and microwave safe) then just grab a bag of out the freezer in the morning. The muffin will be defrosted are ready to munch on by morning-tea time, with the added bonus of keeping the rest of the lunch nice and cool on a hot summer's day. Now that's fresh.
If you are using frozen bananas to make these, make sure you bring them back up to room temperature before they go into the mixture, or they can affect the cooking time. Feel free to add the zest of the lemon as well if you think you kids will like it.
Prep time: 30 minutes
Cooking time: 25 minutes
Makes 15 muffins
Ingredients
1 over-ripe banana, mashed or puréed
2 medium apples, peeled and grated
3/4 cup raisins or sultanas
1½ tbsp lemon juice
1/3 cup honey
200g butter, at room temperature, cubed
½ cup brown or coconut sugar
2 large free-range eggs, at room temperature
2 ½ cups wholemeal flour
2½ tsp baking powder
2½ tsp ground cinnamon
1 tsp baking soda
½ cup milk, warmed
Method
Preheat the oven to 190c (180c fan-bake). Line a 12-pan muffin tray with paper cases. The mixture makes about 3 extras.
Add the mashed banana, grated apple, raisins or sultanas and lemon juice to a non-metallic bowl. If the honey is firm, warm slightly to soften then add to the fruit mixture and stir to combine evenly.
Cream the butter and sugar in a large mixing bowl with an electric beater for about 5 minutes (or 10 by hand) until very pale and fluffy. Add the eggs one at a time, beating well after each addition.
Sift the flours (tip the bran left behind in the sieve back into the bowl at the end), baking powder and cinnamon into a bowl and stir with a whisk to combine.
Add the baking soda to the milk and stir with a fork or small whisk to combine.
Add the apple, flour and baking soda mixtures to the creamed butter mixture and fold gently with a spatula until evenly combined.
Spoon into the muffin pans so the mixture is heaped.
Bake in the oven for 25 minutes or until golden brown and risen. Cool for a few minutes in the pan then transfer to a wire rack.
Once cooled, keep in an airtight container for a few days. I like to pop one or two muffins each in a Glad Snap Lock bag, then freeze them for a month or two (these bags have a secure lock, to keep in freshness, seal out air and odours, which prevents the muffins getting freezer burn or taking on unwanted flavours from the freezer).