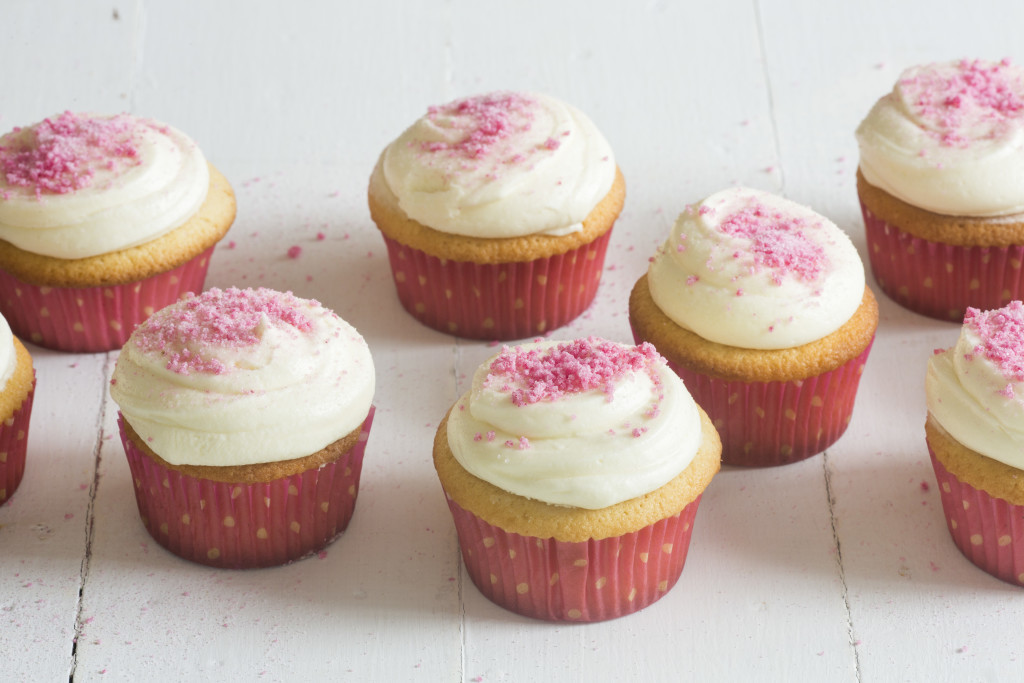 Vanilla cupcakes with white chocolate icing
They may look pretty and delicate – but I can tell you, grown men have been known to moan with delight tasting these cupcakes. They're a winner. I've taken 'icing' to a whole new level and put nearly a whole block of white chocolate in there, for the ultimate in decadence.
Prep time – 30 minutes
Cooking time – 20-40 minutes
Makes 24 cupcakes
Ingredients
Cupcakes
225g butter, at room temperature
2 cups caster sugar
3 free range eggs, at room temperature
3 teaspoons natural vanilla essence (or paste)
2 ½ cups plain flour
1 ½ tsp baking powder
1/2 tsp salt
1 1/4 cups milk
Icing
200ml cream
200g white chocolate, chopped
4 1/2 cups icing sugar
Raspberry jelly crystals, to sprinkle (optional – or use sprinkles)
Method
Cupcakes
Preheat oven to 170c regular bake (160c fan bake). Line 2 x standard 12-pan muffin tins with cupcake liners (you may need to do in two batches).
Sift the flour, baking powder and salt into a medium-sized bowl, stir to combine with a whisk, and set aside.
Cream the butter and sugar with an electric beater (or cake mixer) on a medium speed for about 7 minutes – it needs to turn very pale and fluffy. Scrape the sides clean with a spatula.
Add the eggs, one at a time, beating on a medium speed for 30 seconds between each addition. Scrape down the sides again. Add the vanilla essence and beat for another 15 seconds.
Add 1/3 of the flour mixture, then beat on a low speed for about 10 seconds or so, until just combined and smooth. Add 1/3 of the milk, and do the same. Repeat these two steps until all the flour mixture and milk is used up – remembering to scrape down the sides again as you go. At the end, the mixture should be nice and smooth.
Spoon the batter into the cupcake liners ¾ full, and bake in middle of the oven for about 18 – 20 minutes – or until they only just turn golden on top.  Cool the cupcakes in the tins for 10 minutes, then remove and cool completely on a wire rack before icing.
Icing
You can either melt the white chocolate and cream in a large heatproof bowl over a pot of simmering water, or add to a large glass or ceramic bowl and microwave on high for 1 minute 20 seconds. Stir with a wooden spoon until smooth.
Refrigerate for about 30 minutes. Sift in the icing sugar and beat on a medium speed for a minute until thick and creamy. Pipe or spread the icing on to cupcakes, and sprinkle with the jelly crystals.
NOTE ABOUT ICING: If the icing seems too thick, you can thin it down by beating in more cream, a tbsp at a time until it's right. If it's too thin, you can add more icing sugar.