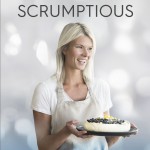 Tarted up berries
I'm sharing this awesome recipe from the Christmas section of my new book, Scrumptious! The recipes in there will have you totally sorted for Christmas day – you could start with the cured Celebration Salmon, then tuck into Three French Hens (roasted stuffed Christmas chickens) with Duck Fat Potatoes and one of the many salad options. Then finish it off with this tart – and the Toffee Nut Crunch and Truffles for afters with coffee! It's all so easy to make, most of it in advance, too. All the ingredients are seasonal for NZ and you can get them locally from the supermarket. Scrumptious is available everywhere books are sold.
This tarted up berry dessert looks a million buckaroos, but it's dead simple and you can prepare the pastry and creamy topping in advance. Use a good quality Greek yoghurt – even one that's slightly sweetened with fruit already added would be nice. If you're serving a crowd, it's easy to make two pastries and double the topping – the pastry keeps for a day or so.
NOTE – In hindsight,  I really don't think I used enough berries in this photo. Make sure you pile yours on, please!
Serves 6
Prep time 20 minutes
Cooking time 30 minutes
Ingredients
4 punnets fresh berries – strawberries, raspberries, blueberries, boysenberries, blackberries etc.
400g block flaky puff pastry (or two pre-rolled sheets)
1 free range egg, lightly beaten with 1 tbsp milk
1 ¼ cups thick Greek yoghurt (or try coconut yoghurt)
1 ¼ cups chilled cream, whipped to soft peaks
Zest of 1 lemon
¼ cup icing sugar, sifted
1 tsp vanilla paste or essence
Method
Preheat the oven to 190c fan bake and line a baking tray with baking paper.
Roll out the pastry to 3-4mm thick. Carefully transfer to the baking tray. If you are using two pieces, moisten the edges with water and press together to seal. Moisten the outer edges with water then fold about 1cm of the the edge over on itself, and press lightly to seal. Using your fingertips, squish deep indents all the way around. Brush with the beaten egg and let sit a minute.
Using a small sharp knife, cut a line just inside of the folded edge that goes almost the whole way through the pastry to the bottom. Use a fork to prick the centre area of the pastry about 30-40 times (this helps it stop puffing up in the oven).
Bake in the oven for about 25-30 minutes. Depending on the thickness of your pastry and your oven, this time may vary – the pre-rolled pastry may take less time. Keep an eye on it – you want it a lovely dark golden brown and crispy (as a rule, we kiwis tend to undercook our pastry; don't be afraid to let it go deep golden brown). If it's undercooked, it will go gluggy.
If it's puffed up like crazy in the oven, don't panic. When you remove it, cover with a couple of clean tea towels and gently press it down with a rolling pin or similar – be careful, as the air that comes shooting out will be scalding hot.
When the pastry is completely cool, you can wrap up very airtightly (is that a word?) with clingfilm and keep for a day until you need it.
When ready to serve, slice the large berries into quarters. Add the yoghurt, whipped cream to a bowl along with the icing sugar, vanilla and lemon and fold until evenly combined. Spread out on the cooled pastry and pile with berries. Finish with a generous dusting of icing sugar.