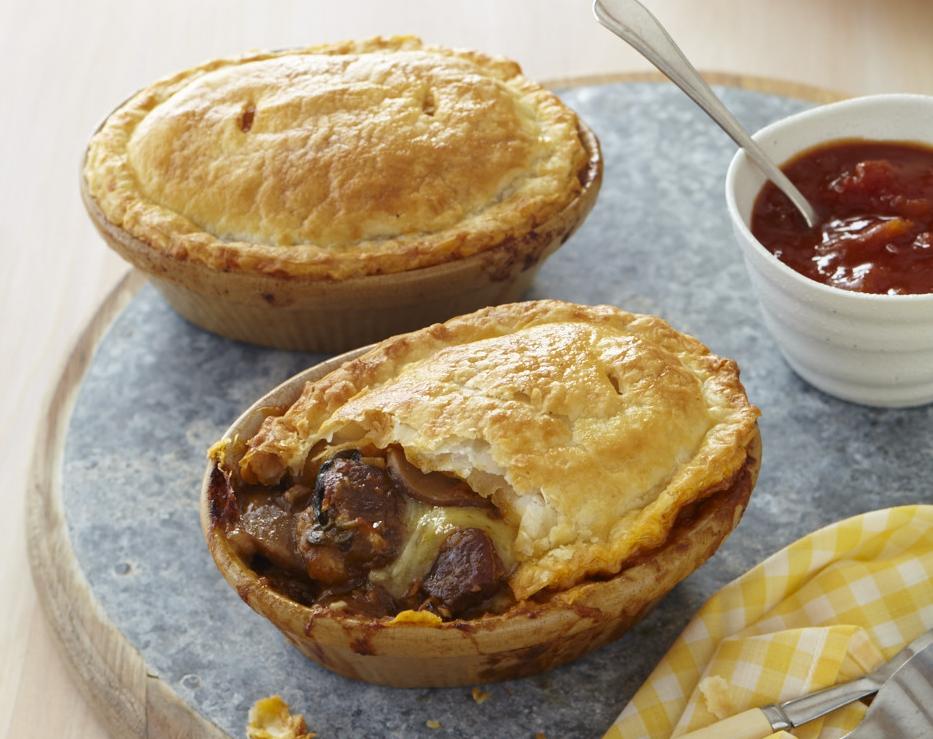 Is there anything more delicious and satisfying than a tasty homemade pie with rich, meltingly tender beef and crispy puff pastry? I just love them. The cooking time may seem a little long, but after 15 minutes you walk away and let the oven (or slow cooker) do the rest of the work. The filling keeps for a week in the fridge, so you can make it in advance then all you need to do it put it in a pie dish, pop pastry on the top and you have a fabulous meal in under an hour! For a healthier option, add fluffy mashed potato on top instead of pastry.
Ingredients
Steak filling
600g Quality Mark stewing steak or gravy beef, cut into bite sized chunks
Sea salt and freshly ground pepper
3 tablespoons plain flour
Extra virgin olive oil, for frying
1 onion, finely chopped
4 cloves garlic, finely chopped
2 tablespoons tomato paste
500ml  beef stock (I prefer the stock in pouches from the meat/fridge section of the supermarket)
250g button mushrooms, chopped
2 teaspoons brown sugar
1 ½ cups grated carrot
1 celery stick, including leaves
2 tablespoon chopped  fresh  thyme
1 bay leaf
1 teaspoon paprika
To assemble
Sliced cheddar cheese
1-2 sheets frozen flaky puff pastry
1 egg, lightly beaten with ¼ cup milk
Method
Preheat oven to 150C.
Season the beef and shake in a bag with the flour to coat. Heat 1 tablespoon  of olive oil over a high heat in a large deep ovenproof pan. Brown the beef in batches, transfer to a plate and set aside.  You may need to add a little more oil for each batch. Add another tablespoon of olive oil to the pan over medium heat and add the onion and garlic. Cook for 4-5 minutes to soften. Turn up the heat; add tomato paste and cook, stirring, for another few minutes. Add the stock, mushrooms, sugar, carrot, celery, thyme, bay leaf, paprika and the seared beef. Mix gently to combine.
Cover the pan tightly with foil or a lid (or transfer to an ovenproof casserole dish if your pan isn't ovenproof) and cook in the oven for 2 ½-3 hours (or transfer to a slow cooker and cook on low for 6-8 hours). Taste and season with salt and pepper if needed.  Leave the mixture to cool slightly then remove the celery stick.
Increase the oven to 190C.
Fill 4-6 ramekins (or one large pie dish lined with pastry) with the beef filling, then place a couple of cheese slices on top of each. Top with a circle of pastry, seal and crimp the edges. Brush the top of the pies with the egg wash and prick a couple of steam holes in the pastry.  Bake for about 20 minutes or until the pastry is cooked and golden brown.  Cool for 5-10 minutes before serving as they will be very hot. Serve the pies with tomato relish/tomato sauce and a fresh seasonal green salad.