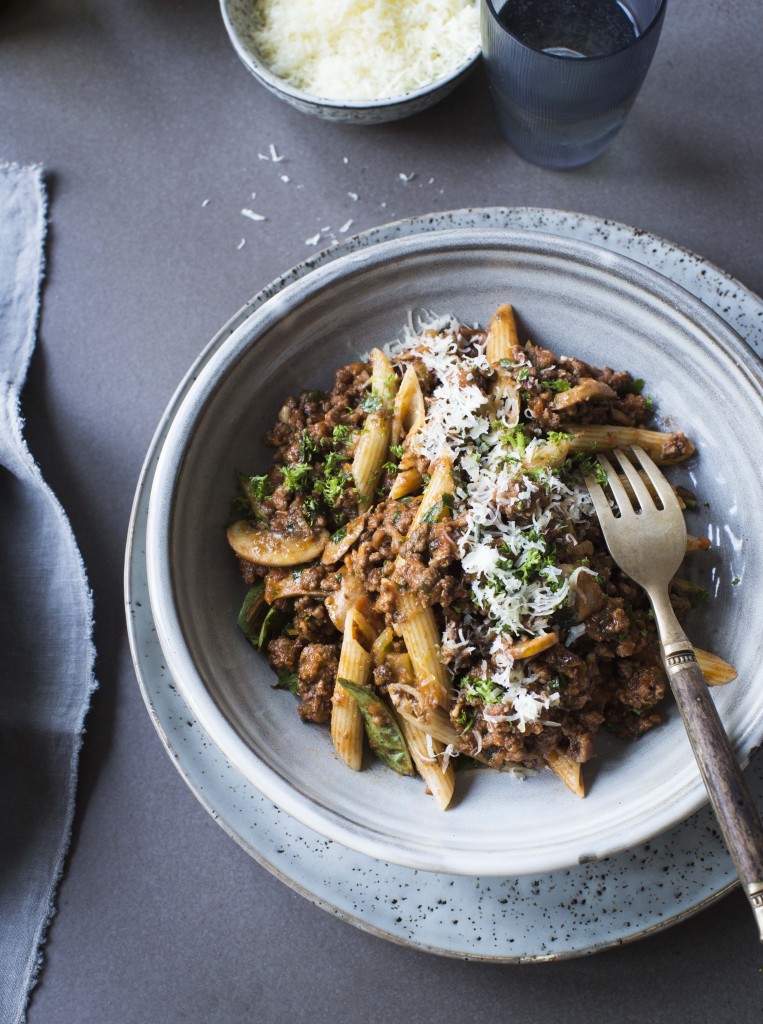 This is one of my most popular recipes – a favourite from Everyday Delicious (this is the improved version of the one previously on my website). A long, slow simmering makes for a rich, flavoursome, Italian-Mama-approved Spaghetti Bolognese; it should not be rushed. It will seem as if there is a great deal of liquid at first, but just keep simmering the sauce until it's lovely and thick. I actually went to Bologna in Italy recently (the birthplace of the bolognese ragu sauce) and it's a very simple dish over there. I've loaded this one with ingredients to make it a healthier, tastier more balanced version. I've used penne instead of spaghetti, but use whatever pasta takes your fancy.
Serves 4–6
Prep time: 20 minutes
Cooking time: 1 hour
Ingredients
800g beef mince
Olive oil for cooking
4 rashers bacon, chopped
1 large onion, chopped
2 stalks celery, finely chopped
1 large carrot, grated
5 cloves garlic, crushed
250g mushrooms, thinly sliced
½ cup (about 140g) tomato paste
¼ cup chopped fresh herbs (rosemary, sage, thyme)
1 tbsp dried oregano
1½ cups red wine
1 x 400g can chopped tomatoes in juice
2–3 cups reduced-salt beef stock
3 anchovy fillets, finely chopped
1 tbsp brown sugar
½ cup freshly grated Parmesan, plus extra for serving
handful fresh basil leaves
½ cup chopped fresh parsley leaves
salt and freshly cracked black pepper to taste
cooked pasta to serve
Method
Take the mince out of the fridge 30 minutes before cooking.
Heat your largest frying pan over a high heat. When the pan is very hot, add a splash of oil and half the mince. Quickly break it up with a wooden spoon, then let it sizzle without stirring until the underside is nicely browned. Give it a stir, brown the other side, then transfer to a bowl. Repeat with the remaining mince.
Wipe out the pan, place over a medium-low heat and cook the bacon until crispy. Set aside.
Add 2 tablespoons olive oil, the onion, celery, carrot and garlic to the pan. Cook, stirring often, for 10 minutes, until the vegetables are very soft. Add the mushrooms to the pan and cook for another 5 minutes to soften. Add the tomato paste and herbs, turn the heat up and cook for another few minutes, stirring.
Add the red wine and bring to a rapid simmer – let it bubble for about 30 seconds – then add the meat back into the pan along with the chopped tomatoes, stock, anchovies and sugar. Stir well and simmer over a medium heat, uncovered, for about 30 minutes to an hour, stirring every now and then (you can add more stock or tomatoes if it looks too dry). When it has reduced to a lovely thick sauce, stir through the Parmesan, basil and parsley. Taste and season with salt and pepper as needed.
Toss the sauce though cooked pasta and serve with extra Parmesan and extra fresh herbs.
Chelsea's Tips
This is gluten-free if you serve it with gluten-free pasta, rice or quinoa.
The meat sauce is perfect to freeze and reheat for a quick weeknight meal.
If you don't like mushrooms, try adding 3 grated courgettes instead.
If you can find dried porcini powder, add 1 teaspoon for maximum flavour