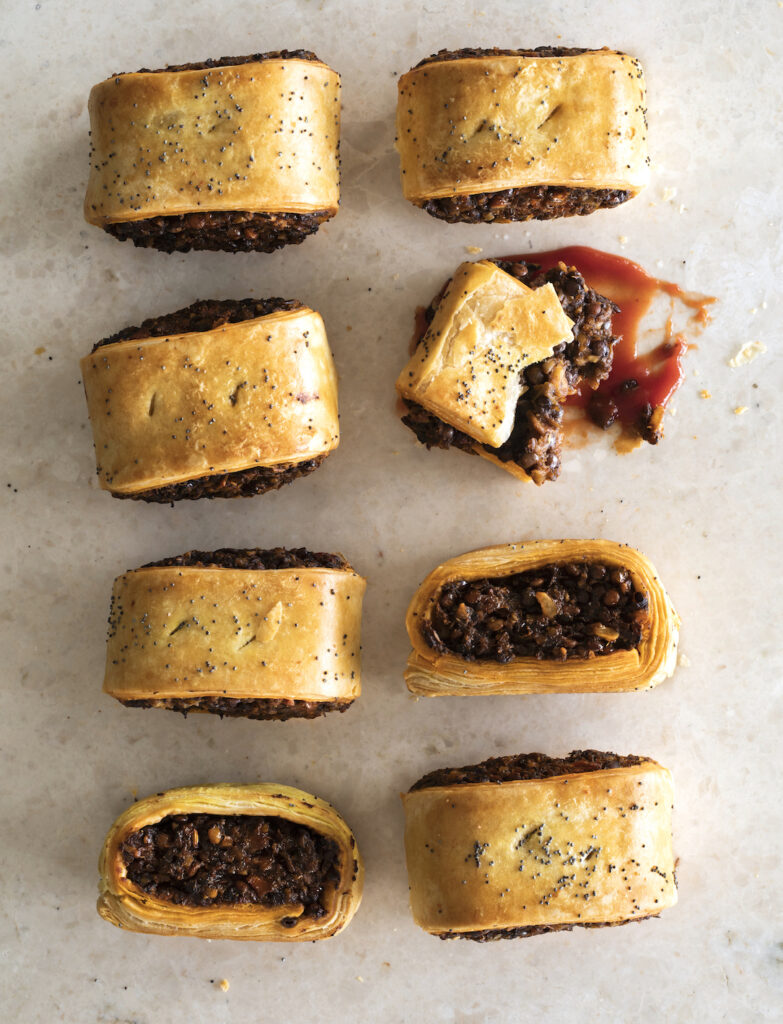 Snausage Rolls
Prep 30 minutes, plus 20 minutes to chill
Cook 45 minutes
Serves 4 as a meal, 8 as a snack
Sausage rolls will always be über-cool, no matter what anyone says. They're always the first to be nabbed at a morning tea, classily dressed-up with a generous splurt of store bought tomato sauce. . . crispy, juicy little taste bombs. No animals were harmed in the making of these beauties, but I have to say I massacred a few plants. But happily, the result is utterly delish. You can either make little mini rolls for a party or finger-food, or serve them larger like this as part of a meal with potatoes and salad or veges. Not a sausage, a snausage!
Ingredients
FILLING
1/3 cup each brown lentils and French green lentils (or 2/3 cup brown lentils), rinsed
3 cups vegetable or chicken-style stock (or use stock powder and water)
1 large onion, roughly chopped
2 stalks celery, rough chopped
1 large carrot, peeled and roughly chopped
200g Portobello or shiitake mushrooms (or a mixture)
4 cloves garlic, crushed
3 tbsp extra virgin olive oil
3 tbsp tomato paste
1/2 cup walnuts, whizzed to a crumb
2 tsp vegetable or chicken-style stock powder
1/2 tsp fennel seeds
1/2 tsp cumin seeds
2 tsp soy sauce or tamari
1 tsp paprika
1/2 tsp curry powder
1/2 tsp finely ground black pepper
1/4 cup plain flour
TO ASSEMBLE
350g rolled dairy-free flaky puff pastry
1/4 cup canned chickpea liquid (aquafaba)
1 tbsp sesame or poppy seeds
TO MAKE IT GLUTEN-FREE
Use GF flour, pastry, stock and soy sauce
To Make
To make the filling, simmer the lentils in the stock until just tender – about 25 minutes. Drain and set aside.
Place the onion, celery, carrot, mushrooms and garlic in a food processor and pulse until chopped quite finely but not mushy.
Heat the oil in a frying pan over a medium heat. Add the chopped veges and cook, stirring, for 15-20 minutes, until they have reduced right down to a soft golden mush.
Add the drained lentils and remaining filling ingredients except the flour, and stir to combine. Cook for another 5 minutes or so over a medium heat. If it seems a little dry, add more tomato paste and a little water and cook a bit more.
Add the flour and stir through. Remove from the heat and leave to cool down to room temperature (or put in a bowl in the fridge to speed it up).
Line a large baking tray with baking paper.
To assemble, lay the pastry sheet/s out on a clean floured benchtop (or roll you own to about 5mm thick). Arrange the cooled filling in a neat log (about 6cm wide) lengthways down the middle. Fold up both sides of the pastry snugly (you might have a big overlap, but that's okay – pastry is yum). Brush a little water on both parts where the pastry joins. Place seam-side down on the lined baking tray and refrigerate for 20 minutes or so to firm up.
Preheat the oven to 180 degrees celsius fan-bake (190 regular bake).
Slice the chilled log into hearty chunks using a bread knife and a light sawing motion. Brush the rolls all over with the aquafaba and prick the tops a couple of times with a knife. Sprinkle with sesame or poppy seeds.
Bake in the lower half of the oven for around 45 minutes, or until the pastry is dark golden brown and puffy. Serve with a dollop of tomato sauce, relish or chutney.