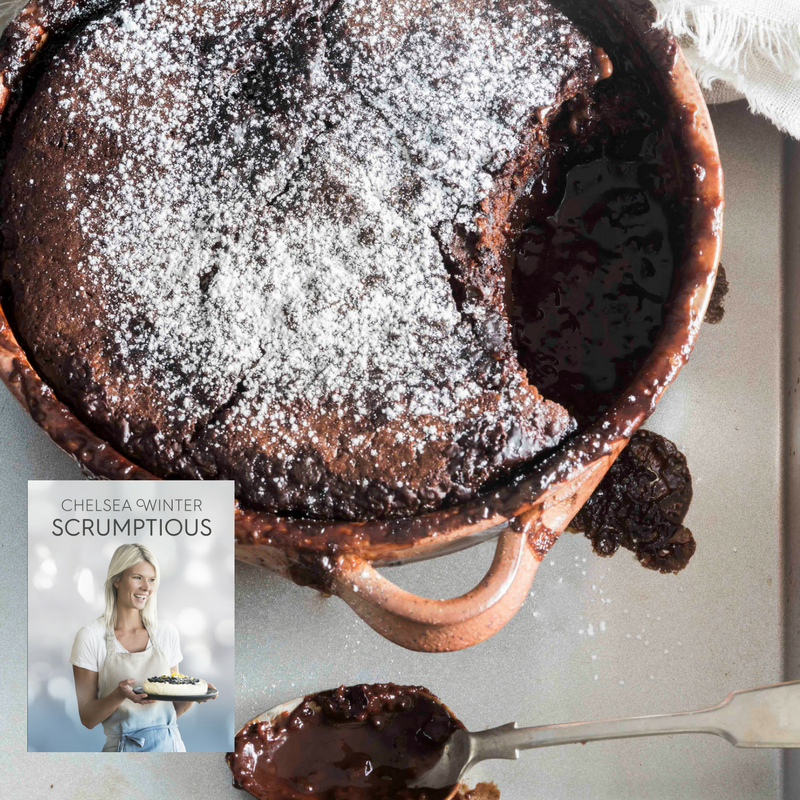 Saucy chocolate pudding
This is a glorious pudding, a rather indulgent version of an old classic. I've used a whole block of dark chocolate and a luxurious amount of butter, so you can imagine how delicious it is (and easy, too!). You'll end up with a decadent, spongy putting sitting in a pool of rich chocolate sauce. Serve it with a big scoop of creamy ice cream for the ultimate pudding experience.
NOTES – the recipe in Scrumptious is missing the measure for the cocoa. It is meant to be 1/3 cup. If you don't end up with much sauce, your oven is probably a bit hot for the dish you've used. Try a lower temp (10c lower) next time. I used a ceramic dish which helps keep it saucy.
Prep time – 15 minutes
Cooking time – 45 minutes
Serves – 6-8
Ingredients
250g good-quality dark eating chocolate
200g butter, cubed
3 free-range eggs
2 free-range egg yolks
1/2 cup caster sugar
2 tsp pure vanilla extract or paste
3/4 cup flour
3/4 tsp baking powder
3/4 cup brown sugar
1/3 cup cocoa
3/4 cup just-boiled water
3/4 cup cream, warmed
Method
Preheat the oven to 180c regular bake (or 170c fan bake). Grease a 20-25cm baking or pudding dish with butter.
Melt the chocoalte in a heatproof bowl sitting over a saucepan of simmering water – OR – microwave on high for 90 seconds in a glass or ceramic bowl. Add the butter and stir until smooth, and set aside.
Place the eggs, egg yolks, sugar and vanilla in a medium mixing bowl and beat until thick, creamy and pale – about 2-3 minutes by hand, or 30 seconds using an electric beater on a medium-high speed.
Using a spatula, fold the egg mixture into the chocolate mixture to combine. Sift in the flour and baking powder, and fold again to combine to a smooth batter. Scrape into the baking dish.
Put the brown sugar and cocoa in a heatproof bowl or jug, pour in the hot water and cream, and whisk to combine. Gently pour over top of the pudding mixture. Transfer the dish to the oven and bake for 45 minutes. Dust with icing sugar and serve with vanilla ice cream or whipped cream (or both).