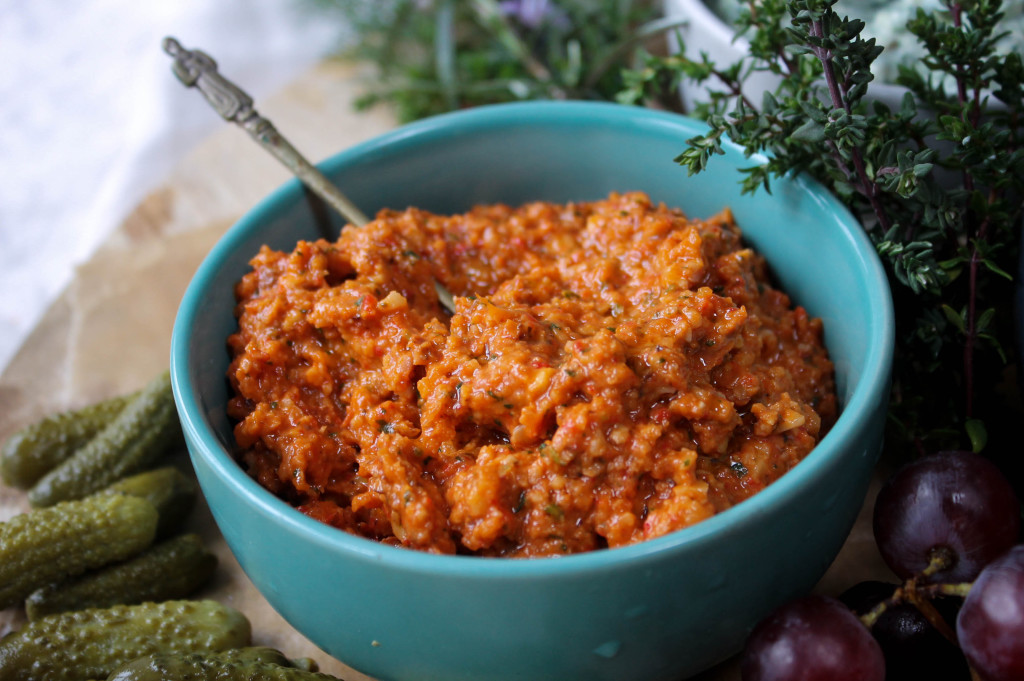 Romesco dip
Romesco is of Spanish origin, and I reckon it could be one of the tastiest little numbers around (perfect on Huntley & Palmers Baked Flatbreads range). Beautiful rich summery flavours of tomato, capsicum, and toasted hazelnuts & almonds. This recipe makes more than you need, which is a good thing as you can use it in so many ways; on a platter as a dip, over steamed potatoes or on grilled meat and seafood. It's even delicious with cheese on toast! Store the remainder covered with a thin layer of olive oil in the fridge for a week or two. It's well worth the effort!
Ingredients
4-5 large, ripe tomatoes (or 1 punnet ripe cherry tomatoes)
1 large red onion, chopped
1 whole bulb fresh NZ garlic
3 tsp brown sugar
100ml extra virgin olive oil
2 thick slices toast bread, torn (course artisan bread like ciabatta is best)
½ cup hazelnuts
½ cup whole almonds
3 marinated red capsicums (red peppers)
1 cup chopped fresh coriander, including stalks
1 tsp red wine vinegar
Pinch chilli flakes
Method
Preheat the oven to 180c. Chop the tomatoes into quarters, discard the white core and seeds. Add to a bowl with the onion, garlic cloves, bread, sugar and olive oil, and toss to combine. Pour it all out on to an oven tray, season with salt and pepper and roast in the oven for 40 minutes. Add the nuts to the tray with 15 minutes to go. Cool to warm.
Add everything to a food processor (squeeze the garlic out of its skin) along with the capsicums, coriander, vinegar and chilli flakes. Pulse to almost course dip. Season to taste with salt and pepper.