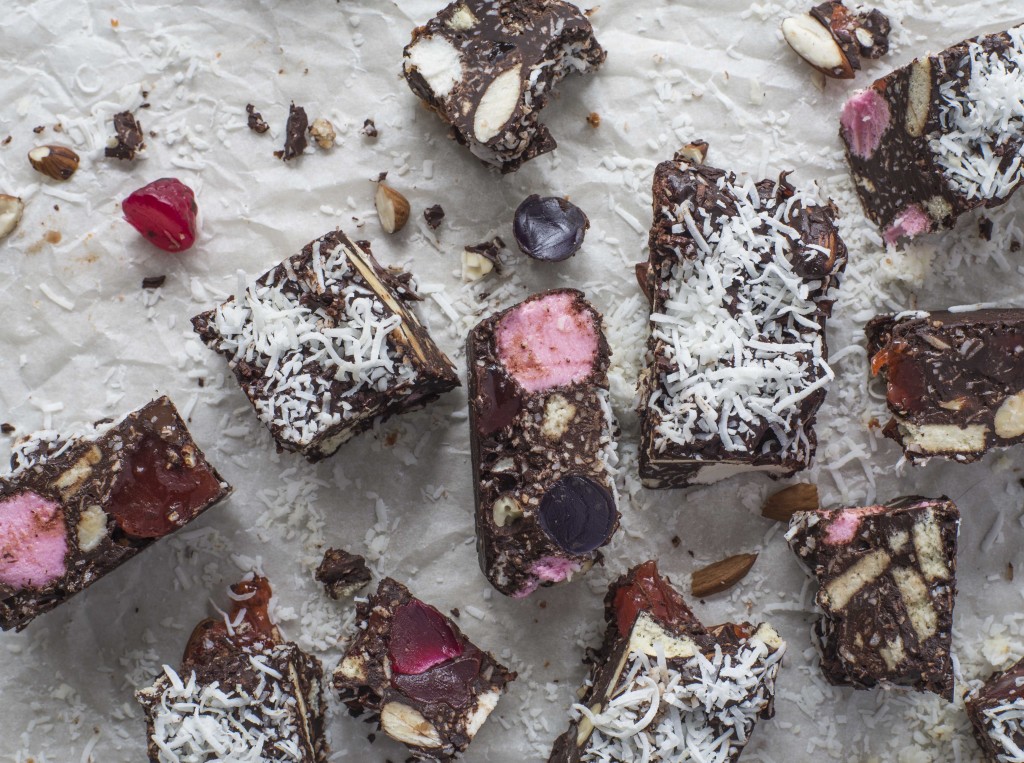 Berry delicious rocky road
Here's another delicious treat from my second book, Everyday Delicious. I've adapted this recipe to make it plant-based – vegan lollies and marshmallow don't contain gelatine. You can adjust the fillings to suit what you like, what you have on hand and what you're allowed to eat – if you can't find plant-based cookies at the supermarket, you can crush up some pretzels. The important thing is to get lots of different textures in there, so that every bite is amazing and exciting. Quick and very easy to make, this treat makes a lovely gift or it's great just to have in the fridge when you need a little taste of sweetness. You can choose the percentage of cocoa you prefer in the chocolate.
Gluten-free – use gluten-free biscuits
Makes 1 regular slice tin
Prep time: 20 minutes plus setting time
Ingredients
500g good-quality dairy-free chocolate (50% cocoa solids +)
1/4 cup coconut oil
7 dairy & egg free biscuits, broken into pieces (or crush up pretzels)
1 cup whole roasted almonds (or other nuts)
½ cup real rose-flavoured Turkish delight, chopped (or use extra of another ingredient)
½ cup soft vegan fruit jellies
¾ cup desiccated or shredded coconut, plus extra for topping
1 ½ cups vegan marshmallows, halved (ensure they are gluten-free if necessary)
1 cup rice bubbles (optional)
Method
Line a slice tin with baking paper all the way up the sides.
Break the chocolate into rough pieces, and place along with the oil in a heatproof bowl over a saucepan of simmering water (make sure the bowl doesn't touch the water). Leave until melted, stirring occasionally. Remove from the heat and cool slightly.
Add the biscuit/pretzel pieces, almonds, Turkish delight, jellies, coconut, marshmallows and rice bubbles to the chocolate and mix to combine. Scrape into the tin and press into an even layer. Sprinkle with extra coconut.
Cover with cling film and refrigerate until cold and set (about 30 minutes). When set, cut with a hot knife.
Keeps in an airtight container in the fridge for a couple of weeks (that's a hilarious joke – it's not going to last that long!)
Tip: If you can find gorgeous, traditional, rose-flavoured Turkish delight, grab it — it's gummy and utterly delicious! I get mine from my local fruit & veg shop, and some supermarkets have it.