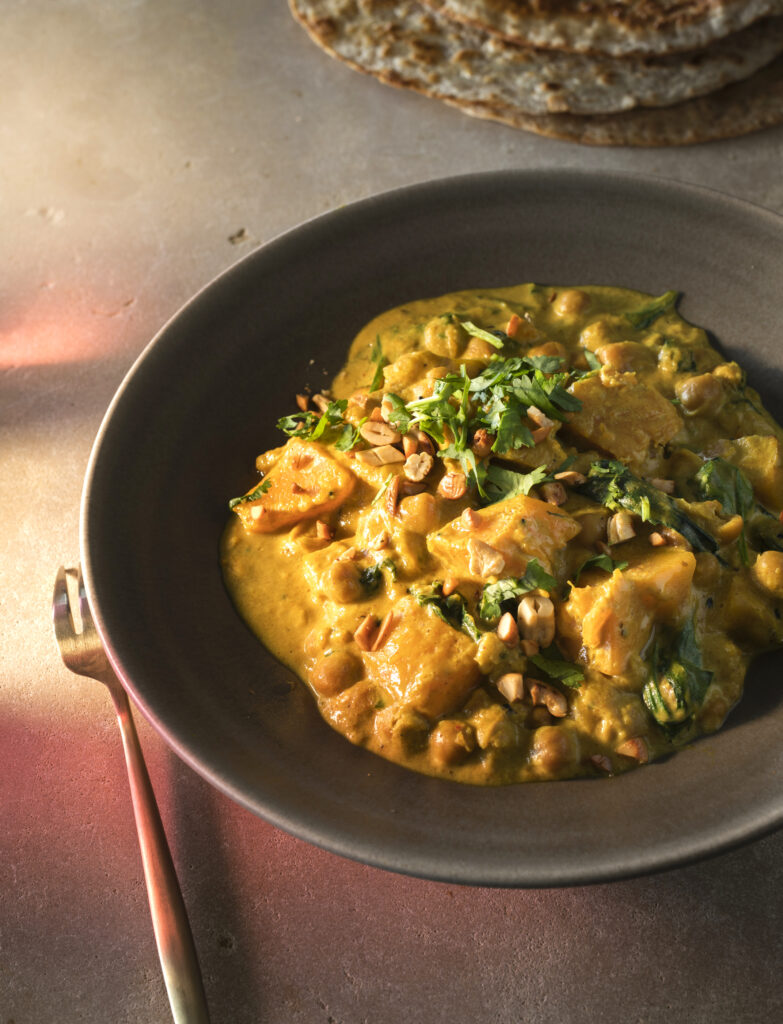 Pumpkin & Chickpea Curry
Prep time – 15 minutes
Cooking time – 40 minutes
Serves 4
This is one of those deliciously hearty and savoury meals that you can boastfully produce at dinner time when there seemed to be nothing fresh in the fridge to use. If you don't have any pumpkin hanging around, you can sub in orange kumara (I always try to have some of that around, because it keeps well). Regular kumara or potato will work, too. If you don't have any fresh herbs to add at the end, it's not a biggie.
Ingredients
1kg pumpkin, peeled and cut into 3cm pieces
neutral oil (I use grapeseed) 
2 large onions, finely sliced 
3 cloves garlic, crushed 
1 tbsp finely grated ginger
1 tbsp ground cumin 
1 tbsp ground turmeric
1 tsp ground coriander
1 tsp garam masala 
1 tsp nigella seeds or black cumin seeds (optional) 
1 x 400g can chickpeas, drained (save the liquid for another recipe) 
1–2 cups vegetable stock
500ml coconut cream 
1 tsp vegetable or chicken-style stock powder (optional) 
2 packed cups roughly chopped fresh spinach leaves (or use baby spinach) 
1½ tbsp lemon juice 
½ tsp salt, or to taste 
½ tsp finely ground black pepper, or to taste 
TO SERVE
3/4 cup chopped cashews
cooked brown or white rice
chopped fresh coriander
IT'S GLUTEN FREE – just check the stock
To make
Preheat the oven to 200°C regular bake. Spread the pumpkin pieces out on a roasting dish, drizzle with oil, season with salt and pepper and bake for 30 minutes.
Fry the cashews for the garnish in a little oil over a medium heat until golden. Set aside.
While the pumpkin is cooking, heat ¼ cup oil in a large saucepan or cast-iron pot over a medium heat. Add the onion and cook, stirring every now and then, for about 15 minutes until it has turned lovely and soft and golden. Don't try to rush this part — it creates a deep flavour base for the curry.
Add the garlic and ginger and cook, stirring occasionally, for another couple of minutes. Add the dry spices and cook for another minute, stirring often so that they don't stick and burn. Add a little more oil if it seems too dry.
Add the drained chickpeas, 1 cup of the stock, coconut cream and stock powder (if using), stir, and simmer uncovered for another 15 or so minutes until reduced slightly. If you think the curry needs thinning down at any point, stir through some more stock.
Add the roasted pumpkin, spinach, lemon juice, salt and pepper and cook for another 5 minutes until the spinach is wilted. Season to taste with more salt, pepper and lemon juice if you think it needs it.
Serve the curry on rice and garnish with the coriander and fried cashews.
TIPS
If you like a little heat in your curry, add some chilli powder with the other dry spices.
Nigella seeds have nothing to do with Nigella Lawson (unfortunately), but they taste incredible. You might need to pay a visit to a specialty food store to find them, but I always keep some on hand to use with Indian-style curries or roasted vegetables.
You can use the leftover chickpea liquid for a recipe such as my Dairy-free Chocolate Mousse