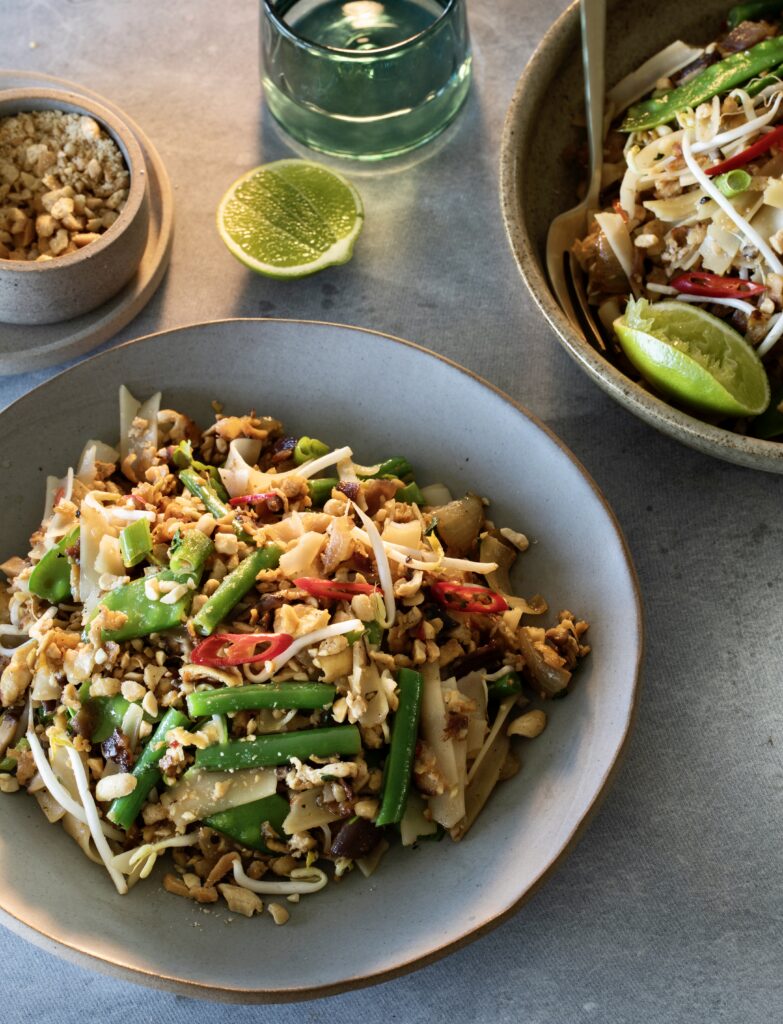 Ah, the much revered Pad Thai is always a crowd favourite — you just can't lose with tasty stir-fried noodles. Here's my new plant-based concoction, which stands up pretty well to the original even without fish sauce! I've used grated tofu here in place of the meat or egg — get it nice and crispy when you fry it and it's amazing how perfectly it works adding a great texture and soaking up the flavour of the sauce. Who knows . . . it might just become your Friday night fave!
PREP 30 minutes
COOK 20 minutes
SERVES 4-5
Ingredients
2 x 300g blocks tofu (organic is best)
300g dried rice stick noodles (or any rice/wheat noodles)
peanut or grapeseed oil
1 large onion (or 2 small), roughly chopped
4–5 cloves garlic, finely chopped
1 tbsp finely chopped ginger
3 red chillies, deseeded and finely chopped
100g fresh shiitake or button mushrooms, minced (optional)
250g green beans, chopped into 3cm pieces
100g snow peas or sugar snap peas (optional)
½ cup chopped roasted peanuts or cashews
2 spring onions, chopped
1 cup mung bean sprouts
1/3 cup chopped fresh coriander (leaves and stalks)
lime wedges, to serve
SAUCE
2 tbsp brown sugar
2 tbsp fresh lime or lemon juice
3 tbsp tamari or soy sauce
¼ cup hot water
3 tsp vegetable or chicken-style stock powder
¾ tsp ground black pepper
To make
Grate the tofu, then spread it out on a few layers of paper towel with a paper towel on top (or use a clean teatowel), so that all the excess moisture is sucked out. Press down to help draw it out.
Follow the instructions on whatever noodles you have, but cut the soaking time a minute short so that the noodles don't all break up when you stir them at the end. They always break up anyway, but still.
Mix all the sauce ingredients in a small jug or bowl ready to go, and have the veges chopped and ready, too.
Heat 3 tablespoons oil in a large wok or frying pan over a high heat. When shimmering, season the grated tofu with salt and pepper and add it to the pan. Cook, stirring occasionally, until most of it is crispy and golden brown. Set aside.
Add another 2 tablespoons oil to the same pan and add the onion. Stir-fry for a couple of minutes until golden. Add the garlic, ginger, chilli and mushrooms (if using), and stir-fry for another few minutes until everything is golden and fragrant.
Add the fried tofu back to the pan along with the noodles, green beans, snow peas/sugar snap peas (if using) and sauce mixture, and stir-fry for another couple of minutes until the greens are tender.
Just before serving, toss through the peanuts, spring onion, bean sprouts and coriander.
Squeeze over a little more lime juice and season with salt and pepper and extra chilli if you like.
TIPS
Some julienne carrot is nice added in, as is red capsicum.
You can add a little finely chopped cabbage or spinach, as well as or instead of the beans, to bulk up the veg if you like.