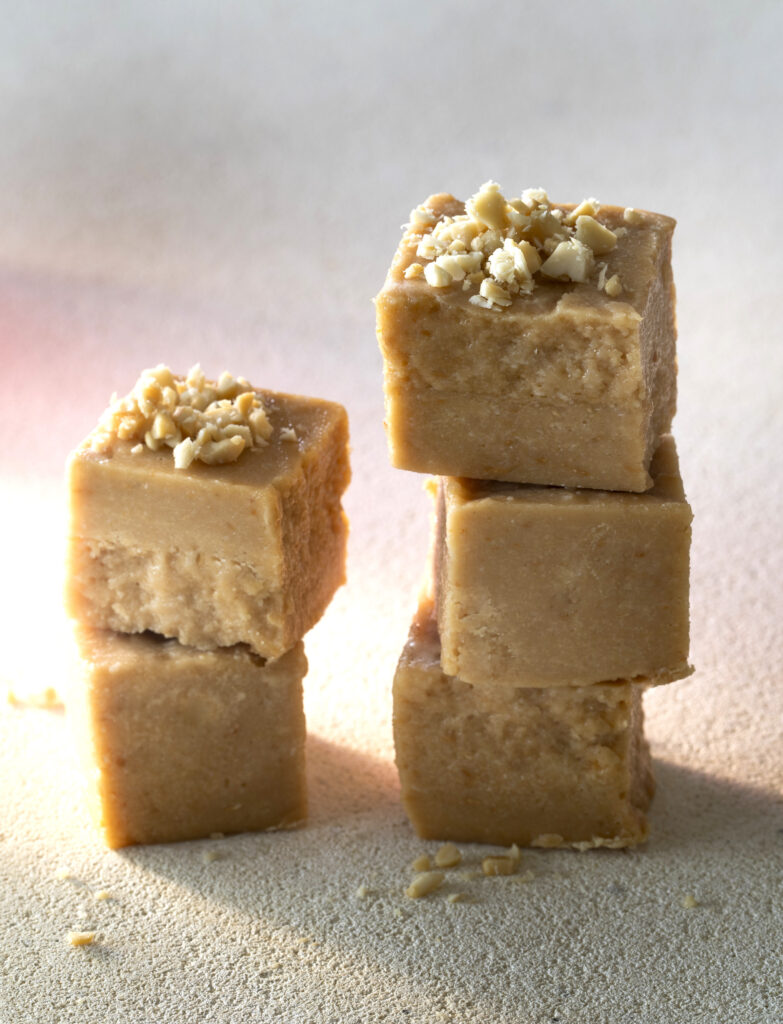 Peanutty Russian Fudge
Prep – 15 minutes, plus 2+ hours to set
Makes 20-30 pieces
I love this stuff- it looks exactly like Russian fudge but has this epic peanutty taste explosion going on, which probably has something to do with the huge gob of peanut butter that's gone into it. Also, it's a lost easier to make without all that boiling of sugar. To get it nice and firm, we first make our own coconut butter in a food processor (a truly magic thing to watch, just you wait). Most processors should be able to handle this, but if yours doesn't you can buy some coconut butter at some supermarkets, specialty food stores and online.
Ingredients
3 cups desiccated coconut
1/2 cup smooth peanut butter
1/3 cup coconut oil
1/3 cup honey or maple syrup
1 cup icing sugar
2 tsp vanilla extract
1/2 tsp salt
2 tbsp finely chopped roasted peanuts (optional)
IT'S GLUTEN-FREE
To make
Line a large loaf tin with baking paper across the base and up the sides.
Put the desiccated coconut in a food processor. Process on high for about 10 minutes, scraping down the sides once or twice, until the coconut has turned into a thick, buttery liquid. It doesn't have to be silky smooth – it will still be a little grainy when it's done, but this is fine. How long it takes will depend on the quality of your food processor.
Add the peanut butter, coconut oil, honey or maple syrup, icing sugar, vanilla and salt into the food processor. Whizz until smooth (you might see some little grainy bits from the coconut but again that's okay – you don't notice them once it's set).
Scrape into the loaf tine, sprinkle with peanuts if you want, and refrigerate for 2 or more hours to set. Use the paper to lift the fudge out of the tin, then slice into pieces and keep in an airtight container in the fridge. It holds its shape pretty well out of the fridge, too.
TIP
Feel free to use chocolate chips in place of the chopped peanuts for the topping – or even finely chopped chocolate.