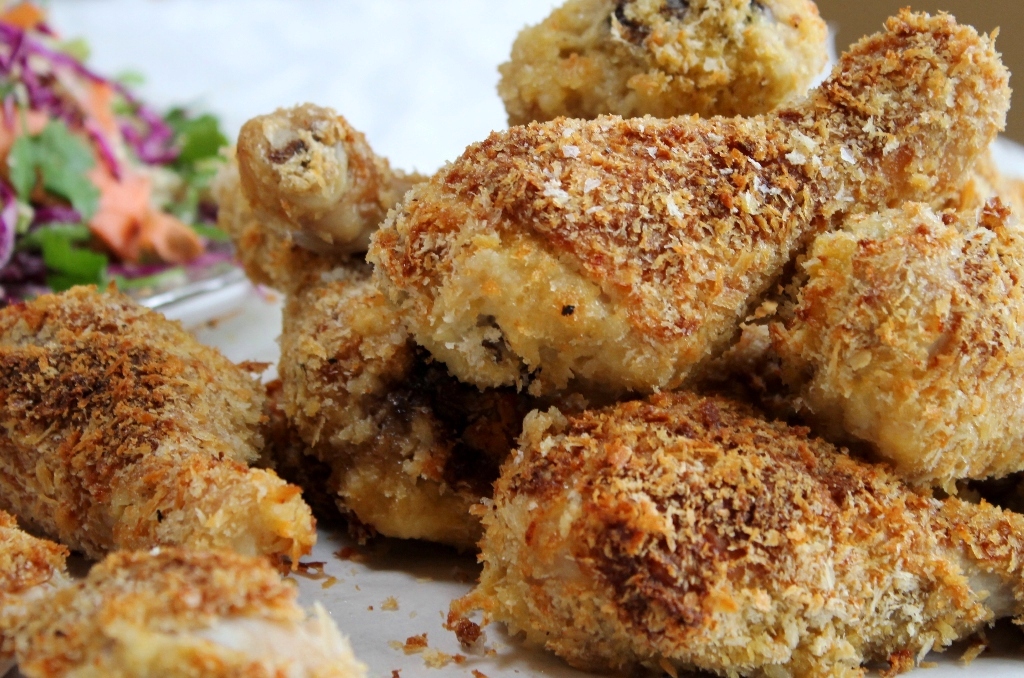 Panko-crumbed chicken drumsticks
This could possibly be the most delicious chicken I've tasted, and it's such a simple recipe. Not only are drumsticks affordable, they have loads of flavour and cooked like this, the meat is juicy and tender. No need for a deep fryer here, or loads of oil. You get perfect, crunchy, oven baked chicken that'll have people coming back for seconds (and thirds!). The slaw is the perfect side – it's crunchy and zesty.
Ingredients
Crumbed chicken
1kg – 1.5kg chicken drumsticks
3 free-range eggs, beaten
1/4 cup flour
1 packet panko crumbs (in the breadcrumb section at your supermarket)
White pepper and black pepper
1-2 tsp paprika
Oil, for brushing
Slaw
1/3 cup good quality or homemade mayonnaise
1/2 tsp sesame oil
2 tsp lime or lemon juice
1 clove garlic, crushed
4-5 cups finely sliced cabbage (purple, savoy)
1 carrot, peeled and grated or shaved
2 sticks celery, finely chopped
1/2 cup chopped fresh herbs – coriander/mint/parsley
1/2 cup peanuts, roughly chopped
Method
Preheat the oven to 200c (or 180c fan bake), and line a roasting tray with baking paper.
Lay the drums on on a clean board. Pat dry, then pull the skins back up to cover the chicken meat, if they have sagged down (sorry, that's the only way I could think to explain it). Season all over with black and white pepper, paprika and salt. Toss them in a bag with the flour to coat evenly, and dust off the excess.
Tip the crumbs into a large bowl, and the beaten eggs in another. Dip each floured drumstick in the egg wash, let the excess egg drip off for a few seconds, then coat with a layer of panko crumbs, pressing it all in to coat as thick as possible.
Arrange the drums in the roasting tray (not touching), and either drizzle with oil or use a pastry brush to gently dab each one with oil all over. Bake in the oven for 40 minutes, or until golden brown and crunchy. You can turn them over once if you like.
To make the slaw, mix the mayo, sesame oil, lime juice and garlic together and toss through the other ingredients in a bowl. Season with salt and pepper.