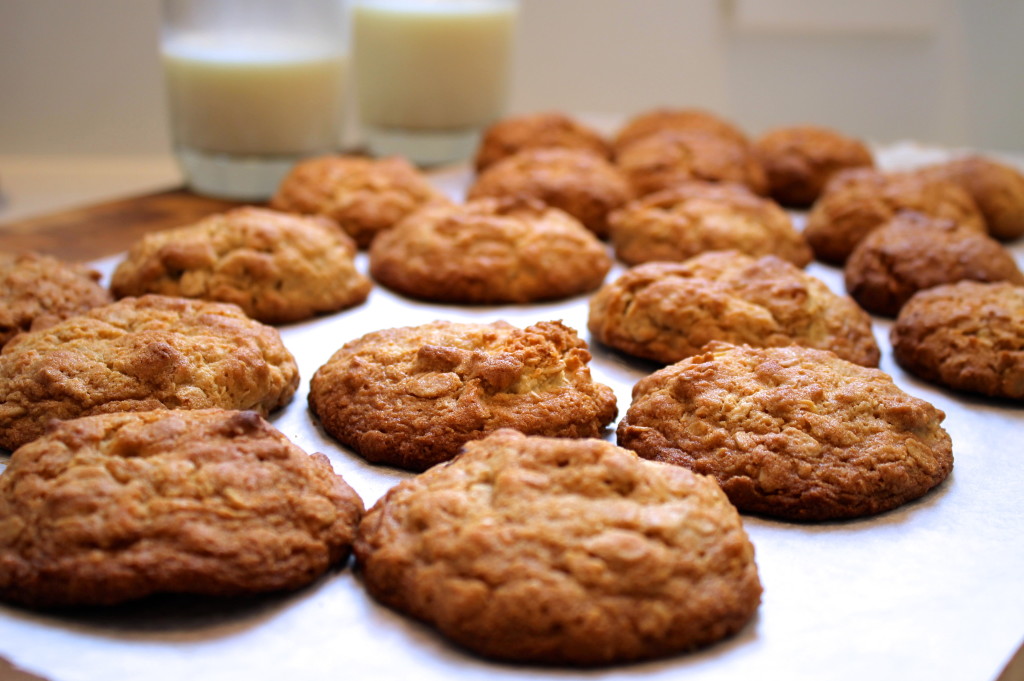 Golden oat coconut cookies
There's something deliciously comforting about these cookies – the creamy oats, sweet golden syrup and coconut go together like a dream. They're so easy to whip up as well! You can add any nuts or fruit you'd like to this recipe, but I like them plain, served warm with a glass of chilled milk. Milk and cookies are not just for kids! Makes about 20.
Ingredients
150g butter
3/4 cup brown sugar
1 large free-range egg
2 tsp natural vanilla essence
1/4 cup golden syrup
1 1/4 cups plain flour
1/2 tsp baking powder
1/2 tsp baking soda
1 tsp ground ginger
1 tsp ground cinnamon
1 1/2 cup rolled oats
1 cup shredded or dessicated coconut
Method
Preheat the oven to 200c.
Cream the butter and sugar until thick and pale (you can use a food processor, cake mixer or do it by hand). Add the egg and continue mixing until well combined. Add the vanilla and golden syrup and mix again.
Mix in the flour, baking soda, baking powder and spices. Add the oats and coconut and mix well to combine.
Roll out into balls roughly the size of a golf ball. Place 6cm apart on a tray lined with baking paper and bake in the centre of the oven for 10 minutes, or a few minutes longer if you like them extra chewy.
Cool for a few minutes on the tray then transfer to a cooling rack.