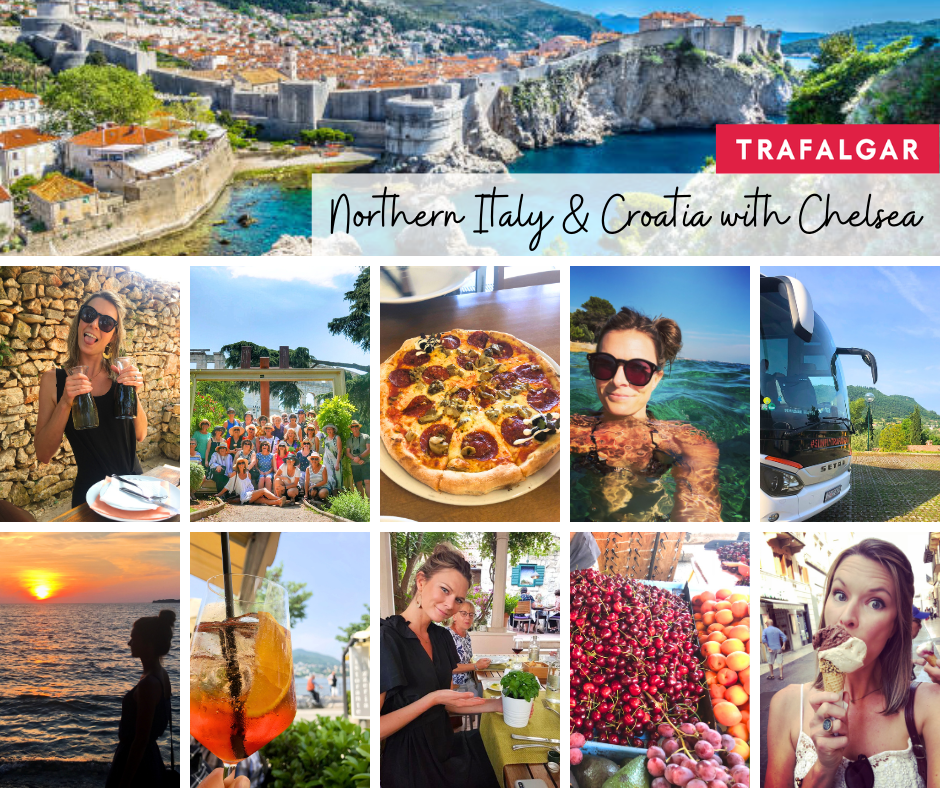 Northern Italy & Croatia with Chelsea – May 2024
So, in 2018 I went to Croatia for the first time. I had heard (very) good things, but I didn't really know what to expect. And man, I can not even EXPLAIN how much I obsessively adored it. The food, the culture, the wine, the coffee, the scenery, the people. Utterly outstanding and a must for every travel bucket list (in my humble yet experienced opinion). So it's only natural that my first destination back with Trafalgar after my two kids is CROATIA! I am not done with that place yet by a long shot. As for Northern Italy – Italy is always the love of my life. It just is. Was my first ever tour with these guys and it is always, always, epic.
What you really need to know

Forget what you think you know of 'group travel'. Even I was skeptical at first but boy, I am a convert. This is a Trafalgar escorted tour – quite simply, a brilliant way to do it (not a bumbag in sight). Trafalgar is  the best in the world at what they do and I'm so very proud to be a part of the family. Click here to see what I mean.
Safe, stress-free travel is how we roll. No waiting in long queues (that's a biggie), no never-ending avalanche of decisions to make, no logistical nightmares, no agonising on Tripadvisor over where to go. No planning. No frustrations. You don't even need to lug your bags around! Just turn up, sit back and be treated like a VIP while you're whisked around some of the very best places in Europe.
The whole group (apart from our amazing Travel Director) is made up of kiwis. There's always great mix of ages and personalities. You don't have to bring a companion with you, either; loads of women come along by themselves. I guarantee you will make lifelong friends.
Our tour leader or 'Travel Director' will lead us, organise us, inform us, inspire us, make us laugh, and just take the pressure off for the whole damn time. I can't even tell you how good that feels.
This is an 'out of the box' trip – you'll experience awesome things that the masses don't, people and places and experiences that are literally only available to Trafalgar travellers. And these are always the best parts of the trip.
We travel on a huge, snazzy, cool, comfy coach, complete with wifi – so you can make everyone at home green with envy sharing all your amazing photos on the interwebs.
You will be travelling with me! And I'm a pretty great travel companion – just sayin'.
I will be there hangin' with you the whole time. There aren't any cooking demos or anything, I'm literally just there to hang with you as a fellow traveller. And hopefully provide a few laughs. Photos galore.
Feedback from my travellers
God, I love my travellers. I love the fact so many keep coming back time after time, I love they make it feel like a big family trip. I love that I get to meet people from all parts of the country, everyone unique in their own brilliant ways. They're like the threads that make the travel tapestry lustrous! God, we have some laughs. Here's a little bit of what some of them have to say:
"I felt so lucky to be part of such a wonderful trip away! We visited so many amazing places, and had so much delicious food and wine! Every day was a treat and I have so many wonderful memories. But Chelsea was the icing on the cake, such a loving and hard-case lady! The perfect Hostess!" – Kate
______
"Haha, I hated it mate! That's why I'm doing another!" – Suzanne (update, she's done like, three now).
______
"From the cobbled streets and quaint little cafes, shops, restaurants to the stunning architecture steeped in history, to the bustling cities and wonderful markets, incredible scenery, wonderful castles, fabulous food and wine, and like mined fellow foodies….these trips with Chelsea are a must! I have done several of Chelsea's trips and every time I am totally blown away with her, and the incredible fun and good times we all have." – Julie B
______
"If you love food, wine, fun, new friendships and amazing sights, then don't hesitate to join Chelsea in Italy for a foodie tour you're never to forget! Trafalgar tours are the best, a fantastico travel director and to travel with such a special person as Chelsea whose honest down to earth charm and goofiness made for a very relaxed feel, and there's even daaaancing and shopping!!" – Jill
_______
"France trip I did with Chelsea was amazing, met all my expectations. Traveling on my own, had neat like minded travel companions which was fun, and have made some great friendships. Being on a tour meant arranging/booking nothing and yet seeing all the best attractions with no queues. Really believe the Chelsea factor added to the success of the trip. Looking forward to booking the next trip." – Michelle
_______
"I met so many wonderful people and created the most amazing memories and new friends. If you're thinking of going on a similar trip, don't think twice – just book it you'll love love love it!!" – Vanessa
_______
"It was my trip of a lifetime! Organised well with an amazing itinerary. My husband was one of two men and he loved it as much as me. Chelsea is the icing on the cake. Such a beautiful, inspiring girl who is not afraid to enjoy all the treats of Italy! I think about the trip every day! Just take the leap and book it and go! xx" – Rhonda
_______
"I have been on a few overseas trips but this one had to be the trip of a lifetime by far. We stayed in amazing places and had the most beautiful of meals . Having Chelsea on the trip with us definitely was the finishing touch. She is such a happy-go-lucky person who makes everyone who she comes in contact with feel so special. If you are slightly thinking about booking this trip do it now before you miss out. You will have no regrets that's for sure. Definitely value for money. Don't think you would find a better value trip like this anywhere." – Raewyn
_______
"Wow, what a trip! Very friendly, met many special people, experienced some fabulous food and went to lots of memorable places." – Jennifer
_______
"Don't hesitate. I was dubious of travelling on my own, but never on any day did I feel lonely. Awesome trip, awesome food, awesome people, awesome travel director, and awesome places we visited. Beautiful country from the historic places to the beautiful experiences and of course the beautiful Chelsea and her great sense of fun. DO IT!" – Julie
_______

"Definitely one of my travel highlights! Fantastic food and accommodation, travel guide and expert local guides, and of course having Chelsea on board made it extra special! The trip covered so many different regions of Italy & their unique characteristics." – Pam
_______
"Italy with Chelsea 2016 was amazing! The itinerary was jam packed full of exciting adventures that were set at an easy pace for everyone of all ages to enjoy. The accommodation was fantastic and as for the food… Mamma Mia it was Bellissimo!!! (Take your stretchy pants, you're gonna need them!). As for our beautiful Chelsea, what a lovely host and friend to travel with. Love my 41 new Trafalgar friends. Would definitely do another trip." – Nardene
_______

What a trip of a lifetime we had with Chelsea. Amazing food and wine, and we visited some wonderful places. Chelsea was a truly wonderful hostess who was fun to be around and made time for us all. Don't hesitate just do it! It's one you will not regret." – Leanne
_______

"Wasn't a 'foodie' & didn't know much about Chelsea (very cool sense of humour) & didn't have a travel buddy – the trip sounded interesting & that it was: such a variety of experiences, great locations, excellent digs, informed guides AND the most wonderful group of people to share it all with. Trip of a lifetime? For me, most definitely." – Chris
_______

Make a booking or ask a question

Email the highly awesome Marija at Trafalgar on marija.tolj@ttc.com (or click here).