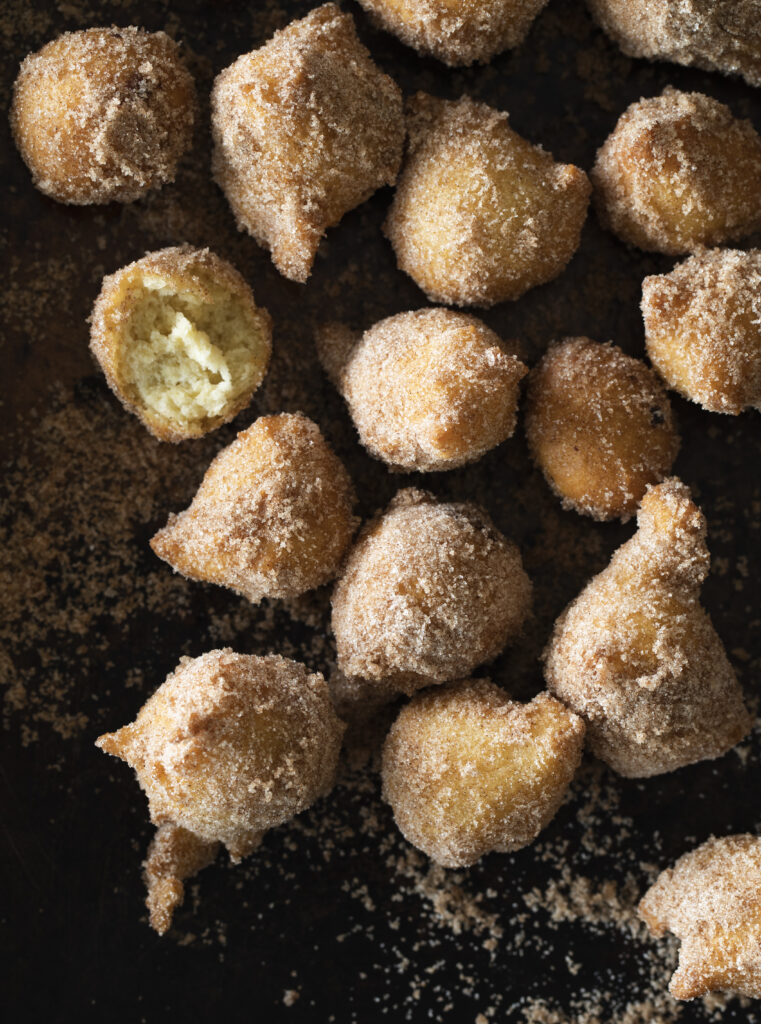 Mini Sugared Doughnuts
Prep – 10 minutes
Cook – 15 minutes
Makes about 20 doughnuts
Little deep-fried morsels served hot and liberally dredged in cinnamon sugar . . . yes please! This is my version of the classic mini doughnuts. Essentially they're little fried bits of cake batter, so they're a lot quicker and easier to make than regular doughnuts that require yeast, and the texture is softer and not as chewy. The key is to only drop in tiny blobs, like 2 teaspoons – any bigger and the outside will be too brown by the time the inside of cooked. Because they're so speedy to make, any time you have a hankering for some hot juicy doughnutty goodness, this recipe will be there for you.
Ingredients
TOPPING
1/2 cup caster sugar
1 tbsp ground cinnamon
DOUGHNUTS
2 cups flour
3 tsp baking powder
pinch salt
3/4 cup plant-based milk
1/3 cup sugar
3 tbsp canned chickpea liquid (aquafaba)
3 tbsp grapeseed oil, plus extra for frying
TO MAKE IT GLUTEN-FREE
Use a GF flour blend without raising agent added, and add 1 tbsp psyllium husk and an extra 1/4 cup milk.
To make
Mix the caster sugar and cinnamon in a medium-sized bowl, ready to dunk the doughnuts in.
Sift the flour, baking powder and salt into a bowl and stir to combine. Add the milk, sugar, aquafaba and oil and stir until you have a smooth batter.
Heat about 5cm of oil in a small or medium-sized saucepan over a medium heat (it needs to be at about 180°C, if you have a thermometer). To test whether it's hot enough, poke the end of a wooden spoon in. If bubbles fizz up around the end, it's ready.
Carefully drop heaped-teaspoon-sized blobs of batter into the oil, and cook for a few minutes until lightly golden brown. They should be pale golden when they're done inside.
Carefully remove the cooked doughnuts from the oil with a slotted spoon onto some paper towels, then put them straight into the bowl of cinnamon sugar and toss to coat.
These are best eaten straight away – they're no use to anyone once they've been sitting there for a while and have gone cold, so just get stuck in!
Tips
Once the cooking oil has cooled, strain it and keep it in an airtight jar in a dark, cool place for up to 3 months (the fridge is great if you have room). You can use it for other doughnuts or deep-frying recipes.
If you need to, you can try to reheat the doughnuts in a 160°C oven for 5 minutes or so.