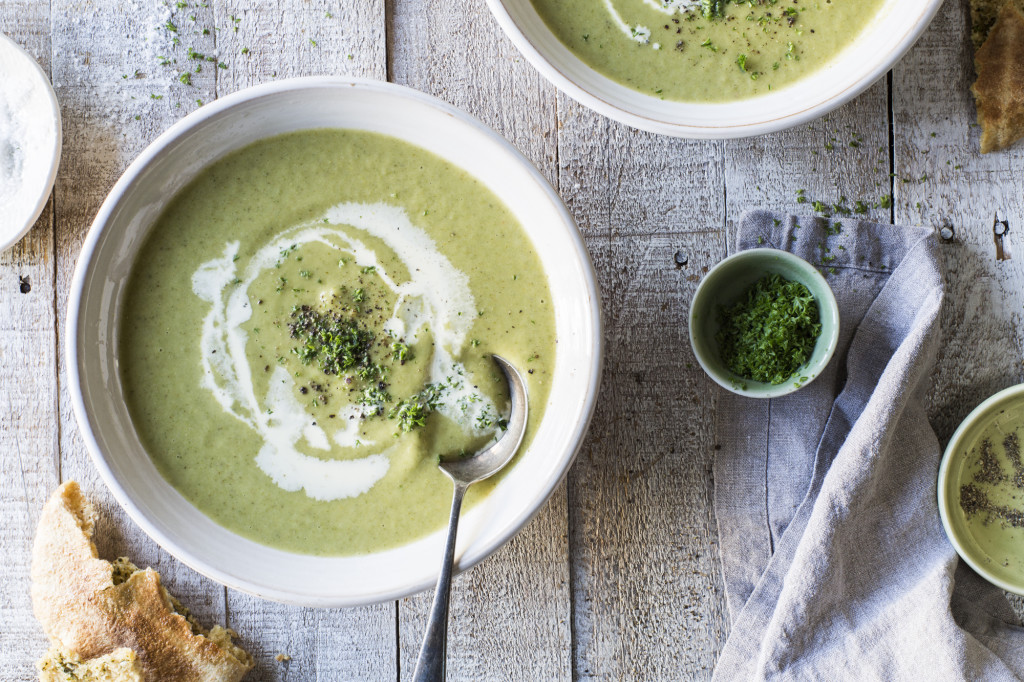 Mean green vegetable soup
There are 12 different types of vegetables in this delicious recipe from Scrumptious, – and it tastes absolutely sensational. So creamy and delicious that even fussy eaters won't realise the extent of the goodness lurking within. To make this soup dairy-free, leave out the Parmesan, swap the butter with coconut oil and replace the crème fraîche and cream with 2 cups of coconut milk and/or coconut cream.
Prep time – 10 minutes
Cooking time – 30 minutes
Serves 8
Ingredients
400g bag spinach, washed, stalks removed
50g butter (or 1/4 cup coconut oil)
¼ cup extra virgin olive oil
1 large onion, chopped
2 shallots, roughly chopped
1 large leek, roughly chopped
3 sticks celery, roughly chopped
5 cloves garlic
1 tbsp fresh thyme leaves (about 8 sprigs)
8 cups vegetable or chicken stock (check gluten-free if required)
2 cups peas
1 head broccoli, chopped
½ large cauliflower (or 1 small), chopped
1 large carrot, chopped
2 kumara, peeled and chopped
2 courgettes, chopped
200g crème fraîche
1 cup freshly grated Parmesan
1 cup cream
1 cup chopped fresh herbs (chives, dill, parsley, basil)
3 tsp lemon juice, or more to taste
Method
First blanch the spinach to preserve the lovely green colour: Add 1cm of water to a large soup or stock pot over a high heat and cover with a lid. Bring to the boil and add 1/2 tsp salt and the spinach leaves. Cover and simmer for a minute or so until wilted. Tip the spinach into a colander in the sink and run cold water over it for few minutes to stop it cooking. When completely cool, squeeze the spinach out and set aside.
To the same stock pot, add the butter and olive oil over a medium heat. When frothy, add the chopped onion, shallots, leek, celery, garlic and thyme. Cook, stirring, for about 10 minutes until the veges are softened and starting to caramelise. Add the stock and remaining vegetables. Cover with the lid, bring to a simmer and continue to simmer for about 10 minutes, or until the vegetables are just cooked – they shouldn't have any crunch to them, but they don't need to be mushy.
Add the spinach back into the pot.
Now you need to blend the soup. This is best done with a hand held stick-blender in the cooking pot, and can be done carefully while the mixture is still hot. If you have a blender, cool the mixture to warm before blending the soup in batches. Blending hot liquids can cause explosions. You can also use a food processor, but again, cool first and do it in batches.
Add the crème fraîche, Parmesan, cream,  fresh herbs and lemon juice to the soup and simmer for a few minutes to melt the cheese and heat through. Taste, and season with salt, black pepper and white pepper (if you have it) to your liking. Add more lemon juice if you like.
Chelsea's tips
It's a pretty forgiving recipe, so you can use up the veges you have lying around. If it's too thick, thin it out with more stock or cream.
For a superfood boost, add some kale leaves in when simmering the other vegetables.
When using the leek, discard the very outer leaves and the firm dark green tops.