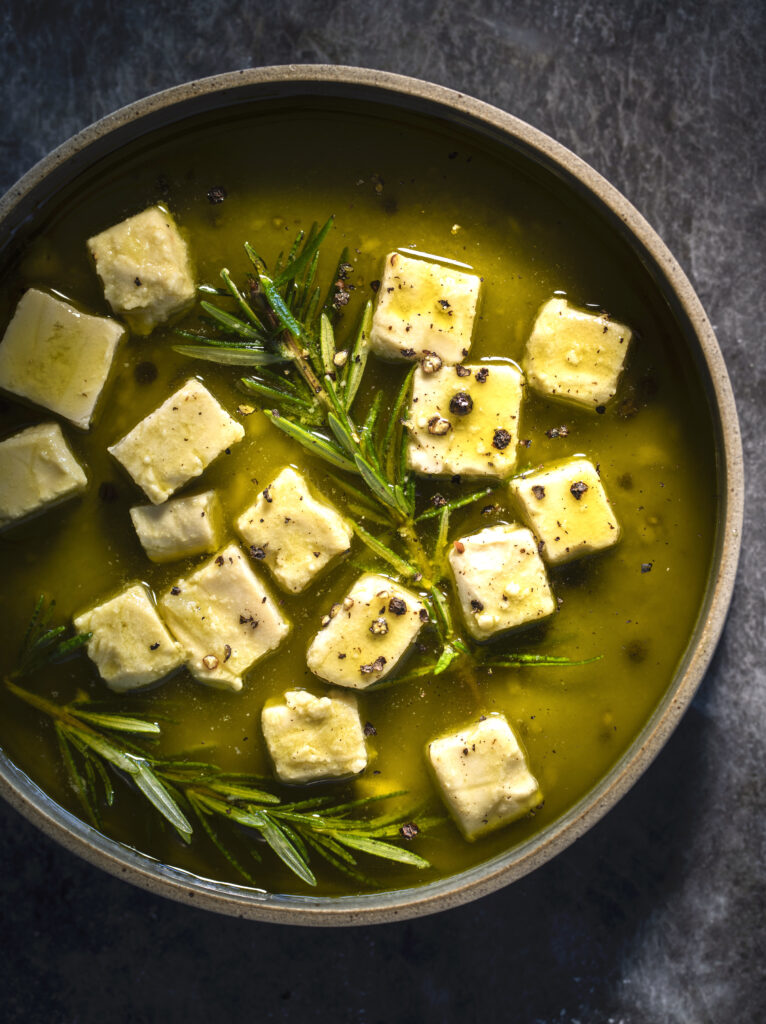 Marinated Feta
Prep – 15 minutes plus 1+ hour soaking time and overnight to set
Makes 2 x 300ml jars
For ages I'd been busy buying jars of plant-based feta marinated in oil, and while it was unbelievably delish, it was also pretty spensy – had to ration it out in slivers like it was war-time contraband. This homemade version is a lot kinder on the pocket, but delivers the same lightly salted, creamy, melt-in-the-mouth epicness. Enjoy it on toast with avocado, tomato and basil – it's so good! It's also beautiful sprinkled on salads and smooshed on sandwiches. Because of the coconut oil it melts fairly quickly, so store it in the fridge, in the oil. And eat it as quickly as you can once it's out – which shouldn't be difficult!
Ingredients
1 cup raw cashews
1/2 cup melted coconut oil (it has to be unflavoured/refined)
1 1/2 tbsp hot water
1 1/2 tbsp canned chickpea liquid (aquafaba)
1 tbsp nutritional yeast
1 clove garlic, peeled
2 tsp apple cider vinegar
1 tsp salt
1/2 tsp finely ground black or white pepper
TO ASSEMBLE
2 x 350ml jars with lids (or one larger jar, or use a glass container)
1 cup extra virgin olive oil
1 cup grapeseed or sunflower oil
2-4 small sprigs rosemary
20 whole peppercorns
IT'S GLUTEN-FREE
To make
Place the cashews in a heatproof bowl or jug and cover with just-boiled water. Leave to soak for at least an hour (or overnight), then drain.
Line a square loaf tin with plastic wrap or baking paper so that it covers the base and goes up the sides.
Transfer the cashews to a high-speed blender or bullet blender, add the remaining ingredients and blitz until silky smooth. This will probably only be 10 seconds or so in a really good bullet, or a minute or two in a blender – just keep testing as you go.
Scrape the mixture into the tin, cover and freeze to set (or you can refrigerate overnight, but freezing seems to help the cheese keep its shape better).
Prepare the jars by filling them three-quarters full with half of each of the oils, and divide the rosemary and peppercorns between the two. You can also just use one jar.
Slice the cheese into cubes with a sharp knife and carefully drop them into the oil mixture until the jars are loosely filled. Refrigerate immediately, and keep refrigerated until you need it.
The cheese will melt fairly quickly in hot weather and on hot food, but that's part of its charm.
TIP
If your blender doesn't quite blitz properly because the mixture isn't catching the blades, you may need to double the mixture or add a little more liquid. Tilting and jiggling a bullet blender helps too.