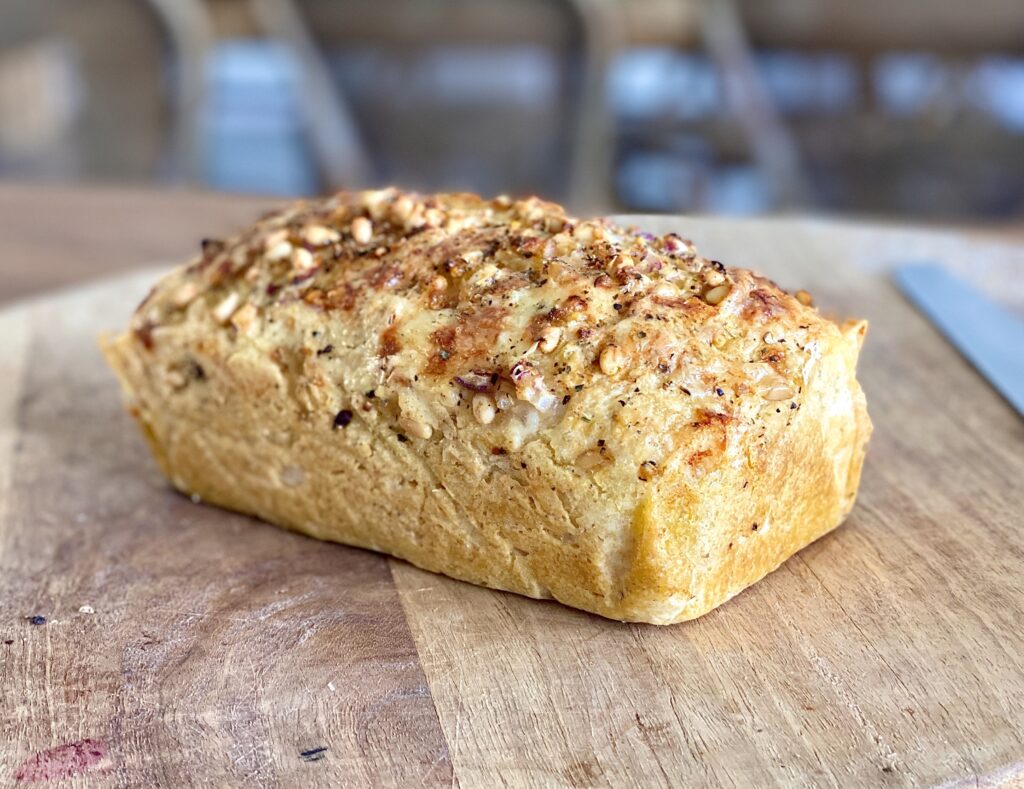 This beer bread recipe is sooo easy and so delicious, and only requires a few pantry staples. Since we're all in lockdown here in NZ, I've coined the term 'Lockdown Loaf' – and it really is perfect in that sense. Stir the beer bread it up in one bowl – no kneading, no proving, no yeast needed. And if you need a gluten-free bread option, I've included that below the recipe.
Tips

This bread isn't light and fluffy like a bakery loaf – it's dense and dare I say, 'moist'. And that's how it's meant to be.
For a reason I cannot understand, some people using Corona beer have produced a doughy, undercooked loaf. Go figure? In any case, don't get too fancy here. Use the crappiest beer you have on hand – that awkward, long-forgotten bottle lurking forlornly the back of the fridge, probably leftover from some BYO you had 18 months ago, the one that could be expired and certainly no one will touch, not even your teenage son's half-cut mates. That's the beer you want.
Check the expiry date on your baking powder.
This beer bread bread is safe for kids and pregnant women, as the alcohol evaporates in the oven.
If you can't find beer, cider or plain soda water works – or a dry, not-too-sweet ginger beer or kombucha (omit the sugar if using these as they are already sweet). Lemonade would be too sweet.
People have had success with using half wholemeal flour in their beer bread, too.
Once it's cooled down, it's amazing toasted – we have it with peanut butter, Marmite or vegemite, avocado and tomato, hummus and basil – the list goes on! It's highly addictive, I'll warn you now.
Get an oven thermometer and check your oven isn't running cool if your loaf is undercooked.
Don't forget to share your creations with me on Facebook and Instagram, it brings me so much joy to see my recipes popping up in kitchens all over the place.
.
Ingredients
Bread
3 cups plain flour (or use self-raising and omit the baking powder)
3 tsp baking powder
2 tsp sugar
1 tsp salt
375ml beer (or make up the extra with water)
Toppings
Finely chopped onion or red onion
Grated cheese or dairy-free cheese
Sprinkle of paprika and/or oregano
Salt and pepper
Extra virgin olive oil, for drizzling

Some other ideas (not all together, though!): olives, capers, Parmesan , chopped sun-dried tomatoes, sunflower seeds, pumpkin seeds, sesame seeds, poppy seeds, cumin seeds, coriander seed
Method
Preheat the oven to 180c regular bake and line a small/medium loaf tin with baking paper.
Add the flour, baking powder, sugar and salt to a large mixing bowl. Stir to combine.
Pour in the beer/water and stir again to combine into a sticky dough. Scrape in to the prepared tin with a spatula and smooth out.
Sprinkle with the toppings you like and drizzle with olive oil.
Bake in the oven for 40 minutes – it will have risen and puffed up and be all golden and delicious looking.
Serve hot or warm with any toppings you like – it's awesome plain with butter, and I like Vegemite and Marmite too!
Once it's cooled down it's amaaazing toasted.
Keep at room temperature in a bag or container. It's not gonna last long, though, I warn you now!
For gluten-free beer bread
Naturally, you'll need to use a gluten-free flour mix without raising agent added.
For best results, I like to also add either 2 tbsp of either psyllium husk powder, or ground chia seeds. Adding one of these helps give the loaf that chewier, springier, bread-like texture that's normally missing with gluten-free bread (which can be quite chalky.) This isn't essential, though.
But if you are using one of these, you'll need to add an extra 3 tbsp of water.
Then after mixing the dough, it's helpful to let it rest for 10 minutes in the tin before it goes into to oven, to let the chia or husks swell up do their thing.
You'll also need to use a GF beer. If you can't find one, soda water works – or a dry, not-too-sweet ginger beer or kombucha (omit the sugar if using these as they are already sweet). Lemonade would be too sweet.
You can get psyllium husk powder at the supermarket – well, usually anyway! It's very high in fibre so drink an extra glass of water when you enjoy a slice of the bread to be kind to your tummy.
If you have whole chia seeds at home, you can grind them in a mortar and pestle, coffee grinder, high speed blender or bullet to make a powder.
For a sweet loaf
You can use lemonade for a sweet loaf – it's lovely smeared with butter or dairy-free spread or unflavoured coconut oil – topped with jam or honey!