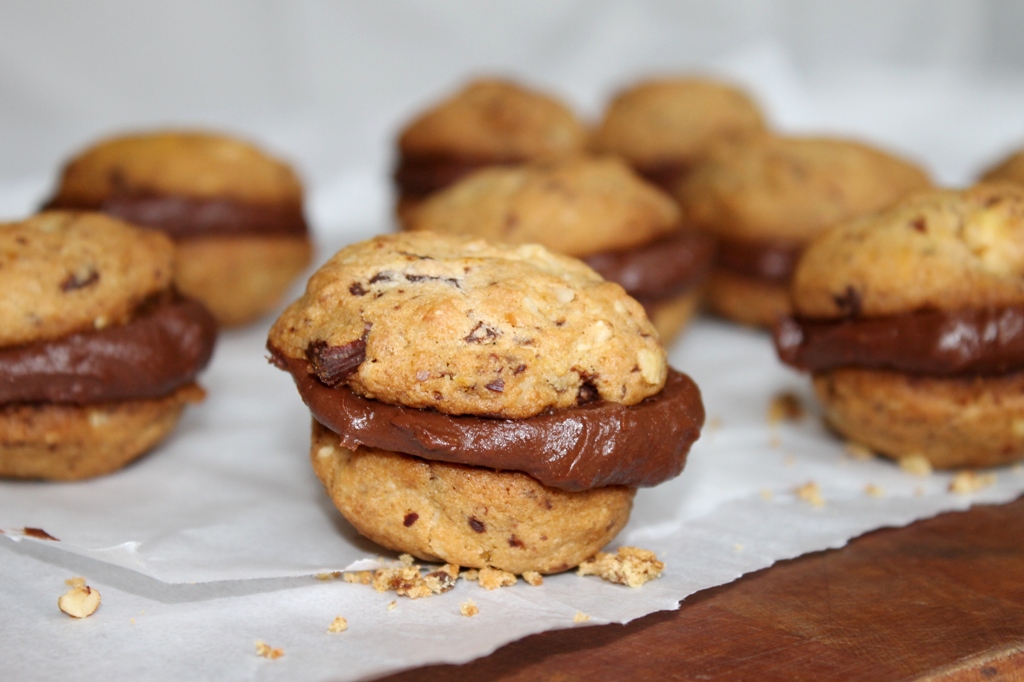 These cookies are quick and easy to make and the flavours are gorgeous! Smooth, bitey dark chocolate, crunchy creamy hazelnuts and a hint of orange. You can use a food processor to make the cookie dough as well, which is even better – just fold the chocolate and nuts through by hand at the end. Even just left as normal cookies without the filling they are divine, but I like the added decadence of the orange ganache – they take it from a normal cookie to a dessert worthy treat! The cookies are also delicious crumbled up over ice cream.
Ingredients
Cookies
125g butter, at room temperature (not too soft or runny)
3/4 cup brown sugar, firmly packed
1 large free-range egg
1/2 tsp natural vanilla essence
1 1/4 cups plain flour
1/2 tsp baking soda
125g roasted hazelnuts, roughly chopped (optional)
100g good quality dark eating chocolate (at least 50% cocoa solids), chopped
Ganache
100ml cream
100g good quality dark eating chocolate (at least 50% cocoa solids), chopped
Zest of 2-3 washed oranges (optional)
Method
Preheat oven to 200°C conventional bake.
Cream the butter and sugar. Add the egg and beat well until smooth and incorporated. Add the vanilla and beat well again. Sift in the flour and baking soda and mix well to combine. Fold through the chocolate and hazelnuts.
Roll the mixture into walnut sized balls (just under 1 tbsp) and place 5cm apart on a baking tray lined with baking paper (you may need to bake them in two batches). You don't need to press them down unless you want a flatter cookie – I like them cute and roundy! Bake in the oven for about 7-9 minutes (everyone's oven is different so look for a light golden brown colour all over). Cool on a wire rack.
To make the ganache, heat the cream to a simmer in a small pot and remove from the stove immediately. Add the second measure of chocolate and orange zest, and stir/whisk well until it's all melted and smooth. Leave to cool to icing consistency (the fridge will speed it up). Spread the bottom of one cookie with some of the mixture and press together with a second cookie. It's up to you how much ganache you put in each one!
Store in an airtight container in the fridge – if you want the chocolate filling a bit gooey, leave to come to room temperature before serving.