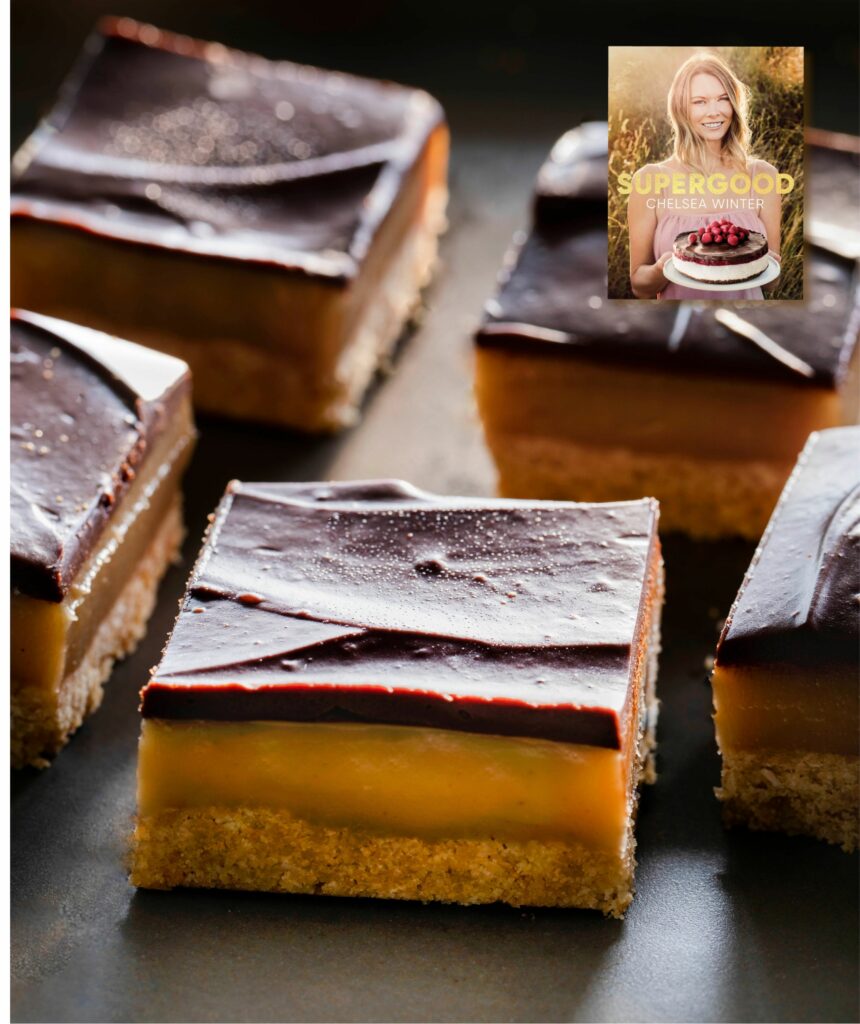 Gooey caramel slice (dairy & egg free)
PREP – 1 hour 15 minutes, plus 4+ hours to set
MAKES – 24 slices
Ah, the plant-based caramel slice from Supergood. I spent a long time figuring this recipe out – I was determined to create a dairy-free caramel slice without having to resort to making the caramel layer out of soggy dates. I actually adore dates (they're much better for you than you think) — but dates masquerading as caramel is something I've yet to get my head around (I'll get there). So for now I created my own condensed coconut milk in place of the regular stuff. It takes a little more time, but works like a charm.
IMPORTANT: When making the coconut condensed milk, be sure to keep simmering until you have only 1 1/2 – 2 cups max of liquid remaining in your saucepan. It may take longer than the 30 minutes stated, depending on how big your pan is and how steady the simmer/boil. There's no magic time – you're only looking for the final volume. If it's too liquidy, the caramel won't set.
A note on condensed milk: You may be able to find condensed coconut milk at your supermarket (I have it at mine) and you can save the time by using 2 tins of that instead of making your own.
INGREDIENTS
CARAMEL
3 x 400ml cans full-fat coconut cream (see tips)
1 cup sugar
2 tsp cornflour
2 tbsp water
1/3 cup cashew butter (or use almond butter – or peanut, for a peanutty flavour)
1/3 cup dairy-free spread
¼ cup soft brown sugar
3 tbsp golden syrup
2 tsp vanilla extract
¼ tsp salt
BASE
300g plain plant-based biscuits (I used Nice biscuits)
1/3 cup dairy-free spread, melted
½ cup desiccated coconut
½ cup rolled oats
2 tbsp golden syrup
2 tbsp coconut oil, melted
1 ½ tsp pure vanilla extract
pinch salt
TOPPING
100g dark dairy-free chocolate, chopped
100ml coconut cream
TO MAKE IT GLUTEN-FREE
Any GF plain-ish biscuits will work.) If you can't have oats, replace them with extra coconut.
TO MAKE
Line the base and sides of a 20cm slice tin with baking paper.
To make the caramel, place the coconut cream in a medium–large saucepan over a medium heat. Add the sugar and stir until the sugar has dissolved. Adjust the heat so that you end up with a low boil; medium–low should do it. Set a timer for 30 minutes. Stir every now and then.
While the coconut cream is condensing, make the biscuit base.
Crumble the biscuits into a food processor and add the remaining base ingredients. Whizz it up until it's a really fine crumb and holds together when squished — it might need a good 20–30 seconds or so. Tip into the tin and squash it down firmly in an even layer. Refrigerate until needed.
After 30 minutes, check on the coconut cream. Depending on how big your saucepan is or how high the heat is, it may be done. When it's ready it will have reduced by at least half and will look thick, grey, goopy and shiny. You should have 1.5 – 2 cups maximum left – measure if you are unsure. If you need to, just keep simmering until it's really reduced. It will probably also be spluttering everywhere by this point. Once ready, turn off the heat for a moment.
In a small cup, mix the cornflour and water to a smooth slurry.
Add the cashew (or almond) butter, dairy-free spread, brown sugar, syrup, cornflour slurry, vanilla and salt to the saucepan. Stir quite vigorously with a whisk for a minute until melted and combined. Bring to a low boil and stir for a few minutes until thickened nicely. Set aside to cool for 20 minutes, then pour over the base and refrigerate again for at least 4 hours to set (overnight is best).
To make the topping, put the chopped chocolate and coconut cream in a heatproof bowl and microwave on high for 1 minute. Stir to combine, then if it needs more, keep heating in 30-second bursts and stirring until it's nice and smooth. Spread on top of the slice with a spatula, and refrigerate again for half an hour or so.
Slice into squares with a sharp knife. Store in an airtight container in the fridge — it'll go quite soft at room temperature.
TIPS
If you prefer a thicker caramel, add an extra teaspoon of cornflour.
If you can find tinned coconut condensed milk at your supermarket, you can save time and use this – use 2 tins.
You can leave the nut butter out if you have a nut allergy, it just won't be quite as creamy or thick. Or you could try 1/4 cup tahini instead.