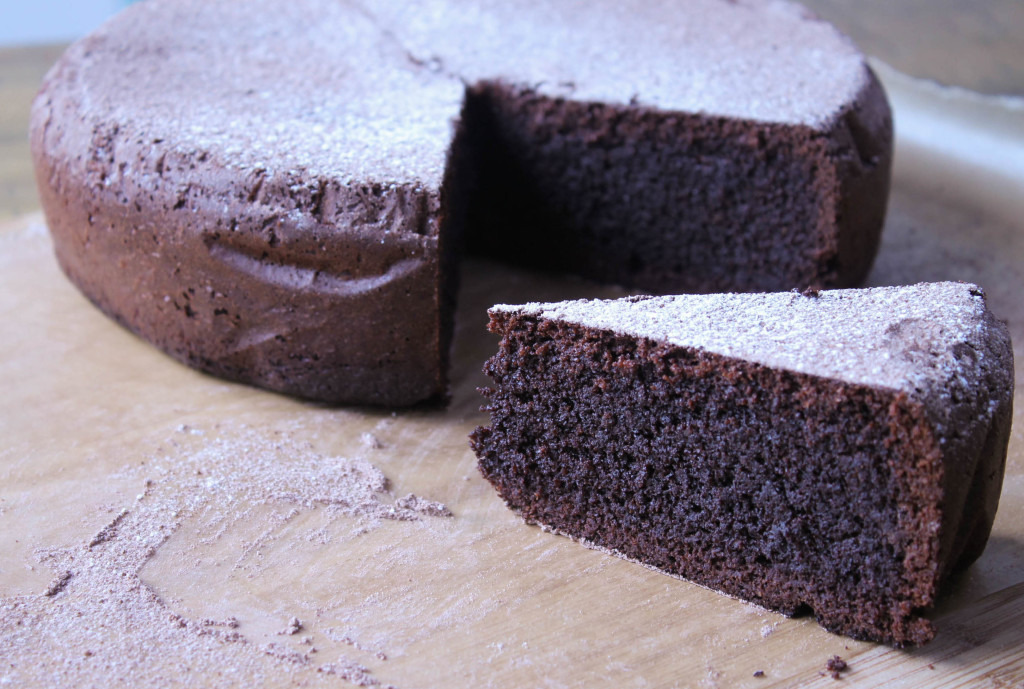 Gluten, nut* and dairy free Chocolate Cake
Since posting my gluten-free Chocolate Mud Cake, I've had a great number of lovely people asking about adjustments to make it nut and/or dairy free. So rather than just awkwardly try and jam in replacements, I set about creating a whole new recipe. Gluten-free flour mix can be quite drying, so I've added creamy avocado, coconut milk and brown sugar to help keep the cake lovely and moist. The top can puff up a bit and crack a little sometimes, so I like to cool/serve it upside down. It still tastes amazing. You can either just dust with icing sugar to finish, or use your favourite icing.
*Whittaker's chocolate is made in a factory where nuts and gluten are present, although none is intentionally added to the chocolate – if you have severe nut allergies, it may not be suitable.

Ingredients
250g good quality dark eating chocolate, chopped (Whittaker's 50% cocoa and above are dairy-free)
1 cup grape seed, extra virgin olive oil or rice bran oil
5 free-range eggs
1 x 400ml can coconut milk
1 ripe avocado, pureed
1 1/2 cups brown sugar
2 1/2 tsp pure vanilla essence or paste
2 1/2 cups gluten-free flour mix (without raising agent included)
1/2 cup coconut flour
3/4 cup dark cocoa powder
3 tsp baking powder (gluten-free)
Large pinch of salt
Method
Preheat the oven to 170c conventional bake. Line the base and sides of a 24cm diameter springform cake tin with baking paper. Set a rack in the lower half of the oven.
Add 2 inches of water to a medium saucepan and fit a heatproof bowl on top (not touching the water). Add the broken up chocolate and 1/2 the oil to the bowl, bring the water to a simmer and stir until everything is melted. Remove the bowl from the heat.
Add the coconut milk, remaining oil, eggs, avocado, brown sugar and vanilla to your largest mixing bowl, and beat or whisk until smooth. Add the chocolate mixture and beat again to combine.
Sift the flours, cocoa, baking powder and salt into a bowl and stir well with a whisk to combine very evenly. Add the flour mixture to the wet mixture and stir (don't whisk) with a whisk to combine evenly with no lumps. Scrape the sides with a spatula once or twice.
Pour the mixture into the prepared cake tin and bake in the oven for 1 hour 10 minutes.
Cool for 10 minutes in the tin, then turn out and cool on a cake rack (the top can puff up and crack a bit sometimes, so  you can cool and serve it upside down).
Dust with cocoa or icing sugar before slicing and serving warm or cold. (Or ice with icing – you could make a ganache with 50% dark chocolate melted with 50% coconut cream – let it cool in the fridge to icing consistency then ice).
Store in an airtight container for up to 3 days.