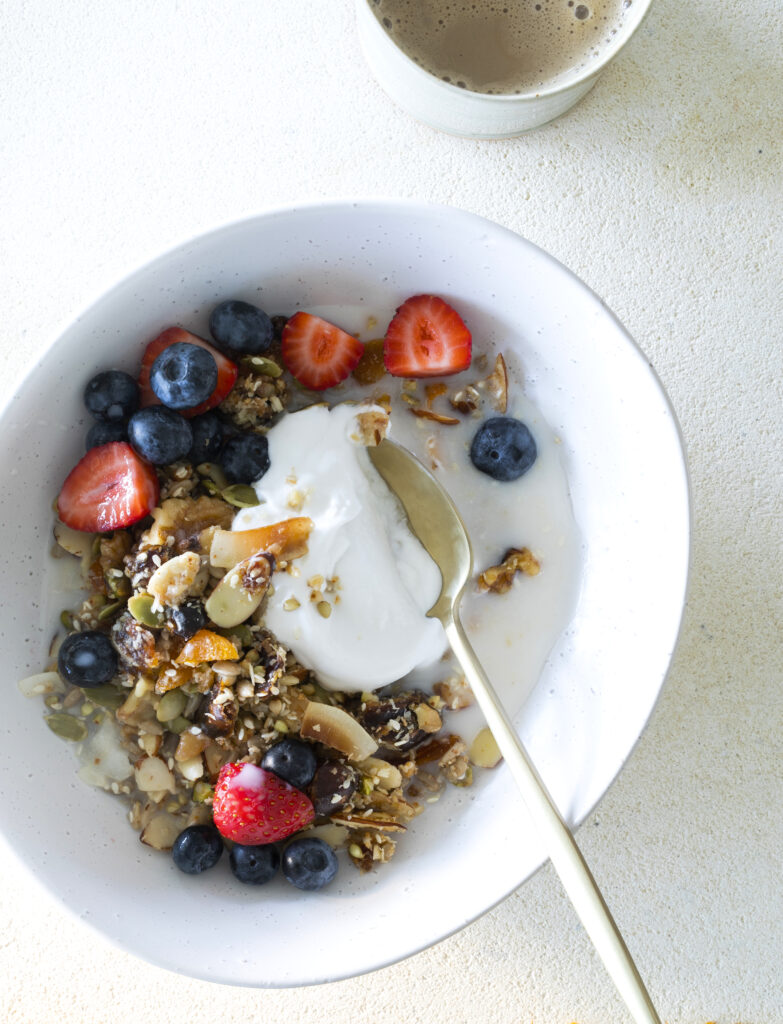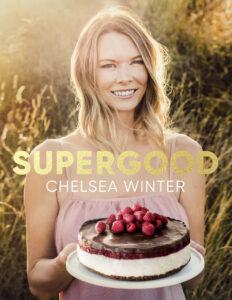 Our summer breakfast go-to. Making your own muesli takes a little time, but with this recipe you'll never look back (the smell of it cooking alone is worth it). It features a deliciously unique blend of goodies (not just a whole load of oats), and it's unquestionably filling and nourishing as well as super-tasty (the almond butter and honey make it very special indeed). You can of course tweak the recipe to your liking — maybe add a couple of handfuls of oats if you like them, and mix it up with the types of nuts or dried fruit you use. You should be able to get buckwheat groats at the supermarket — just ask.
PREP | 30 minutes
MAKES | enough to last a while
Ingredients
DRY INGREDIENTS
2½ cups sliced almonds
2 cups sunflower seeds
2 cups buckwheat groats
2 cups desiccated coconut
2 cups shredded coconut or coconut chips
2 1/2 cups walnuts, roughly chopped
1 1/2 cups pumpkin seeds
1 cup sesame seeds
DRIED FRUIT
2 1/2 cups dried apricots, chopped
2 1/2 cups dates, chopped (not the fancy ones – or use other dried fruit such as sultanas)
WET INGREDIENTS
1/3 cup almond butter
1/3 cup honey (or use maple syrup)
1/4 cup maple syrup
1 tsp vanilla extract (optional)
1/2 tsp salt
To make
Preheat the oven to 180°C regular bake and get your biggest oven tray ready (or a huge metal roasting dish if you have one). You may have to cook this in two batches.
If your roasting dish has sides, you can use this to both toast the dry ingredients and mix the final muesli. Or, use a huge mixing bowl to combine things at the end.
Add the dry ingredients to the roasting dish/bowl and mix well to combine. Transfer to the oven tray if necessary and bake until you see the top and edges going slightly golden (5–10 minutes). Give it a stir, and however long it took to cook the first time, keep baking in those intervals, stirring after each time, until the whole lot is a little toasty — about 3-4 times usually does it. The coconut chips will brown first, so make you sure keep stirring it so it doesn't burn.
If necessary, tip it back into the mixing bowl. Add the dried fruit and mix to combine.
Heat the wet ingredients in a small saucepan until melted, then pour over the muesli and stir together to coat evenly.
Leave the muesli to cool completely, then transfer to airtight containers or jars. A jar of it looks very beautiful on the kitchen bench, and the rest is best stored in the fridge so that the oil in the nuts doesn't go rancid in warm weather.
Serve with nut milk, stewed or fresh fruit, Chia Pudding (see recipe in Supergood) and yoghurt or coconut yoghurt. Stewed or canned black Doris plums are my favourite, or homemade stewed apple. And fresh berries if in season!
TIPS
I'm a huge fan of dates, so I usually make this with only dates for the fruit.
This makes an amazing gift in a nice jar; whoever gets it will be so grateful. And the recipe makes enough for two batches so you can keep half!
If you can find sulphur-free apricots, they are amazing. Brown rather than orange, but way better for you.
You can add some pre-puffed grains of your choice if you like at the very end.