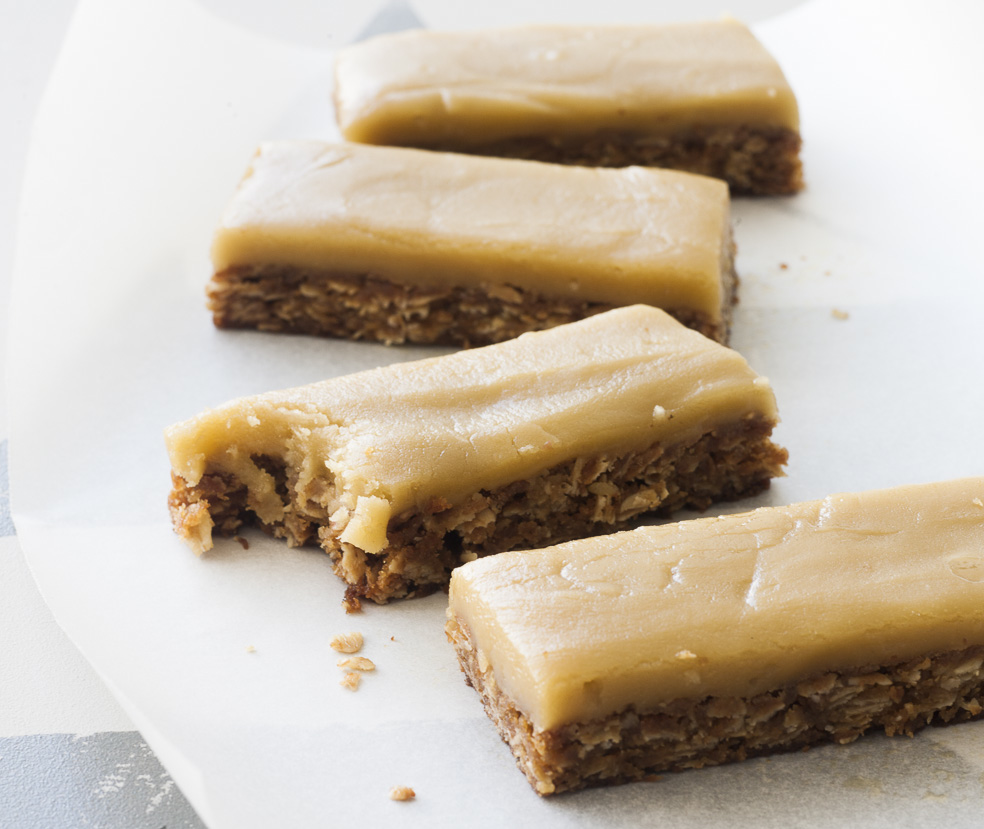 Gluten-free ginger & nut slice
Forget about the fact this is gluten-free – I'd go so far as to say it could be nicer than the original recipe for my standard Oaty Ginger Slice! It works with a standard gluten-free flour mix (one without raising agent already added) or you can use coconut flour. I find coconut flour can be quite drying, so you could perhaps add another 25g butter or use a little less dessicated coconut. You can use a food processor to speed up the nut-chopping – try to get it down to a medium crumb. A few big pieces are okay but if they're all quite large, the slice can go crumbly when you slice it.
Base
175g butter
3/4 cup brown sugar
2 tbsp golden syrup
1 1/2 tsp baking powder
2 tsp ground ginger
1 cup plain gluten-free flour mix
1 cup desiccated coconut
1 1/2 cups nuts, very finely chopped (I used cashews and almonds)
Icing
150g butter
1 1/2 cups icing sugar, sifted
3 tbsp golden syrup
4 tsp ground ginger
Method
Preheat the oven to 180c conventional (160c fan bake). Line a 32cm x 22cm slice tin with baking paper so it goes up the sides.
Melt the butter, sugar and golden syrup in a large saucepan over a medium heat, stirring gently to combine. Remove from the heat.
Sift the coconut, flour, baking powder and ginger into the pan with the buttery mixture. Add the nuts and coconut, and stir to combine. Press the mixture into the prepared tin in an even layer and bake in the oven for 15 minutes. Remove from the oven and leave in the tin.
Heat the icing ingredients (start with 2 cups of the icing sugar) in a saucepan (just rinse the one you used for the base), stirring over a medium heat until melted. If the butter isn't all mixing in nicely, add more icing sugar until you have a nice smooth icing. Pour/spread over the warm slice. Leave in the tin to cool then cut into slices. Store in an airtight container in the fridge for up to a week (yeah, good luck with that).