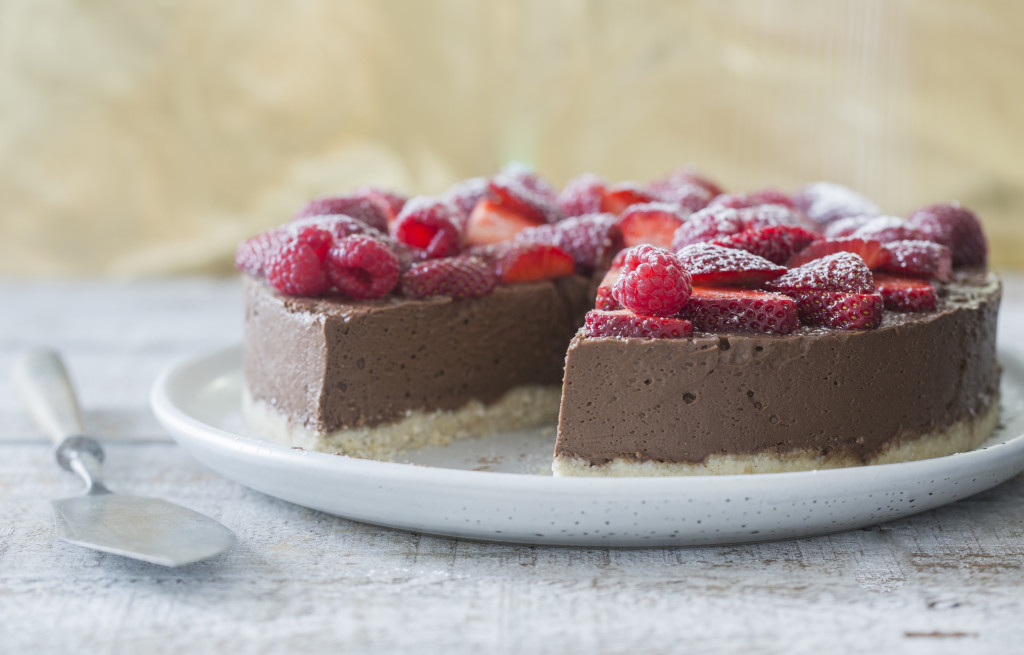 Gluten & dairy-free chocolate cheesecake
This is a new and improved dairy-free version of my gluten-free chocolate cheesecake. This one has more filling and looks more impressive on the table. It's lighter and silkier, too. If you'd like to use the old recipe, you'll find it here.
Notes
You'll hopefully be able to find coconut yoghurt at your local supermarket by now – ask them. If not, there's a perfectly good substitute using coconut cream included too, which I've used often.
Some quality dark chocolates (50% cocoa solids and higher) are dairy-free – Whittaker's is one of them.
You can leave the egg whites out if you like – it's just there to make the filling lighter.
If you're OK with dairy, instead of the coconut cream/yoghurt, use 500g of regular cream cheese. Then instead of folding in the egg white at the end, fold in one cup of cream that's been whipped.
If you have access to dairy-free cream cheese, you can use this instead of the coconut yoghurt.
Ingredients
Base
1 cup cashew nuts (raw or roasted)
1 cup ground almonds (almond meal)
1 cup desiccated coconut
¼ cup coconut oil, softened or melted
Zest of 1 lemon
1 tsp vanilla extract or paste
½ tsp salt (if the nuts aren't salted)
Filling
400g dairy-free dark chocolate, chopped (see notes above)
1 ¼ cups coconut yoghurt (or use 800ml full coconut cream – choose one without stabiliser/emulsifier in it, so the cream can separate – I use Ayam or Trade Aid)
1 x 400g can coconut cream
1 large ripe avocado
¼ cup coconut oil (cold pressed/virgin if you can find it)
1 tsp vanilla extract
Pinch salt
2 free-range egg whites (optional – to add lightness)
Method
If you cannot find coconut yoghurt and are using coconut cream – the night before or 3 hours before you make the cheesecake, put the tins of coconut cream in the fridge. This will separate the cream from the water. Remove from the fridge then open them upside down – you should see a grey watery liquid sitting on top. Pour that out, leaving the firm coconut cream behind. Use this cream in place of the coconut yoghurt.
Line the bottom of a 23-25cm diameter springform tin with baking paper.
In a food processor, process all the crumb ingredients finely. (I find tipping the processor up on its side a little so it's on an angle helps it all mix up better and not stick to the sides).
Press the crumb into the bottom of the tin in an even layer, fairly firmly. Pop in the fridge.
Melt the chocolate in a heatproof bowl sitting over a pot of simmering water (not touching the water), until just melted, stirring every now and then. (Or, you can microwave it in a glass or ceramic bowl on high for 1 ½ minutes, stirring well until smooth.) Let the chocolate sit for 15 minutes until it's cooled a bit.
Add the coconut yoghurt (or the chilled coconut cream from above) to a food processor. Add the extra whole (un-seperated) tin of coconut cream, avocado flesh, coconut oil, vanilla and salt. Process until smooth, scraping down the sides.
A third at a time, stir the chocolate mixture into the coconut cream.
Lastly, if using, add the egg whites to a clean bowl. Wash the beater if you need to, then beat the egg whites until soft peaks firm. Immediately fold 1/4 cup of the egg white through the chocolate mixture to aerate it, then fold the rest of it through until well combined.
Scrape the mixture on top of the cheesecake base, cover and refrigerate for at least 2 hours to set.
Just before serving, warm the outside of the tin with a hot cloth, then undo the spring and gently move to a serving plate. Decorate with loads of fresh chopped berries and dust with icing sugar if you like.