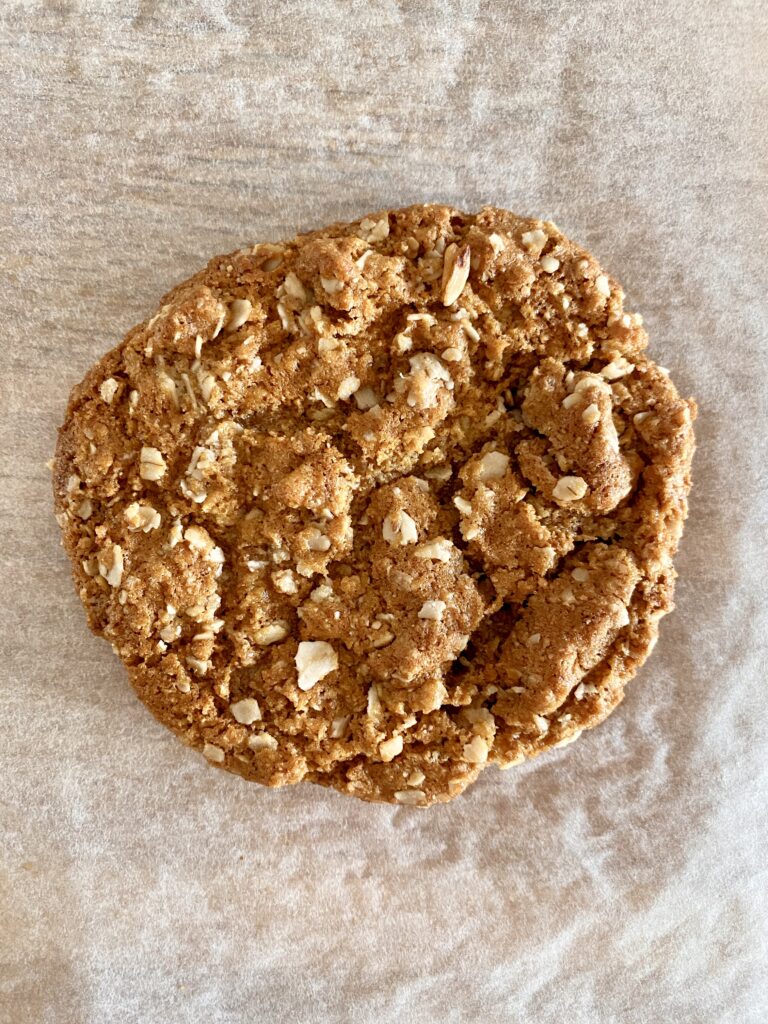 Dairy-free ANZAC biscuits! I created this recipe gluten-free flour, but oats are a grey area in NZ so they aren't gluten-free with oats (click here to get informed). If you know it's safe for you to eat oats, go ahead. If you can't or you're unsure, try using gluten-free cornflakes, rice flakes, or quinoa flakes. Still golden, still chewy and delicious, still the best biscuits ever. I added a little almond butter to make up for the loss of 'butteryness' – but it's okay if you leave it out. I like to pause for a whisper of remembrance every time I eat an ANZAC biscuit, thinking of the innocent souls whose lives were either lost or marred forever by a hideous, pointless war; and the loved ones they left behind. I feel deeply grateful my son will never experience such dark times. If you want my regular recipe, it's in Scrumptious.
Ingredients
1 1/2 cups rolled oats (or use GF flakes, see intro)
1 cup gluten-free flour mix
3/4 cup desiccated coconut
1/2 tsp salt
1/2 cup melted coconut oil
3/4 cup caster sugar (or regular sugar)
3 tbsp golden syrup
3 tbsp almond or cashew butter, warmed (optional)
1 tsp baking soda
Method
Preheat the oven to 170c regular bake and line a baking tray with baking paper (you'll need two trays, probably).
Boil the jug, you'll need the water for the baking soda later.
Add the dry ingredients (except the baking soda) to a medium/large mixing bowl and stir to combine.
Make a well in the centre and add the melted coconut oil, sugar, golden syrup and nut butter (if using). Stir with some gusto until combined evenly. No need to be gentle here. At this point it will still be a really crumbly mixture, which is fine.
Add the baking soda to a very small bowl or cup and add 2 tbsp of the just-boiled water. It will foam up straight away – quickly stir then add to the biscuit mixture. Mix it all up until evenly combined.
Roll the mixture up into balls (mine were about golf-ball sized) and arrange on the tray, 7-8cm apart as they spread. They still won't look anything like ANZAC biscuits yet – the magic happens in the oven.
Bake in the oven for 15-18 minutes, until deep golden all over. If you have two trays in the oven, you may need to swivel them around half way through cooking.
Remove the biscuits from the oven and allow to cool before moving them, as they'll still be very soft and crisp up as they cool down.
Enjoy with a hot cuppa.
You can store these ANZAC biscuits in an airtight container at room temperature for literally weeks; that's the whole point of ANZAC biscuits, they were designed to send to the troops abroad so they wouldn't spoil in transit.
We will remember them x
Tips
Sometimes I use a mixture of wholegrain oats and instant oats (the really small thin ones, for textural balance. This photo was made using all instant oats.