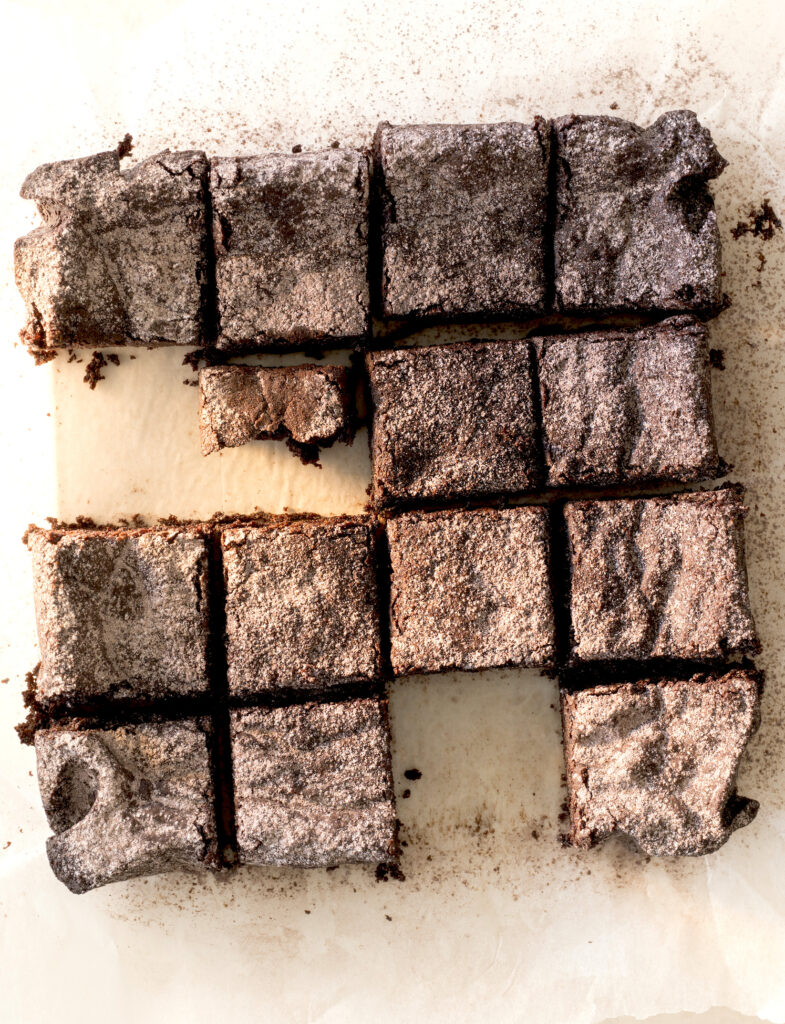 PREP – 15 minutes
COOK – 25 minutes
MAKES about 16 pieces
Ingredients
1 tbsp chia seeds
1/4 cup cold water
1 cup plain flour
1/2 cup good-quality dark cocoa powder
1 tsp baking soda
3/4 tsp salt
1 cup caster sugar
1/2 cup plant-based milk
1/3 cup coconut oil, melted
1/4 cup almond or cashew butter, softened for 30 seconds in the microwave
2 tsp vanilla extract
200g dairy-free eating chocolate, chopped
icing sugar, for dusting
TO MAKE IT GLUTEN-FREE
Use a GF flour without raising agent added
To make
Preheat the oven to 180°C regular bake. Line a 20cm x 20cm tin with baking paper over the base and up the sides.
Place the chia seeds in a little bowl with the water and give it a little stir. Set aside for 10 minutes, stirring again once or twice as it thickens.
Sift the flour, cocoa, baking soda and salt into a mixing bowl. Add the sugar and stir to combine.
Place the milk, melted coconut oil, almond or cashew butter and vanilla in another bowl and whisk briefly to combine.
Make a well in the centre of the flour mixture and add the wet mixture and the chia seeds. Stir until evenly combined. At this point it will probably look way too thick and gluggy, but fear not — this is okay. Stir through the chocolate pieces.
Scrape the mixture into the tin and smoosh out into an even layer (a wet spatula works nicely). Bake for about 20–25 minutes. The edges should have puffed up and the middle should look cooked, but the whole thing should still wobble just a tiny bit when you shake it gently.
Leave to cool in the tin for about 10 minutes, then use the paper to pull out onto a wire rack. When cool, dust with icing sugar and cut into squares.
Keeps in an airtight container for a few days — if you're lucky!