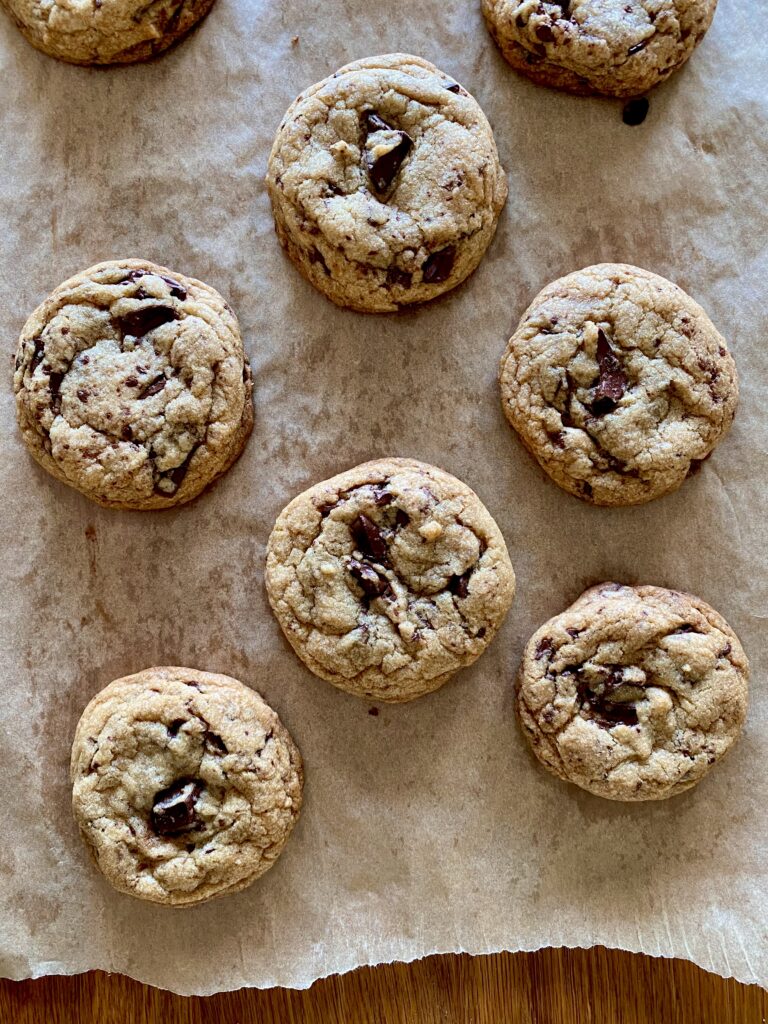 Prep 20 minutes, plus 30 minutes to chill
Cook 10-12 minutes
Makes about 12–16 cookies
Welcome to the plantified version of my famous cookies! Now you can breathe easy when offering a plate of them to a crowd, knowing there's not a skerrick of egg or dairy in sight (you can make them gluten-free, too). Just a note — no two batches of cookies will ever look the same because there are just so many variables, so don't panic if yours seem flatter or more plump or quite different to the ones here.
Ingredients
2 cups plain flour (see below for GF)
1 tsp baking soda
3/4 tsp salt
2/3 cup virgin coconut oil (at room temperature, semi-soft)
1 1/4 cups brown sugar
1/4 cup full-fat coconut cream
1/4 cup mashed ripe banana (or stewed apple, see tips)
3 tsp vanilla extract
1 1/2 cups chunkily chopped dairy-free eating chocolate (I used Whittaker's 50% cocoa)
To make it gluten-free
Use a GF flour blend without raising agent added, and only 1/3 cup coconut oil.
To make
– Preheat the oven to 190°C regular bake (or 180°C fan-bake if you are using two trays at a time). Line one or two baking trays with baking paper. Have an oven tray in the middle of the oven (too low and the bottoms
might brown).
Sift the flour, baking soda and salt into a mixing bowl and stir to combine.
Place the coconut oil, brown sugar and coconut cream in a medium-sized mixing bowl and beat (I use a handheld electric beater) until light and fluffy. Add the banana or apple, and vanilla, then beat again for 10–20 seconds. It's okay if it looks a little split.
Add the flour mixture to the creamed mixture and beat (or stir with vigour) until well combined. Stir through the chocolate.
If your dough feels firm enough (it usually is with normal flour), you can bake the cookies now, or cover and refrigerate for about 30 minutes – I find I need to do this using GF flour. The more chilled the dough is, the less the cookies will spread for GF; I actually like them to spread a bit.
Roll into balls a bit larger than golf-ball sized and arrange on the baking tray/s, at least 7cm apart as they will spread.
Bake in the oven for about 10-12 minutes — the cookies should be turning golden brown, but only around the edges, not the very middles.
Leave to cool on the tray for 10 minutes, they will still be soft until they cool.
They will keep in an airtight container for a few days. Personally, I like them way better the next day, when they've gone soft and chewy.
TIPS
To make stewed apple, peel and slice a couple of apples, add slices to a small saucepan with a couple of tbsp of water over a medium heat. Cover and cook for 5-10 minutes until soft, then mash or puree. Or you can buy apple sauce at the supermarket.
You want the coconut oil the firmness of semi-firm butter – not liquid, not a hard rock. You can use refined coconut oil if you don't like the taste of coconut but I think it's yum.