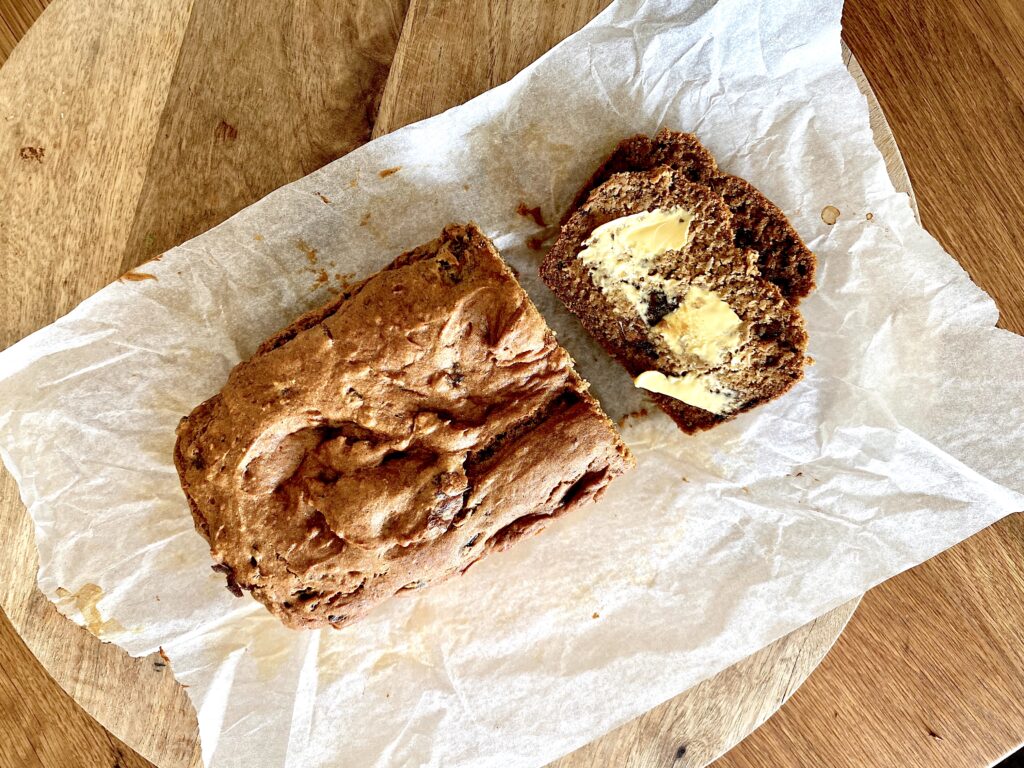 Date loaf of disbelief
Why call it that? Maybe because I'm currently in disbelief that this loaf is free from gluten, dairy, eggs and refined sugar, but it still tastes incredible and the texture is bang on. It's super-easy to make, as well. You can thank me later! Enjoy x
Prep time – 20 minutes
Cooking time 50-60 minutes
Makes 1 large loaf
Ingredients
300g chopped pitted dates, chopped very roughly
¾ cup water
Juice and zest of 1 orange
2 cups GF flour without raising agent added
2 tsp baking powder
2 tsp cinnamon
1 ½ tsp ginger
½ tsp mixed spice
1 cup plant-based milk
½ cup coconut sugar
½ cup water from a tin of chickpeas (aquafaba)*
½ cup sunflower or grapeseed oil
¼ cup coconut oil, melted
½ tsp salt
1 tsp baking soda + 2 tbsp plant-based milk
Method
Preheat the oven to 160c regular bake and line a medium/large loaf tin with baking paper up the base and sides.
Add the dates to a saucepan with the water and orange juice, and simmer over a medium heat for a few minutes until most of the moisture is soaked up and you have a mushy mixture. Spread it on a plate to help it cool down quicker and set aside until lukewarm.
Add the flour, baking powder, cinnamon, ginger and mixed spice to a medium/large mixing bowl and stir with a whisk to combine.
Add the plant-based milk, coconut sugar, chickpea water, oils, orange zest and salt to another medium mixing bowl and whisk to combine. Stir through the cooled date mixture.
Add the baking soda and milk to a small bowl or cup, stir to combine, then tip into the date mixture and stir with a wooden spoon to combine evenly.
Add the wet mixture to the flour mixture and stir until thoroughly combined (unlike regular flour, stirring will not make the mixture tough so you don't have to be too gentle).
Scrape the mixture into the prepared tin, smooth out the top and bake in the oven for an hour, or until a skewer poked in comes out clean. Turn the loaf on to a cooling rack.
Keep at room temperature for a few days. Lovely by itself or with a smear of coconut oil ( or plant-based butter).
Once it's a few days old, you can try toasting it!
(Note – I have made this with 400g dates, and it's nice – a bit sweeter and fudgier, though!)
*You can use a beaten egg plus a yolk, if you're okay with eggs.