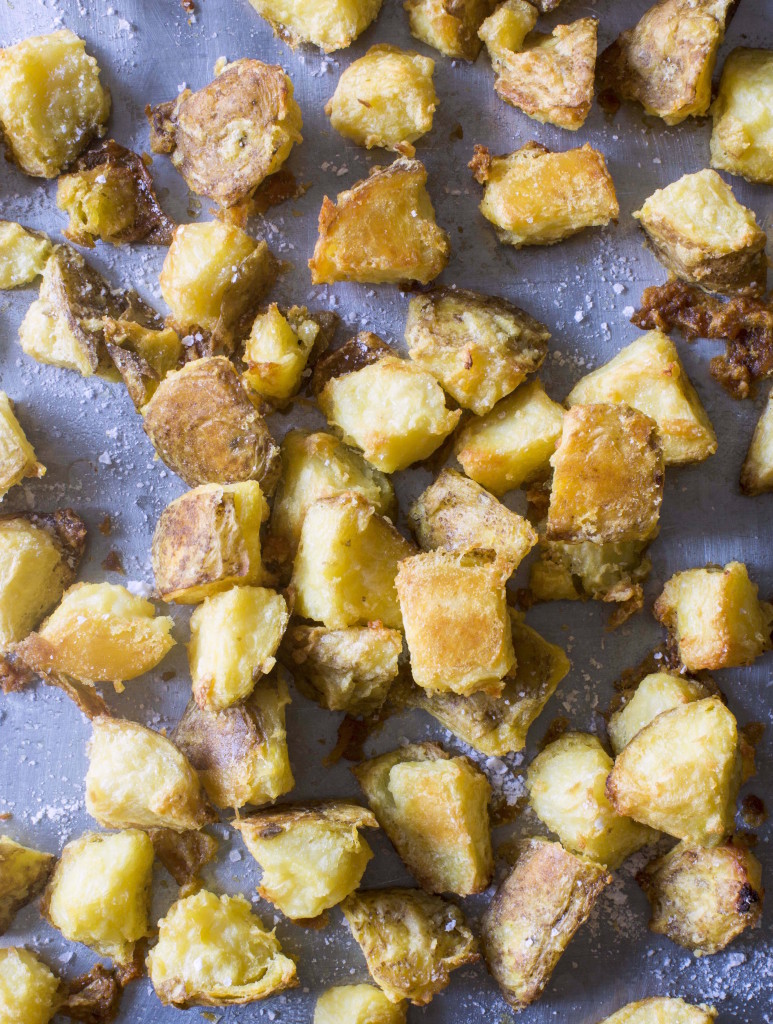 Crispy roast potatoes
Golden and crunchy on the outside, and light and fluffy on the inside. It's not difficult to achieve, but there are a few little tricks to get it right. I created this recipe using healthy oil so people could serve them all the time without feeling guilty. An important thing to note with roasting potatoes is that they crisp up best without anything else in the oven (like a roast) creating moisture – so I do these  potatoes while the meat is resting. You also need to start with the right potato – Agria is my favourite, but you can also use Ilam Hardy, Red Rascal, Fianna, Victoria, Laura, and Marabel…stay away from waxy potatoes!
Prep time: 10 minutes
Cooking time: 30 minutes
Serves: 4–6
Ingredients
1–1.5kg floury potatoes (such as Agria), chopped into evenish pieces, 4–5cm
¼ cup extra virgin olive oil
¼ cup oil (grapeseed, rice bran or light olive oil)
salt
Method
Preheat the oven to 220c fan bake.
Scrub the potatoes, or peel them (I like the skin on). Add to a large saucepan of salted water over a high heat. Bring to to a gentle simmer for about 15 minutes, or until the potatoes are about three-quarters cooked – the outsides should be soft.
Drain in a colander then add back to the saucepan and place over a low heat for a few minutes to dry out excess moisture. Shake the pan a few times — you'll see the steam evaporating. Don't forget about them and burn them!
Put the lid on and give the pan a good strong shake for 5 seconds. What you want to happen is for the outsides of the potatoes to get nice and roughed up. If some of them look mushy and fall to pieces, don't worry — this is a good thing. Add the oils and toss briefly, less roughly, just to coat the potatoes.
Tip the potatoes and oil (and all the mushy stuff at the bottom) on to a large roasting tray or dish, and separate them so they aren't touching one another. Season generously with salt (salt helps them crisp up too).
Bake in the centre of the oven for about 30 minutes — or until golden brown on the bottom and crunchy.
Here's the important part: Don't be tempted to turn them over or shake the tray during cooking — just leave them as they are for the whole time. Have a taste and if they need more salt, hit them.
Serve with a lovely roast meal or just with a bowl of homemade aïoli or tomato sauce and get stuck in. Have fun fighting over the little crunchy bits!