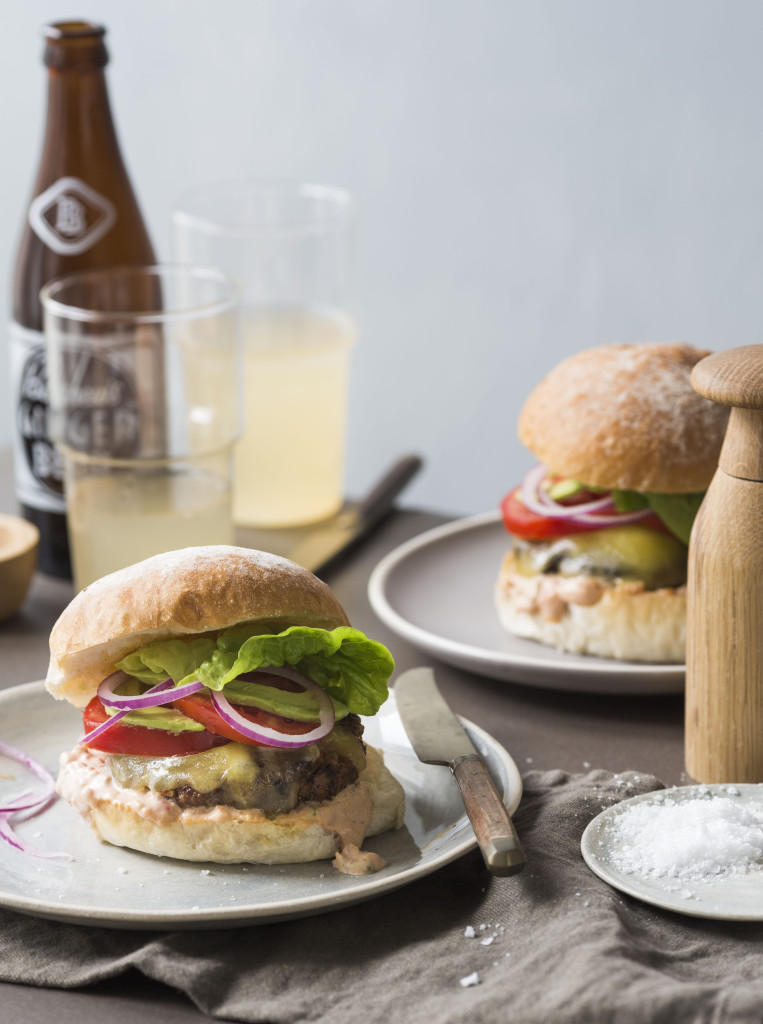 Chelsea's Cheeseburgers with secret sauce
Why 'secret' sauce? Because gherkin is the magic ingredient – and even the most passionate anti-gherkiners won't be able to deny the deliciousness. They're chopped up very small and disguised in a cloak of mayo and tomato – so that's the secret. Once you've made these, you'll realise how easy it is to make a burger that's a million times healthier and tastier than a greasy takeaway burger. The bun is very important; I try and avoid the standard burger buns from the bread isle at the supermarket – too crumbly and too processed I reckon. Try soft ciabatta rolls, or burger buns from your local baker or specialty food store – you'll notice the difference. The secret sauce is a killer! Enjoy these burgs with my crispy roasted potatoes if you want a real treat.
Ingredients
Plant-based burger patties
Dairy-free cheese
Secret sauce
3/4 cup vegan mayonnaise (recipe here)
1 shallot, peeled and finely chopped (or 2 tbsp onion, minced)
3 gherkins, finely chopped
1 clove garlic, crushed
1 1/2 tablespoons Dijon mustard
1 tablespoon tomato paste
To serve
Burger buns, halved
Lettuce leaves
Red onion, very thinly sliced
Crispy bacon (optional)
Patties
Preheat the oven to grill.
Preheat a BBQ or frying pan to a medium heat. Brush the patties with a little oil and cook for a few minutes until browned on one side. Turn the patties over, reduce the heat to medium-low and cook for another 8-10 minutes until cooked through.
Transfer the patties to a roasting dish or oven tray and lay a slice or two of cheese on top of each one. Cook under the grill for a minute or so until the cheese starts to melt over the patties.
To make the secret sauce, combine all the ingredients and season as required.
Place a patty onto the bottom bun, add the lettuce leaves, slices of red onion and top with a dollop of sauce.