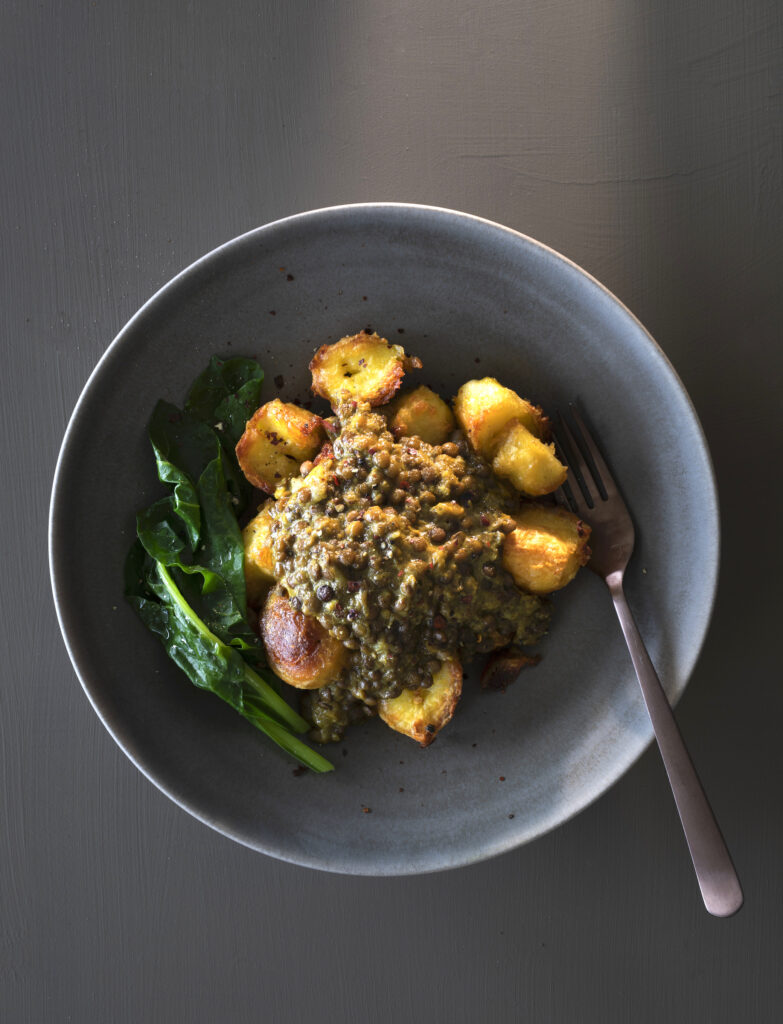 Creamy dhal & crunchy roast potatoes
Prep time – 15 minutes
Cook time – 1 hour
Serves 4 – 6
Please promise me you'll make this dish — embrace the lentil, you simply must. We eat this meal about once a week, and never get tired of it. It's SO good, so much better than an image can show (even this insanely beautiful photo). Creamy, richly flavoured lentil curry softly spooned on top of the most golden, crispy potatoes — pure comfort food that's also good for you. If there's any left over, it's even better for lunch the next day. You can make the dhal in advance; you may just need to thin it down a bit with more stock when you reheat it. If you like some heat, add some chilli powder.
Ingredients
CRUNCHY POTATOES
1.5kg floury potatoes (e.g. Agria), scrubbed or peeled
1/3 cup grapeseed or sunflower oil
CREAMY DHAL
1/4 cup melted coconut or grapeseed oil
2 large onions, thinly sliced 4 cloves garlic, crushed
1 tbsp finely grated ginger
2 tsp ground cumin
2 tsp ground turmeric
1 tsp ground coriander
1 tsp curry powder
1 tsp paprika
1/2 tsp finely ground black pepper
1 1/4 cups dried brown lentils, rinsed
3 cups vegetable stock (or use water and stock powder)
1 tsp sugar
1/2 cup coconut cream (I used the UHT one in a tetrapack)
1 tbsp lemon juice
TO SERVE
chopped fresh coriander (optional) lemon wedges (optional)
IT'S GLUTEN-FREE
(Check your stock, though)
To make
Preheat the oven to 230°C regular bake.
Halve the potatoes (or quarter if very large) and place them in a large saucepan of salted water. Bring to a fast simmer, cooking until the potatoes are about three-quarters cooked through — about 8–10 minutes. Drain well, then return to the pan and place back over the heat for a minute or so to steam off any excess liquid. Add the oil to the pot, put the lid on and shake really vigorously. You want the potatoes to break up a bit, and it's okay to have mushy stuff at the bottom — this will all turn crunchy. Tip everything onto a large oven tray and spread it out as best you can.
If some pieces are too large, smoosh them a bit with a wooden spoon. Season generously with salt and set aside.
To make the dhal, add the oil to a large, deep frying pan or flameproof casserole dish over a medium-low heat. Add the onion and a pinch of salt and cook, stirring occasionally, for about 15 minutes until the onion is golden and mushy. Add the garlic and ginger and cook, stirring, for another few minutes. Add the spices and cook for another minute.
Put the potatoes in the oven for 35 minutes, turning once halfway through if you need to.
Add lentils, stock, salt and sugar to the pan with the onion, garlic and ginger. Stir to combine, then cover and simmer on a very low heat for about 30 minutes, or until the lentils are tender. Add the coconut cream and lemon juice, stir through and continue to simmer, uncovered, for as long as it takes for the dhal to thicken up nicely — 15 minutes maybe; it depends how thick your coconut cream is. Season with salt and pepper to taste.
Place the dhal and potatoes in separate dishes on the table. To serve, pile some dhal on top of the crispy potatoes, and sprinkle with coriander and maybe a little extra squeeze of lemon, if you like.
Lovely with some steamed greens on the side.
TIPS
If you're one of those people who doesn't like coriander because you think it tastes like stink bugs, you can use finely chopped parsley instead.