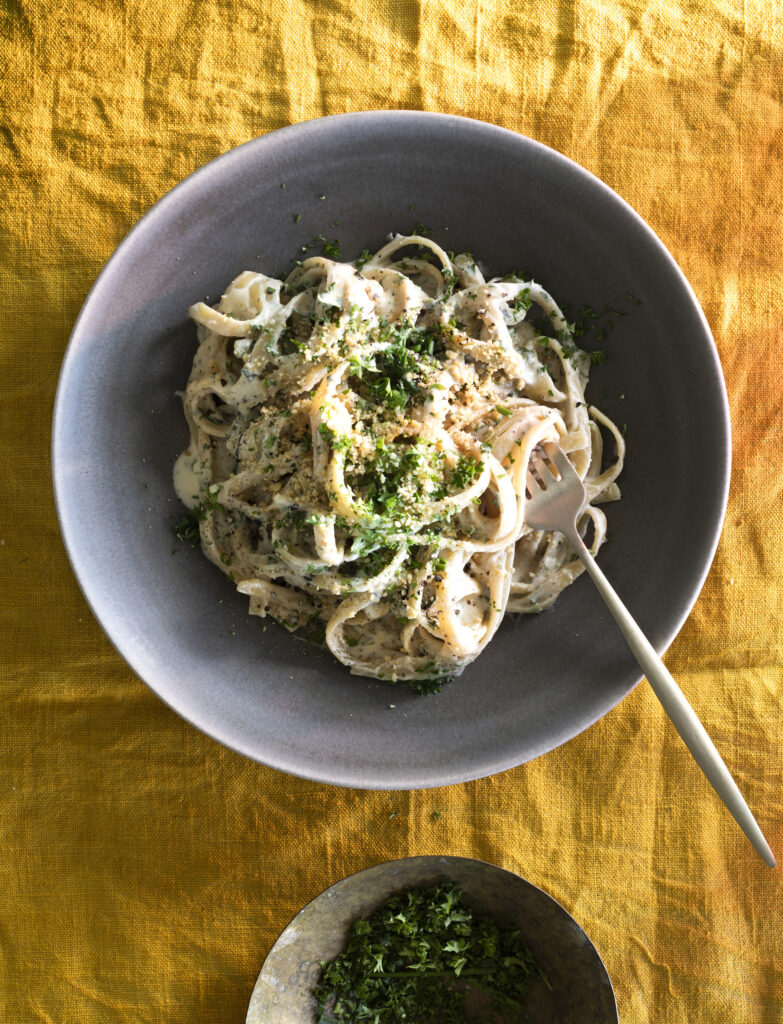 Creamy Alfredo
Prep 15 minutes, plus 30 minutes soaking time
Serves 4
Pretty much everyone goes crazy for creamy pasta and up until now, people who can't/won't eat dairy may have been feeling decidedly forlorn at missing out. Never fear! Old mate Chelsea is here with a dish that is as creamy, 'cheesy' and comforting as ever. Literally whizz the sauce up and stir through hot pasta. Perfect for when you just can't deal with a complicated cook.
NOTE – To make it gluten-free, use GF pasta & stock powder
Ingredients
1/2 cup natural cashews
2 1/2 cups unsweetened soy or cashew milk
2 tbsp lemon juice, plus extra to taste
3 tbsp grapeseed or sunflower oil
1/4 cup nutritional yeast
1 large garlic clove
2 tsp imitation chicken or vegetable stock powder (1 cube Massel stock)
1/2 tsp salt
1/4 tsp ground white or black pepper
500g dried pasta (i.e. fettucine, penne or spaghetti)
1/3 cup finely chopped fresh soft herbs – parsley, basil, chives
3/4 cup grated dairy-free cheese, to stir through (optional
To make
Add the cashews to a heatproof bowl and cover with boiling water. Leave to sit for at least 30 minutes, then drain.
Add the cashews to a high-speed bullet or a good blender along with the plant milk, lemon juice, nutritional yeast, garlic, stock, salt and pepper. Blend until the sauce is silky smooth. Set aside.
In a large saucepan, cook the pasta according to packet directions. Drain, then add back to the saucepan add the creamy sauce. Replace over a medium heat for a minute or so, stirring, to thicken it up just a little. Stir through the herbs and cheese (if using).
Taste and season with salt and pepper and more lemon if you think it needs it. Spoon into bowls and serve with extra fresh herbs.
TIPS
If you don't want to use a whole 500g of pasta, you can use less and still make the same amount of sauce – extra saucy pasta is good!
You can make the sauce in a food processor but you will probably have to whizz it for a good 10 minutes or so.
Try a bit of Plant Parmesan on top (find the recipe on page 196 of Supergood).