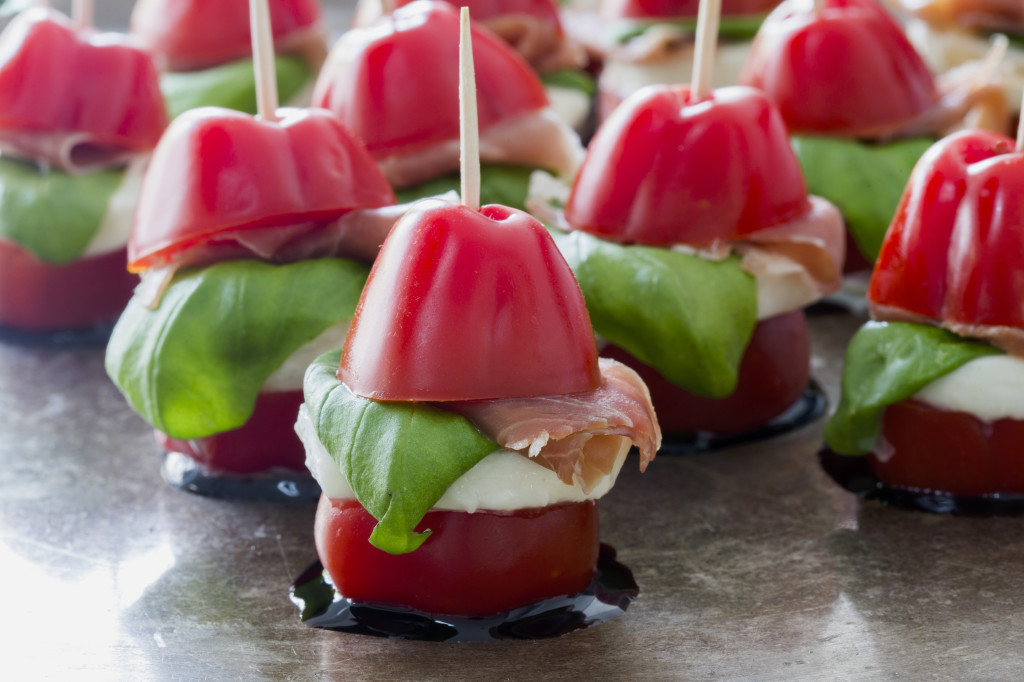 Santapés
A little green beard, a flash of prosciutto for a face, white woolly scarf, shiny black feet and a pointed red hat – Chelsea's Santa Christmas Canapés! There's nothing new about the combination of flavours I've used here, but I tell you what, I haven't seen everything assembled to look this festive before! I used 'Tomatoberrys', which are a bit bigger than cherry tomatoes and have a great shape. Cherry tomatoes will work fine though – you may just have to cut your cheese rounds a little smaller. You could go really crazy and dot little black eyes on with black food colouring if you wanted. If you're expecting a crowd, double the recipe. Makes 12-14.
Note to gluten-free folk: If you're unsure about the store-bought balsamic glaze, either make your own with the recipe below or leave it off.
Ingredients
1 punnet ripe tomatoberries (or cherry tomatoes, or grape tomatoes)
1 pottle fresh small mozzarella or bocconcini balls
1 bunch fresh basil leaves
4-5 slices prosciutto or smoked salmon, torn into small pieces (optional)
2 tablespoons balsamic glaze/reduction (use bought or make your own – see below)
Toothpicks or skewers, to serve
Method
You may need to cut your skewers first if they're too long – else they will look silly sticking a long way out the top. Make you you cut them on a diagonal to create a sharp point, or you'll mush Santa as you poke it in.
Using a sharp knife, slice only the very top part of the tomatoes off, just so that they have a more stable surface to sit on. Here's a tip – only cut off the very thinnest slice you can, to avoid cutting into the fleshy seeded part. Otherwise the juice can run out and look messy on the platter.
Slice the tomato in two even halves. The top you've sliced will be the base. The pointed bottom is the 'hat' to go on top.
Slice a ball of cheese into even slices, and place a slice on the tomato base. Top with a piece of folded prosciutto, a basil leaf, and season with salt (and pepper if you like). Gently place the top on, holding it all steady as you insert the skewer to hold everything in place.
Squirt a small blob of balsamic glaze on to a platter (no bigger than a 5c piece). Gently place the Santa on top.
Repeat until all the ingredients are used up. Best served straight away but you can keep them in the fridge for an hour or so on a plate, and put them on the platter with the balsamic just before you serve.
Balsamic reduction
Place 1 cup balsamic vinegar in a small saucepan with 1/2 cup packed brown sugar. Simmer thickened, about 5 minutes or so. Leave to cool before using it (it will thicken up more as it cools as well).