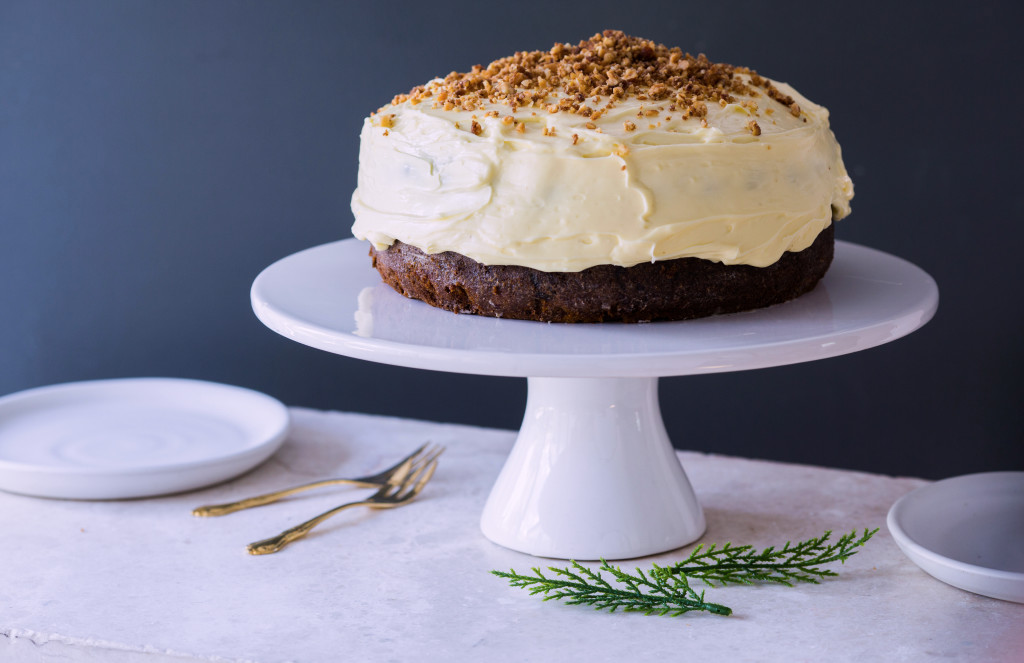 Un-Christmas Cake with toffee nut crunch
I've gotta level with you – I'm not a huge fan of 'traditional' Christmas cake. This is my 'Chelsified' version – it uses everyday ingredients and it's pretty damned good. It has a heap of grated beetroot & carrot in it to make it lovely and moist, and it has all those wonderful Christmas cake attributes like warm spices, citrus zing, tasty fruit and of course, booze – however they are present in a more delicate fashion. Cranberries and apricots instead of glace cherries (although you can still use them if you must). Subtle fresh orange and lemon rind, not great hulking pieces of peel. And a lighter, cakey texture. Liqueur is used to soak the fruit, then poured over your slice at the end, so you can choose how much you end up with. The crunchy toffee nut crunch on top will blow your mind.
Gluten-free
The great thing about this cake is you can use gluten-free flour mix and it turns out just as well (the one in the photo was made with gluten-free flour mix). Just make sure there is no raising agent in it already.
Dairy-free
If you forgo the cream cheese icing and just go for a liberal dusting of icing sugar and/or freeze-dried fruit powder, the cake is dairy-free. It is moist enough to get away with this, especially when you drizzle the liqueur over later!
Prep time – overnight for soaking fruit, then 15 minutes
Cooking time – 1 3/4 hours
Ingredients
Fruit
2 1/2 cups chopped dried fruit (I used apricots & cranberries)
1-2 cups Galliano or liqueur of your choice – brandy, kahlua etc. (If you don't like liqueur, soak them in orange juice warmed with 1 tbsp honey).
Zest of 2 oranges and 1/4 cup juice
Zest of 1 lemon and a squeeze of juice
Cake
3 ½ cups high grade flour (or plain, the fruit might sink to the bottom a bit though) (or use gluten-free flour)
2 tsp baking soda
1 tsp baking powder
3 tsp cinnamon
2 tsp ground ginger
2 tsp ground nutmeg
½ tsp ground cardamom
½ tsp ground cloves
1/2 tsp mace (optional)
1/2 tsp salt
5 free-range eggs
1 cup caster sugar
½ cup brown sugar
1 cup rice bran or grape seed oil
½ cup extra virgin olive oil
2 tsp natural vanilla essence
2 cups peeled & grated beetroot
1 1/2 cups peeled & grated carrot
Cream cheese icing
500g cream cheese
25g butter, softened
3 cups icing sugar, sifted
Squeeze of lemon juice
Method
Fruit
Add the apricots and cranberries to a non-metallic bowl with the Galliano (or whatever liqueur you choose), orange juice and zest, and lemon juice and zest. All the fruit should be covered. Cover and leave at least overnight, or a couple of days in the fridge.
Cake
Preheat oven to 160c conventional bake and set a rack in the lower half of the oven. Line the base and sides of a 25-28cm cake tin with baking paper – have the paper coming up past the sides. Set the rack just in the lower half of the oven.
Sift the flours, baking soda, baking powder, spices and salt into your largest mixing bowl and whisk to combine evenly.
Drain the soaked fruit through a sieve, reserving the syrupy liqueur juice in a bowl for later.
Crack the eggs into another large bowl. Add the sugars, oils and vanilla and whisk until well combined. Add the soaked fruit with a 1/3 cup of the syrupy liquid, and the grated carrot and beetroot. Fold to combine. (Note – if using gluten-free flour, add 1/2 cup of the liqueur).
Add the wet mixture to the flour mixture and fold until well combined – I use a rubber spatula for this to get everything off the sides and bottom.
Scrape into the greased tin. Bake in the oven for about 1 hour 40 minutes (a skewer inserted should come out clean). Cool slightly, then turn out on to a rack to cool completely. Seal in an airtight container for a few days until ready to ice.
Icing
To make the icing, beat the ingredients together until smooth. Add a little more lemon juice if necessary to thin it out or more icing sugar to thicken. Ice the cooled cake using a knife or spatula dipped in hot water.
To serve
Top with toffee nut crunch (recipe below). Serve slices of the cake with some whipped cream or ice cream  (or both) and a drizzle of the remaining liqueur syrup.
_____________________________
Toffee nut crunch
50g butter
1/4 cup sugar
2 tsp mixed spice
1 cup mixed nuts
Pinch salt
Preheat the oven to 150c conventional bake. Heat the butter, sugar and spices in a small saucepan, stirring until the sugar is melted. Stir in the nuts and salt and pepper. Pour into an even layer in a roasting dish lined with baking paper and bake in the oven for around 20 minutes – the nuts should be golden brown but not burnt – keep an eye on it if your oven tends to run hot. Remove from the oven and allow to cool.
Break into pieces and pulse in a food processor to a coarse crumb (or bash in a bag with a rolling pin). Sprinkle on top of the cake before serving.