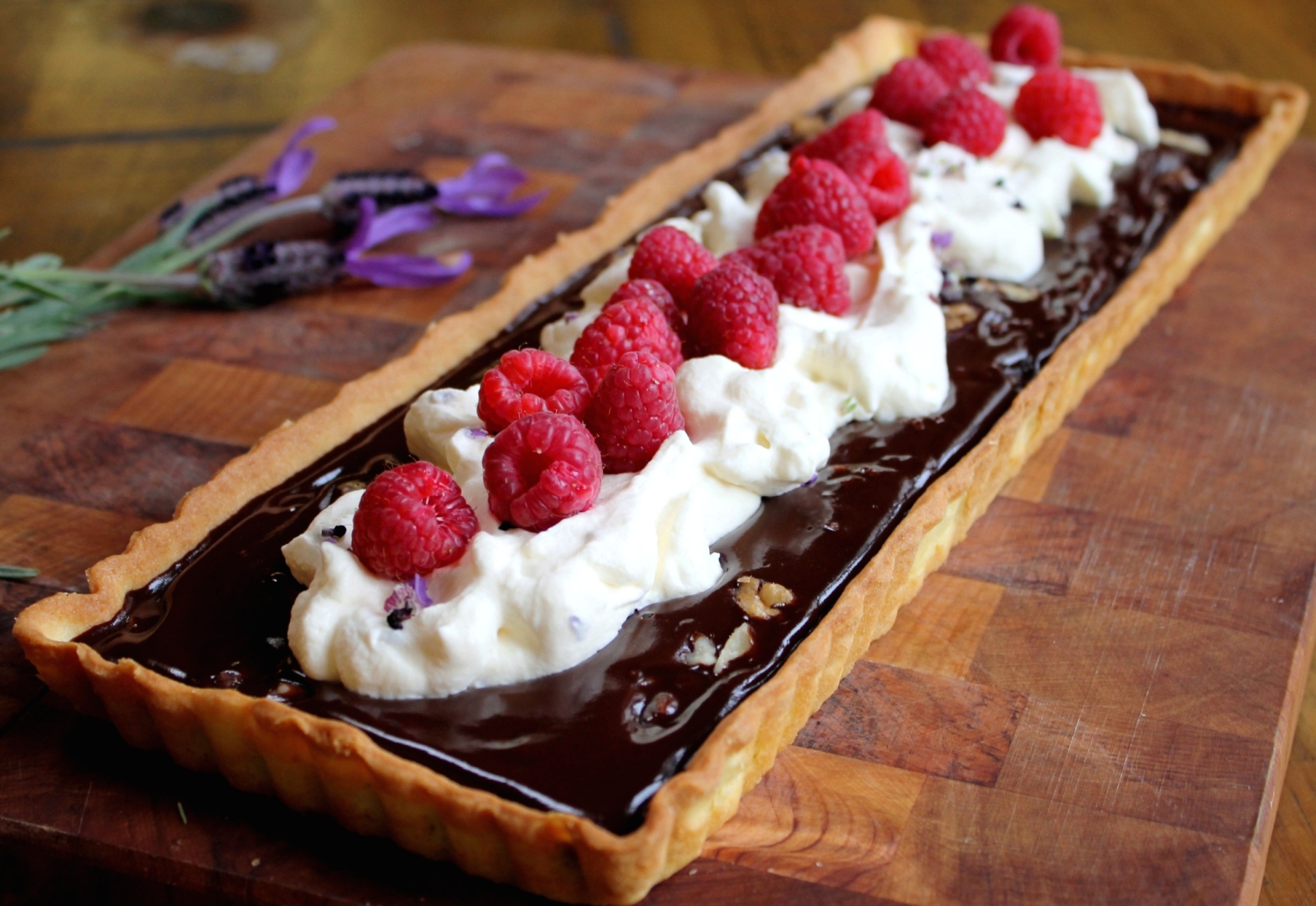 Chocolate tart with berries & lavender cream
There's no denying it – this tart is a real looker. If it were a human, it would be a very tall, dark and attractive specimen gazing at you seductively across a crowded room, and you would be powerless to resist it's charm. Rich chocolate in a crisp buttery shell, adorned with fresh berries and cream with a hint of lavender. If you've never eaten anything laced with lavender before, you might think it's like chomping on a mouthful pot pourri, but it actually just imparts a beautiful delicate flavour. If you don't have any or don't want to use it, it's still just as nice as a chocolate tart without.
A tart case like this is only about $15 from any homeware shop. You can use any shape tart/pie/flan/quiche dish, though.
If you do want to make your own pastry, here's the recipe.
Ingredients
1-2 sheets short sweet pastry (or make your own – but use this method for blind baking it)
250g dark chocolate
250ml cream
25g butter
1 cup cream, whipped
1/2 cup chopped nuts (optional)
3 lavender flowers (organic – not sprayed)
1 x punnet fresh raspberries, or halved fresh strawberries (if not in season, use freeze dried fruit or your favourite fruit)
Method
Preheat the oven to 200c fan bake.
Place the pastry on a clean floured work surface and roll it out to 3/4 of its original thickness, so it's a bit bigger than the shape of your flan tin. You can join pieces of pastry together with a little water to make the right shape if need be.
Line the flan tin with the pastry, folding the excess pastry over the sides of the tin, then roll the rolling pin over top to trim it neatly. Prick the bottom with a fork about 10 times then bake in the oven for around 10 minutes or until golden brown all over – if it's undercooked it will go soggy. Remove from the oven and cool.
In a double boiler, heat the chopped chocolate and cream until melted, stirring continuously. Add the butter and stir to combine.
Very carefully remove the pastry case from the tin (it will be rather delicate as it's quite thin). Gently place on a board or serving plate. Carefully pour the chocolate mixture in to almost fill it. Sprinkle on the nuts (if using). Leave to set in the fridge on an even surface.
Chop the lavender flowers finely and fold through the whipped cream. Spoon the cream over the top of the tart and scatter fresh raspberries or strawberries over top. Garnish with extra lavender flowers.