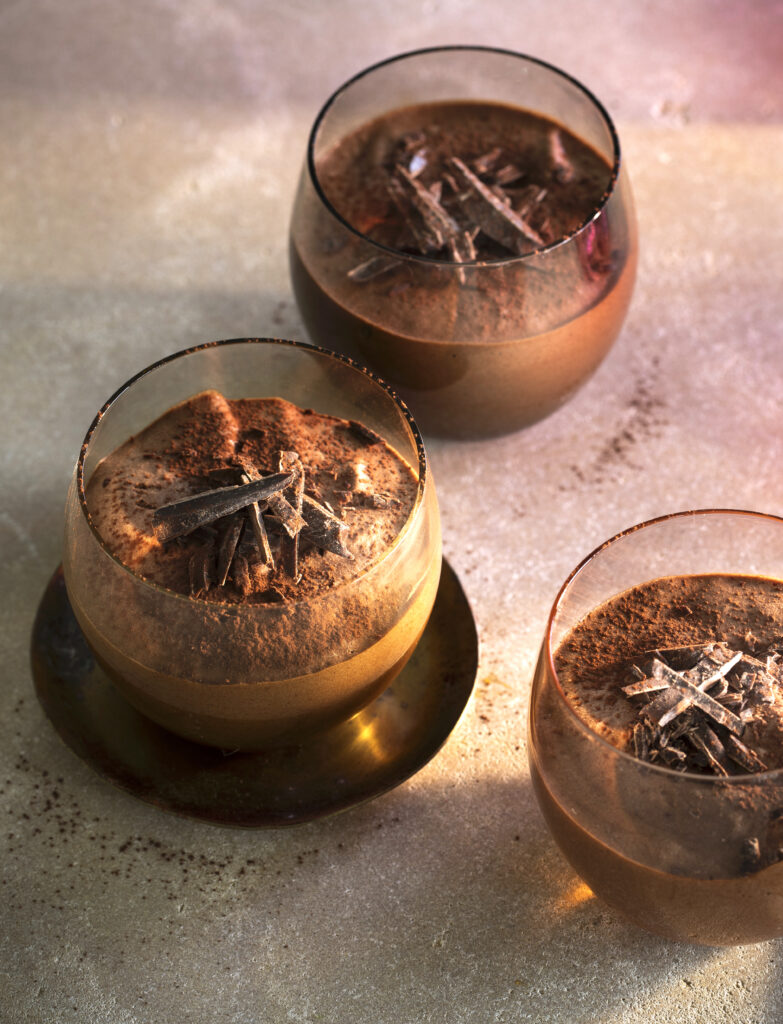 Dairy-free chocolate mousse (from Supergood)
Prep 20 minutes, plus 4 hours to set
Serves 4
NOTE – I have adjusted this recipe slightly from the one in Supergood to make it even more fail-proof.
You've gotta love a dessert with so few core ingredients that turns out so . . . fancy. And one of those ingredients is aquafaba from a can of chickpeas. How this drab-looking liquid can morph, in mystical butterfly-like fashion, into a silky and beautiful dessert will always make my heart happy. Of course you can't taste the chickpeas – it just adds a light, airy texture to the chocolate. I'm very happy with this, because I always felt a bit weird about folding raw egg whites through a dessert…
Ingredients
200g good-quality dairy-free eating chocolate (50% cocoa solids or higher is often dairy-free, I used Whittaker's)
2 tbsp coconut cream (thickest part from the top of the can if possible)
1/3 cup virgin coconut oil, melted
3/4 cup canned chickpea liquid (aquafaba)
1 tsp lemon juice
1 tsp vanilla extract
1 tbsp maple syrup (optional)
To serve
finely chopped dairy-free chocolate
dusting of cocoa powder
It's gluten-free
To make
Have four small glasses or ramekins ready for the mousse, and make space in your fridge.
Chop the chocolate up finely on a clean, dry chopping board using a large, sharp knife. Transfer to a heatproof bowl (Pyrex or ceramic) with the coconut cream.
Set the bowl over a saucepan with a little gently simmering water in the bottom (make sure the water doesn't touch the bowl). Leave it there for a few minutes until you can see that the chocolate has started to melt. As soon as it shows signs of melting, stir it. When it's half-melted, remove the bowl from the heat and work the last solid bits of chocolate by stirring with a spatula or wooden spoon – the heat from the bowl and the stirring will melt these last pieces.
Slowly add in the melted coconut oil while continually stirring. The chocolate mixture will be glossy. Set aside to cool to room temperature – if it's too warm when mixing the aquafaba in, it can turn the mousse grainy. However, it should be runny enough to easily fall off a spatula. If it's too firm, heat it gently again.
Pour the aquafaba and lemon juice into a large, clean mixing bowl (metal, Pyrex or ceramic is best). Beat with an electric beater on high speed for a few minutes until you have a lovely thick, pillowy cloud, like meringue. When you tip the bowl upside down, the fluff should stay put.
When folding the chocolate into the aquafaba, the two components should be around the same temperature. You can place the bowl of aquafaba on the saucepan of still-hot water for a few minutes to warm up slightly.
Fold about a cup of the whipped aquafaba through the melted chocolate to aerate it. Use the aquafaba from the slightly warmed outside of the bowl.
Now, scrape the aerated chocolate mixture into the bowl containing the remaining aquafaba along with the vanilla extract, and fold lightly and lovingly with a spatula until it's evenly combined – a light brown, pillowy mass. If your mixture seems a little runny at this point, don't despair, it will still set like mousse. You can add the maple syrup in this step if you feel like it needs to be sweetened more.
Ladle or pour the mixture into the prepared glasses and refrigerate for about 4 hours to set.
When ready to serve, sprinkle with finely chopped chocolate and dust with cocoa.
TIPS
You can add some fresh berries on top for a refreshing pop of flavour and colour.
Use the leftover chickpeas to make Chelsea's Hummus (Supergood page 186), That Moroccan Dish (Supergood page 70) or Pumpkin & Chickpea Curry (Supergood page 54).