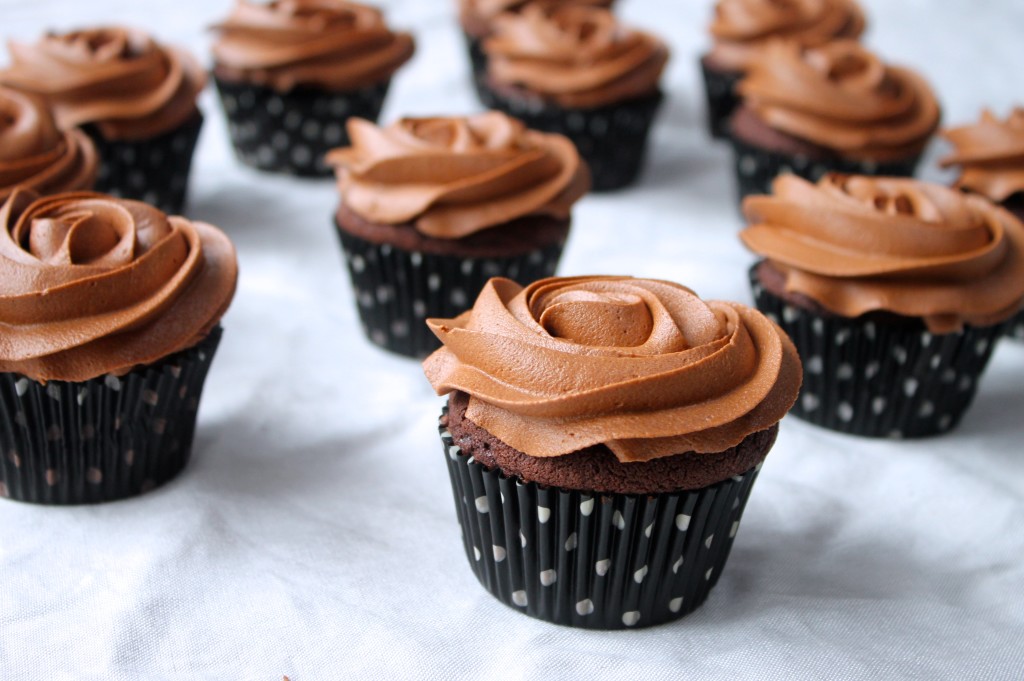 Dreamy double chocolate cupcakes
These cupcakes are frightfully good – I've lost count of how many I've demolished so far during recipe testing. I reckon if you're going to the effort of baking, you might as well make it as epic as possible. So it was full-steam ahead with the chocolate for this one! Use a good quality cocoa for the cake, the best you can find (the darker the better).
Makes about 20 cupcakes.
Ingredients
Cupcakes
225g butter, at room temperature, cubed
1 ½ cups caster sugar
3 free-range eggs, at room temperature
1 ½ teaspoons pure vanilla essence or paste
2 cups standard/plain flour
¾ cup dark cocoa
1 tsp baking powder
½ tsp baking soda
1 cup milk
Real chocolate icing
125ml (1/2 cup) cream
200g good-quality dark chocolate, chopped
125g butter, at room temperature, cubed
4 ½ – 5 cups icing sugar
Method
Cupcakes
Preheat oven to 180°c conventional bake. Line 2 x standard 12 pan muffin tins with cupcake liners (24 total – just do them in two batches if you only have one muffin tray).
Sift the flour, cocoa, baking powder and baking soda into a bowl, and stir with a whisk to combine evenly. Set aside.
Cream the butter and sugar with an electric beater or cake mixer (or by hand with a wooden spoon lots of elbow grease – this will take some time!) for about 10 minutes until very pale and very light and fluffy. Scrape the sides half way through.
Add the eggs, one at a time, beating very well after each addition and scraping down the sides with a spatula each time. Beat in the vanilla essence.
In three parts each, alternate adding thirds of the dry ingredients and the milk. With each addition, mix gently (don't beat) until the ingredients are just incorporated – but at the end, the mixture should be smooth. Again, scrape down the sides as you go.
Use two spoons to scrape the batter into the cupcake liners just over ¾ full, and bake in middle of the oven for about 16 minutes, or when no longer wobbly on top. Remove from the oven and repeat with the other half of the mixture.
Cool the cupcakes in the tin for 10 minutes, then remove and let cool completely on a wire rack before icing.
Icing
Place the broken up chocolate and cream in a heatproof (i.e. metal, pyrex or ceramic) bowl that fits neatly over a saucepan with about an inch water in it (the bowl shouldn't touch the water). Simmer until the chocolate melts, stirring gently at the end to combine. Cool until lukewarm (if it's too warm it will melt the butter later). Don't let it go hard though.
Beat the butter and 2 cups of the sifted icing sugar in a large bowl (or cake mixer) until light and fluffy. Add a spoonful of the chocolate mixture and beat to combine. Add the remaining chocolate mixture and beat again to combine. Sift in most of the remaining icing sugar and continue to beat until smooth. If you think it's too wet, add a little more icing sugar until it's a good piping consistency.
Spoon into a piping bag and ice the cooled cupcakes. (To make the rose like I have, start in the middle and go outwards in a circle, applying quite a bit of pressure. I used a large star shaped nozzle). If you don't have a piping bag, you can use a resealable Glad bag with a corner snipped off, or even just spread the icing on with a knife.
Store in an airtight container in the refrigerator.