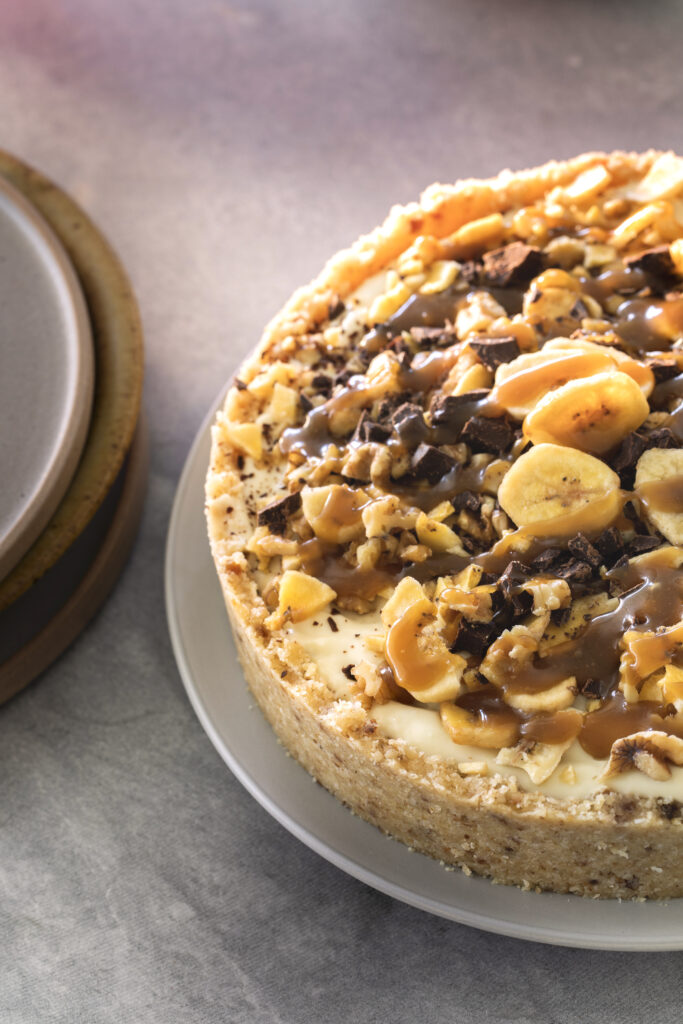 Chocolate Banoffee Pie
Prep – 1 hour 15 minutes, plus 5+ hours to chill
Serves 8
This is one hell of a dessert – all layered up with rich chocolate on the base, followed by date caramel, fudgy bananas and cool creamy custard, and festooned liberally with crumbled up banana chips, chocolate and walnuts. Definitely next level. Velvety butterscotch for the drizzle and dates for the base layer really are the perfect solution – sweet and gooey!
Ingredients
BASE
7 pitted dates
1 1/4 cups ground almonds
1 cup chopped walnuts
1 cup dessicated coconut
1/4 cup coconut oil
1 tsp vanilla extract
pinch salt
CHOCOLATE LAYER
125g dark chocolate, chopped (50% cocoa solids or higher is often dairy-free)
1/3 cup coconut cream
CARAMEL LAYER
1 cup pitted dates
2 tsp vanilla extract
1 tbsp cashew butter (optional)
pinch salt
CUSTARD CREAM
500ml rice or soy milk
1/4 cup coconut oil, melted
1/4 cup custard powder
1/3 cup caster sugar
2 tsp vanilla bean paste (or use extract)
pinch salt
BANANA LAYER
2-3 ripe bananas
squeeze of lemon juice
TOPPINGS
3/4 cup chopped walnuts
1/2 cup chopped dark chocolate
1/2 cup banana chips (optional)
drizzle of my Butterscotch (see page 142 of Supergood; optional)
IT'S GLUTEN-FREE
Method
Line the base and sides of a 24cm cake tin with baking paper.
Put the dates for the base and the caramel in a heatproof bowl and cover with just-boiled water. After 5 minutes, take 6 out for the base, leaving the others in for another 5-10 minutes. Drain, keeping some liquid for later.
To make the base, put all the ingredients (including the 6 softened dates) in a food processor and blitz until you have a fine crumb, scraping down the sides if need be. Press into the base of the tin, and then go up the sides about 4-5cm. Be quite firm. Refrigerate.
To make the chocolate layer, microwave the chocolate in a glass or ceramic bowl in the microwave on high for 1 minute. Stir well, then add the coconut cream and microwave for another 30 seconds. Stir until smooth, then scrape onto the base and smooth out in an even layer, making sure it goes about halfway up the sides, too. This will seal the base and stop it going soggy. Refrigerate until firm.
To make the caramel layer, put the drained dates in a food processor with 3 tablespoons of the soaking water and the cashew butter (if using), vanilla and salt. Whizz until you have a paste. Spread evenly on top of the set chocolate and refrigerate.
To make the custard cream, place all the ingredients in a medium-sized saucepan, whisk to combine and cook over a medium heat, stirring constantly with a whisk, for about 5 minutes until nice and thick. Scrape into a bowl, press a round of baking paper on the top so that a skin doesn't form, and refrigerate until it turns into a firm, jelly-like mass. When set, remove the baking paper and beat or whisk until it has a smooth, soft pudding consistency.
Slice the bananas, coat in a little lemon juice and arrange on top of the caramel layer in an even layer.
Scrape the creamy custard mixture on top of the bananas and smooth out a little, leaving some whippy bits. Refrigerate for a few hours to set, or overnight.
Just before serving, sprinkle generously with the chopped walnuts, chocolate and banana chips. If you like, drizzle with butterscotch too.
Keep any leftovers in the fridge. It's best eaten within a day or so.