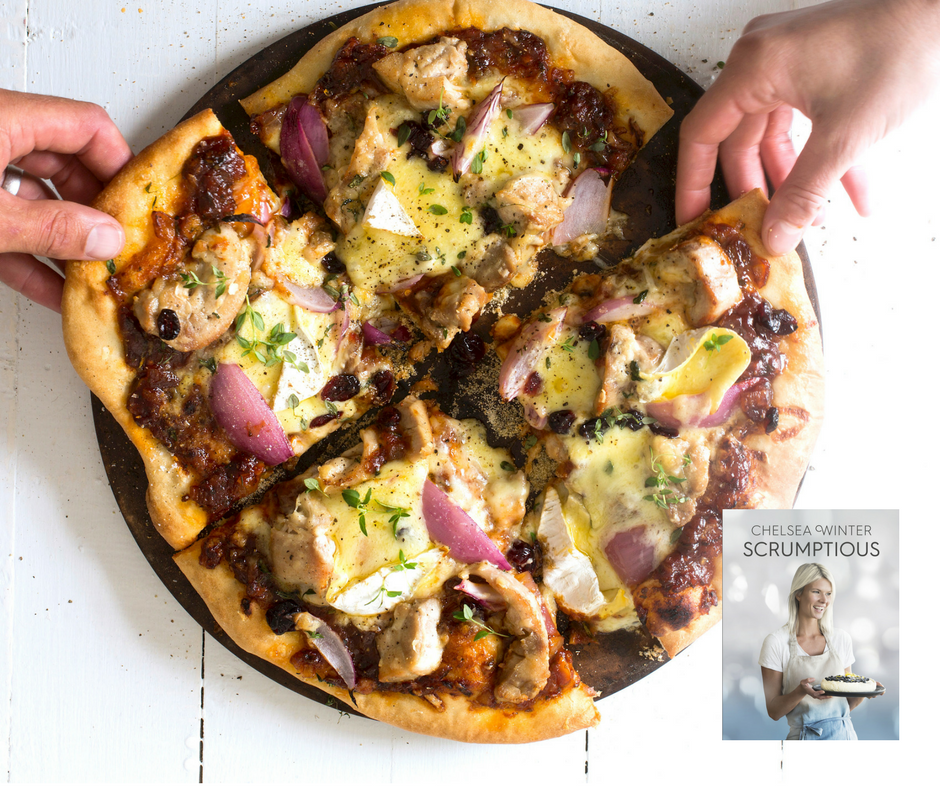 Chicken, cranberry & Brie pizzas
As far as homemade pizzas go, this one is the business. It's seriously good. The secret's in my epic homemade pizza sauce, which I've blinged out with scrumptious cranberries. It's tart, it's tangy, it's sweet, it's ultra-tasty – and it's the perfect partner to all that beautiful melty cheese and chicken. There's not really much more to say here except enjoy, my friends!
Prep time – 20 minutes
Cooking time – 20 minutes
Serves 4-6
Ingredients
500g -700g chicken thighs, boneless & skinless
1 large red onion, thinly sliced
1 tbsp fresh thyme leaves
1 ½ – 2 cups grated mozzarella or cheddar
1 ½ cups freshly grated Parmesan
4 thin pizza bases (or use the pizza dough recipe from At My Table)
150g Brie or Camembert, chopped
½ cup Craisins or dried cranberries
Chopped fresh chives, for serving
Epic cranberry pizza sauce
3 tbsp extra virgin olive oil
1 medium onion, very finely chopped
3 cloves garlic, crushed
2 stalks fresh rosemary, leaves finely chopped
1 tbsp fresh chopped oregano (or 2 tsp dried)
3/4 cup cranberry sauce
1 cup chicken stock (reduced salt)
4 tbsp tomato paste
Pinch chilli flakes
Zest of 1 lemon plus 2 tsp juice
Method
Preheat the oven to 220c fan bake and arrange either a metal baking tray, pizza stone or pizza tray in the lower half of the oven to heat up.
Pat the chicken dry with paper towels, brush with oil and season all over with salt and pepper. Heat a frying pan over a high heat. When hot, add a splash of oil, then the chicken. Fry until browned on one side, then turn over and fry the other side. Turn down the heat and cook for another 5 minutes until it's cooked through. Remove from the pan and set aside.
Turn the heat down to medium. Add the olive oil, onion, garlic, rosemary and oregano to the same frying pan you cooked the chicken in. Cook, stirring, for about 10 minutes until very soft. Add the cranberry sauce, chicken stock, tomato paste and chilli flakes. Turn up the heat and simmer until reduced to a thickened sauce (it might take about 10 minutes). Don't let it get to a very thick paste, or it will be too strong. Add the lemon juice and zest, and season to taste with salt and pepper.
To assemble the pizzas, spread some cranberry pizza sauce over the bases with a back of a spoon. Add some red onion, thyme, mozzarella, chicken pieces, Craisins and Parmesan. Season with salt and pepper all over.
Transfer carefully one or two pizzas to the hot tray in the oven and bake for 7 minutes. Add some chunks of brie on top and bake for another 3 minutes or until golden and bubbling.
To serve, sprinkle with chives or parsley (add an extra squeeze of lemon if you like).