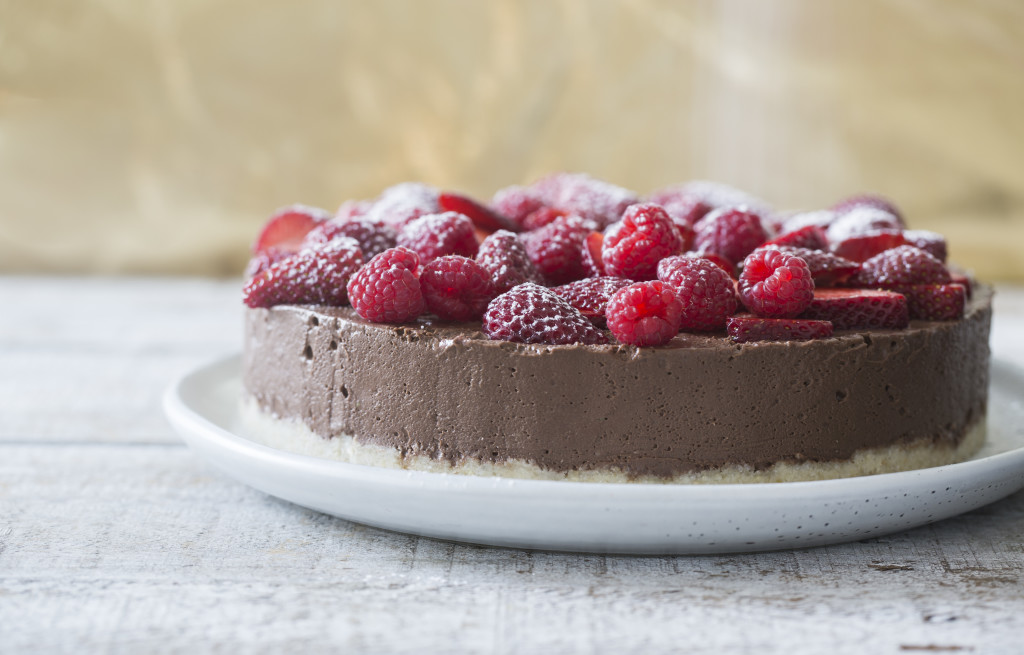 CHELSEA'S CHRISTMAS CHOCOLATE CHEESECAKE
DAIRY, EGG & NUT FREE
Prep 20 minutes, plus 6 hours to set
Serves 12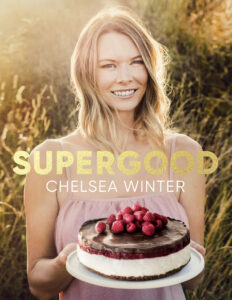 This cheesecake is a modified version of one I have in Supergood; I've made it nut-free and added an amazing SECRET INGREDIENT that gives it a superb cheesecake-esque texture and tang, without cashews or dairy-free cream cheese. It's tofu (one of my favourite things!). A few years ago I would have said you were bonkers if you told me I'd be putting tofu in a cheesecake, but honestly I'm in love, you just have to taste it to believe it. You. Would. Never. Know. Some would would say you'd need silken tofu in desserts like this, but as long as you have a half-decent blender, it actually doesn't matter. And because of the tofu giving it structure, it holds up well out of the fridge, especially in summer. Best of all, it's quick and easy to prepare.
Ingredients
Base
300g plain egg- & dairy-free biscuits (you should be able to find these at the supermarket, sometimes in the GF section. I used Scotch Fingers.)
8 dates, soaked in warm water for 5 minutes
3 tbsp melted coconut oil
¼ tsp salt
Filling
300g tofu (original, not firm)
3 1/2 cups coconut cream (I used a UHT one in a tetrapak as it's super creamy, but you can use 2 x 400ml tins so long as it's full-fat)
2 tsp pure vanilla extract
1/2 tsp salt
500g dairy-free eating chocolate (50% cocoa and above is often dairy-free, see tips)
To make
Line the base and sides of a 23cm round springform cake tin with baking paper.
Drain the dates and add to a food processor along with the crumbled-up biscuits, coconut oil and salt. Whizz until you have a fine crumb. Tip into the prepared tin and squash down firmly in an even layer with clean moistened fingers.
Add the broken-up tofu (minus any brine from the packet) to a blender with the coconut cream, vanilla and salt. Blend on medium/high for a minute or so until the mixture is velvety smooth – just however long it takes.
Chop up the chocolate into small chunks and add to a heatproof (ceramic or glass) bowl. Microwave on high for 1 minute, then stir with a wooden spoon. Microwave it again for another 30 seconds and stir again – you should be able to get it smooth this time, if not try another 20 seconds.
Add 1/4 cup of the chocolate to the blender and whizz to combine. Scrape the remaining chocolate into the blender using a spatula, and blend until it's smooth. You may need to scrape down the sides to incorporate it all evenly.
Pour the chocolate mixture into the tin on top of the base, cover and refrigerate for at least 6 hours, or overnight/until you need it.
I recommend bringing the cheesecake out of the fridge an hour or so before serving so it can soften up a bit (especially if you've used the tetrapak coconut cream – it will be very firm straight out of the fridge).
To serve, top with either fresh berries or a dusting of cocoa.
TIPS
If the chocolate only contains 'cocoa butter', 'cocoa mass' or 'cocoa solids' it's probably dairy-free. Anything to do with cream, milk or 'milk solids' contains dairy. If in doubt, ask!
The cheesecake can also be frozen for up to a month, well-sealed.