White chocolate and berry scrolls
If you think cooking with yeast and getting things to 'rise' is scary, you have to stop those thoughts right now. It really couldn't be simpler, and the result will delight you! Just buy a jar of little brown yeast granules from your local supermarket and keep it in the fridge – and check the expiry date as it does lose it's effectiveness when it gets old. The recipe below might seem long but it's just because I'm giving little hints and explaining things along the way.
These are to die for! Buttery, soft, light, sweet and creamy. If you don't like white chocolate, just leave it out altogether, you can also add cinnamon. They are best served as close to when you make them as possible – heat them up a little if you are serving them after they have gone cold. They are great reheated with ice cream for dessert.
Ingredients
Dough
1 cup whole milk
175g butter, melted
3/4 cup sugar
2 ½ teaspoons active dry yeast granules
2 free range eggs, lightly beaten
2 teaspoons vanilla essence
4 cups plain flour (plus a little extra if need be, and for dusting)
Filling/topping
1 1/2 – 2 cups frozen raspberries or strawberries
1 tbsp cornflour
1/4 cup sugar
1/3 cup berry jam
1/2 block chopped Whittaker's Milk Strawberry or White Raspberry Block
1 egg, lightly beaten with ¼ cup milk
2 tbsp butter, melted
Vanilla butter glaze
2 tbsp butter
3 tbsp cream
1 tsp vanilla paste or vanilla essence
¾ cup icing sugar
Optional: Fresh-As freeze-dried berry powder, to decorate
Method
Heat the milk and 2 tsp of the sugar in a saucepan over medium heat until little bubbles form around the edges – until it's just hot to the touch. (Don't let it simmer or boil, it will kill the yeast if it's too hot). Remove from the heat.
Gently whisk in the yeast granules and let the mixture sit for about 10 minutes – the yeast will go frothy on top, which means it has activated.
Sift the flour into a large bowl (metal if possible, or plastic – or ceramic if that's all you have, but ceramic will take longer to rise as it doesn't transfer heat well). Add the milk mixture, remaining sugar, vanilla, melted butter and eggs, and stir with a wooden spoon or spatula to combine to a smooth dough. You may need to add more flour to bring it together to a dough, which is fine. Knead the dough a few times on the bench so it's a nice ball, clean out the bowl and put the dough back in.
Cover the bowl loosely with glad wrap and leave it in a warm spot (like the hot water cupboard or next to a heater) until the dough has doubled in size. It could take anywhere from 20 minutes to an hour, depending on how warm your spot is (an ideal temperature is about 32c but it doesn't have to be exact). You could turn the oven to 50c briefly, turn it off, let it cool down a bit and pop it in there if you have a cold house. If it's not warm enough, your dough won't rise and you'll end up with stodgy bread – just look for the doubling in size.
Preheat the oven to 190c.
Mix the berries (still frozen), sugar and cornflour in a bowl to combine.
When the dough has risen to twice it's original size, punch it down with your fist to knock the air out of it, and knead it a few times on a clean floured bench. Sprinkle more flour down on the bench the the dough doesn't stick, and roll the dough into a large rectangle, about 5-mm thick. Smear the jam in a thin layer all over to the edges, then sprinkle with the raspberry mixture and chocolate. Roll the dough up tightly lengthwise into a long tube, then cut the tube into 5cm-6cm chunks.
Place each roll about 5cm apart in either cake tins, a roasting dish, or on a baking sheet lined with baking paper. (IMPORTANT NOTE – I've used a ceramic dish in the photo, but it can mean a longer cooking time and resting time because the dish won't transfer heat as quickly, especially if it's a big thick dish. Metal (such as a roasting dish or large cake tin) will give you a faster most consistent results, and what I'd recommend if you have it. Otherwise, just be patient – if it hasn't double in size, it's not ready.)
Let the rolls sit in the warm place again for 15-20 minutes or so, until they start to rise again (not to double the size – about half-way). They will finish puffing up in the oven.
Brush the melted butter and egg wash over the tops of the rolls, sprinkle with a little sugar and bake in the centre of the oven for around 20 minutes, or until the tops turn golden brown and the scrolls are cooked through – everyone's oven is different so just keep an eye on them. Remove from the oven and cool to just warm.
Heat the butter, cream and icing sugar until melted. Drizzle over top of the warm buns and dust with freeze dried raspberry powder if you have some. Serve warm with fresh raspberries if they're in season!
Here are some photos I took along the way, when I made the recipe again with mixed berries.
The yeast activated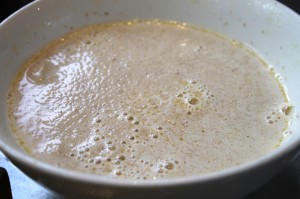 My cat Millie wanting to taste the dough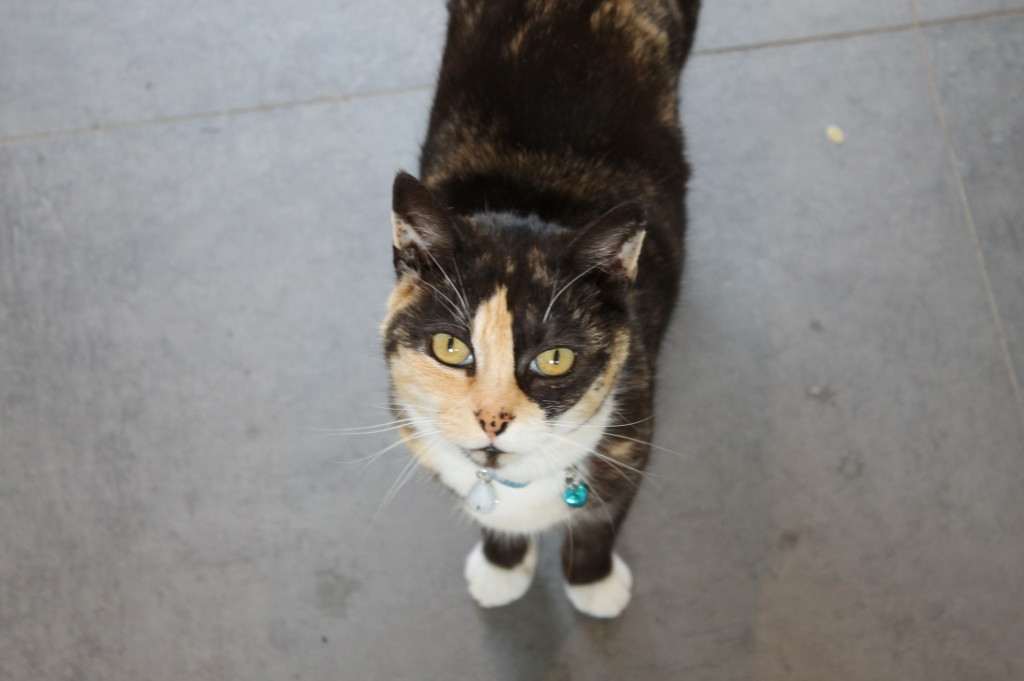 Dough before rising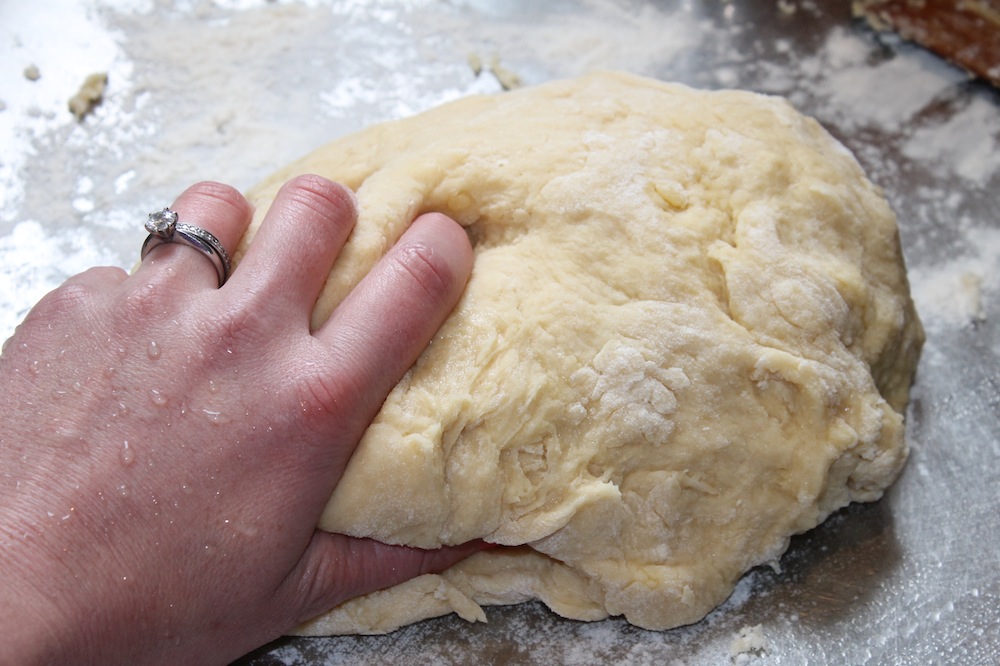 The dough after the first rise