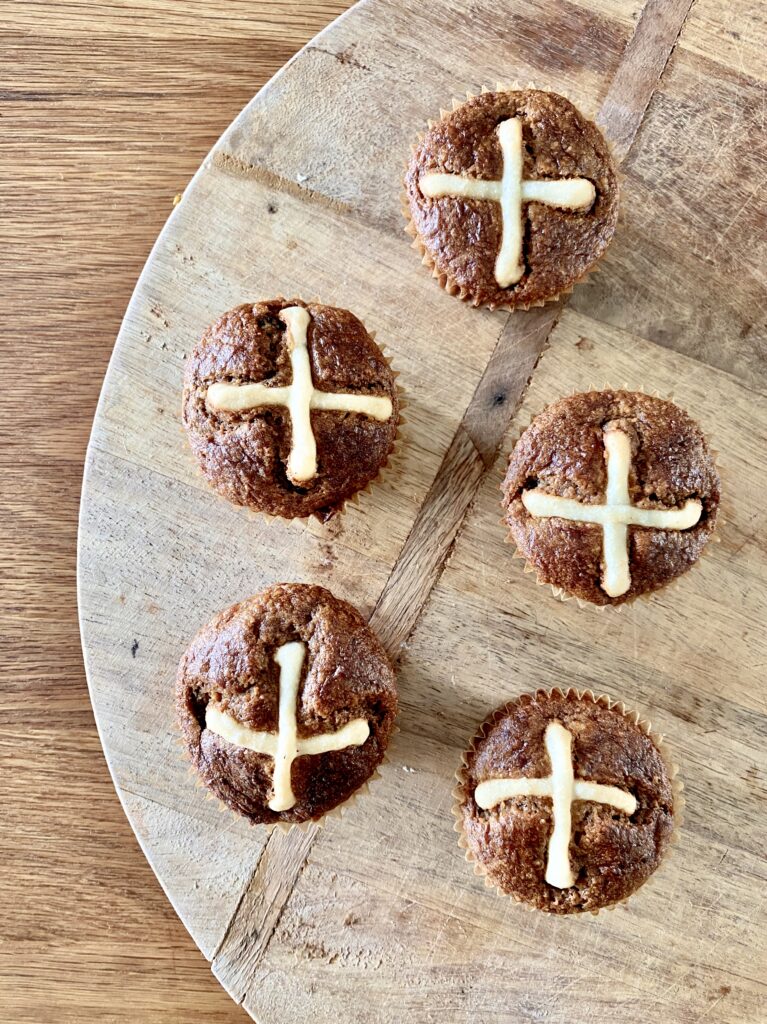 Welcome to your gluten, dairy, egg, yeast & baking powder-free Easter baking feast! How can they still be so scrumptious without all that, you may ask? Well, they just are, trust your old pal Chelsea here. They're also EXTREMELY quick and easy to make, and super addictive (so speedy you can make them first thing in the morning as a breakfasty brunch treat). Still-warm from the oven, they're good crammed straight into an open mouth. When they've cooled, pop them under a grill or in a toaster and slather them in something creamy. If you're not a fan of fruit in your hot-crossed items, you can swap it out with chocolate. HAPPY FEASTER!
Prep time – 20 minutes
Cooking time – 30 minutes
Makes 8 (double the recipe if you like)
Ingredients
1 cup gluten-free flour mix (without raising agent) – or use regular flour
¾ cup ground almonds*
½ cup brown sugar (or you can use coconut sugar)
1 tbsp mixed spice
2 tsp ground cinnamon
¼ tsp ground cloves
½ tsp salt
1 cup plant-based milk
1∕3 cup grapeseed, rice bran or sunflower oil
1 tsp baking soda
1 tsp apple cider vinegar
1/3 cup currants, raisins or sultanas
1 orange (or use chopped candied peel – or chopped chocolate/chocolate chips)
Crosses
¼ cup gluten-free flour mix
2-3 tbsp water
1 tsp sugar
Method
Preheat oven to 170c regular bake and line a muffin pan with 8 paper cups (sorry, not enough for 12 – suggest doubling recipe it for a family).
I like to do my orange zest a little differently for these. First, I peel thin strips of skin from the orange using a potato peeler (it's okay if there's a teeny bit of white pith on it). Then I chop the peels up into tiny bits with a knife. It means you get those firm little zesty pieces of orange, rather than just extra fine zest melting unnoticed into the cake. Set aside.
Combine the crosses ingredients in small bowl and transfer to a small ziploc bag or piping bag. In a large mixing bowl combine the flour, ground almonds, sugar, spices and salt. Make a well in the centre and add the milk and oil and stir with a whisk to combine evenly. Fold through the raisins and peel.
In a very small bowl or cup, combine the baking soda and vinegar (it will froth up immediately) and straight away add this to cake mixture, scraping the excess out with a spatula. Fold the mixture gently with a spatula until evenly combined.
Fill the paper cases about about ¾ full (I use a1/4 or 1/3 cup measuring cup for this).
Snip a teeny corner of the ziplock bag, then carefully pipe crosses over the top, taking care to stop short of the edges so it doesn't touch the paper cups. This is because if you do, the edge of the crosses will stick to the cups and tear apart in the middle as the cakes rise.
Bake in the oven for about 30 minutes – they should be risen, golden and smell delicious. Allow to cool for 10 minutes in the pan before removing from the tin.
Lovely warm with a little dairy-free spread, coconut oil or butter – you can also halve then and grill them to get them toasty.
Store in an airtight container in a cool, dry place for up to 2 days.
*If you don't have ground almonds, try whizzing up sunflower seeds in a bullet or food processor.
.