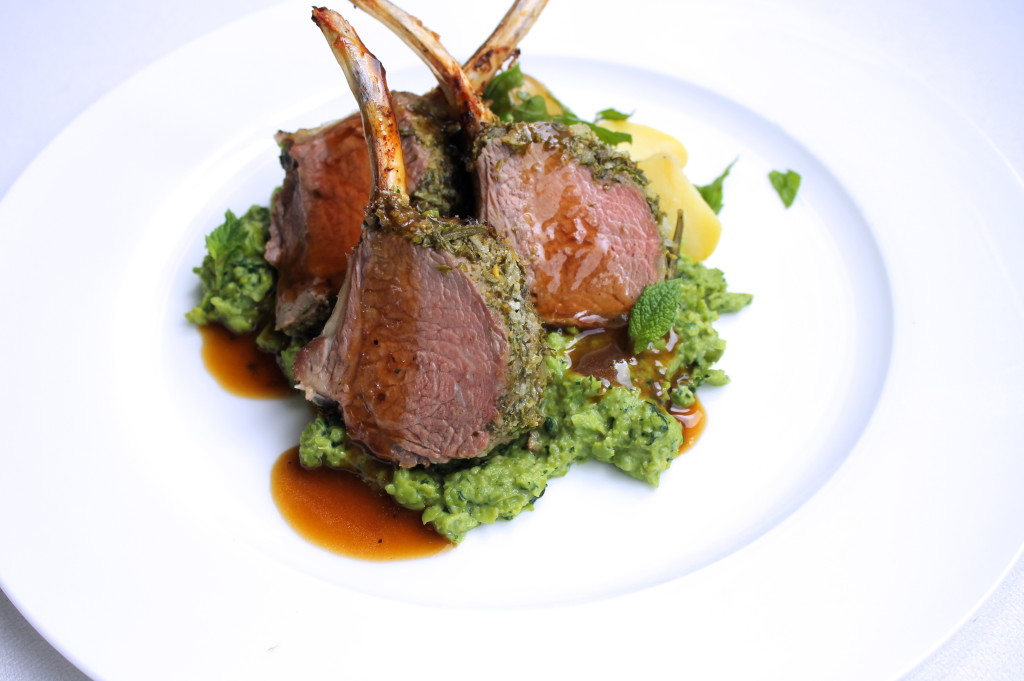 There's no need to be scared of cooking lamb rack – it's ridiculously easy. It's perfect for a special occasion or entertaining, and because it's such a small cut, it cooks quickly so you won't be slaving away in the kitchen all afternoon. Even people who normally avoid peas will find it hard to resist this pea crush – mostly because it's loaded with butter, cream and Parmesan. This recipe will give you mouthwatering, tender, perfectly cooked lamb that people will swoon over.
Serves 4
Prep time: 20 minutes
Cooking time: 30 minutes plus resting
Ingredients
2 x lamb racks*
Sea salt and freshly ground pepper
Herb caper paste
1/4 cup extra virgin olive oil
1 tablespoon capers
1 tsp Dijon mustard
3 cloves garlic, crushed
1/2 cup chopped fresh herbs i.e. mint, basil, rosemary, parsley, thyme
Pea crush
3 cups frozen baby peas
2 cups baby spinach
25g butter
Zest of 1 lemon
1 teaspoon lemon juice
1/3 cup grated fresh Parmesan
1/3 cup cream
Pan jus
½ cup red wine
250ml lamb or beef stock
25g butter
2 tsp sugar
Method
Preheat the oven to 210c fan bake.
If necessary*, trim the fat layer off the lamb racks and carefully remove the silver skin with a sharp knife. Brush with oil and season with salt and pepper. Heat a frying pan over a very high heat. Sear the lamb racks for a minute or two until browned on each side. Remove from the pan and set aside to cool.
Add the wine to the hot pan which the lamb was cooked in and let it bubble  for 30 seconds to burn off the alcohol. Add the stock and sugar, and simmer gently until reduced to a jus, about 5-10 minutes. Whisk in the butter. Set aside and keep warm.
In a small food processor or mortar and pestle (or chop everything finely), mix the paste ingredients together. Smear the mixture generously over the cooled lamb racks, season with salt and pepper and leave for 30 minutes or longer if you have time.
Cook peas in salted boiling water until tender.  Drain well, and place in a food processor with the spinach, butter, lemon zest and juice, Parmesan and cream. Process until well combined but still a little chunky. Taste and season. (You can use a potato masher instead of a food processor. Make sure you do it when the peas are hot so they wilt the spinach.)
Roast the lamb racks  for 13-15 minutes (20 if you like it well done). Remove from the oven, cover loosely with foil and rest for 10 minutes before slicing.
To serve, spoon some pea puree on four plates, top with lamb cutlets and drizzle jus over. Serve with minted new potatoes.
*Note: Depending on where you shop, sometimes the lamb racks come with the cap attached (the layer of fat/skin on top) and sometimes not. I love cooking it with the fat on sometimes, but this dish is a little bit fancy so it loks nicer if it's off. Ask your butcher to do it for you if you don't want – although it's pretty easy, you can almost rip it off, then trust trim the silverskin that's left with a sharp knife.