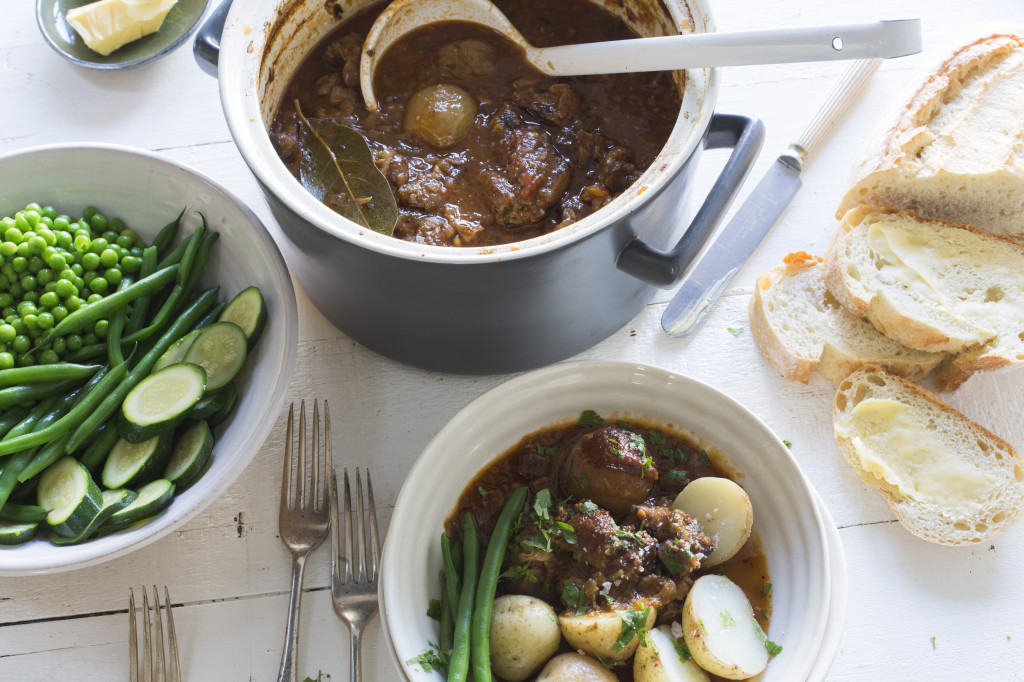 Tender French Lamb Stew
This is my take on a classic French dish — it's simple to make, uses relatively inexpensive (yet ridiculously tasty) cuts of lamb and tastes deeeelicious. And instead of saggy old vegetables hanging out in the stew, it's served with lovely vibrant freshly steamed veg with a bit of bite. You can use just about any vegetables that are in season; the more colourful the better, I reckon! If fresh tomatoes are in abundance, you can use them instead of canned tomatoes. A little fat on the meat adds flavour, so I'm not too fussy about getting every last skerrick off (it melts during the cooking process anyway). You can also make this dish in a slow cooker. As a general rule of thumb, you need 1 cup of liquid per kilogram of meat for the slow cooker.
Prep time: 25 minutes
Cooking time: 3 hours
Serves: 6
Ingredients
1.5kg lamb shoulder or neck chops
salt and freshly cracked black pepper
neutral oil for frying (such as rice bran or grape seed)
50g butter
1-2 onions, chopped
2 shallots, chopped
1 leek, finely chopped
8 cloves garlic, roughly chopped
2 sprigs fresh rosemary, leaves finely chopped
1 tbsp fresh thyme leaves
½ cup white or red wine (or use extra stock)
2 cups lamb stock (or use half beef/half chicken)
1 fresh bay leaf, or 3 dried
1 x 400g can chopped tomatoes
¼ cup tomato paste
1 tbsp cornflour mixed with 2 tbsp water or stock
½ cup finely chopped parsley
To serve
Boiled, steamed or mashed potatoes
Seasonal vegetables (baby carrots, peas, green beans etc.)
splash of olive oil or knob of butter
Method
Preheat the oven to 140c regular bake. Remove the lamb from the fridge 30 minutes before cooking, if you can.
Pat the lamb dry with paper towels, and season all over with salt and pepper. Heat 1 tablespoon of oil in a large frying pan over a high heat. When the pan is hot, fry the chops a few at a time so they end up crispy and brown on both sides. Transfer to a lidded casserole dish and repeat with the remaining chops.
Reduce the heat to medium and add the butter, onion, shallots and leek to the same pan. Cook, stirring, for about 10 minutes until soft and starting to turn golden. Add the garlic, rosemary and thyme and cook for another few minutes.
Add the wine (or stock), increase the heat and let it bubble for 30 seconds. Add the stock, bay leaves, tomatoes, tomato paste and cornflour mixture. Pour or spoon over the chops in the casserole dish, cover and cook in the oven for 3-4 hours (or transfer to a slow cooker and cook for 3-4 hours on high or 6-8 hours on low).
If you like, you can remove the bones from the meat before serving. Stir through most of the parsley and season to taste with salt and pepper.
Steam the vegetables until tender. Add olive oil or butter and remaining parsley, season with salt and pepper and toss to coat. Serve the lamb stew in large bowls topped with the vegetables.