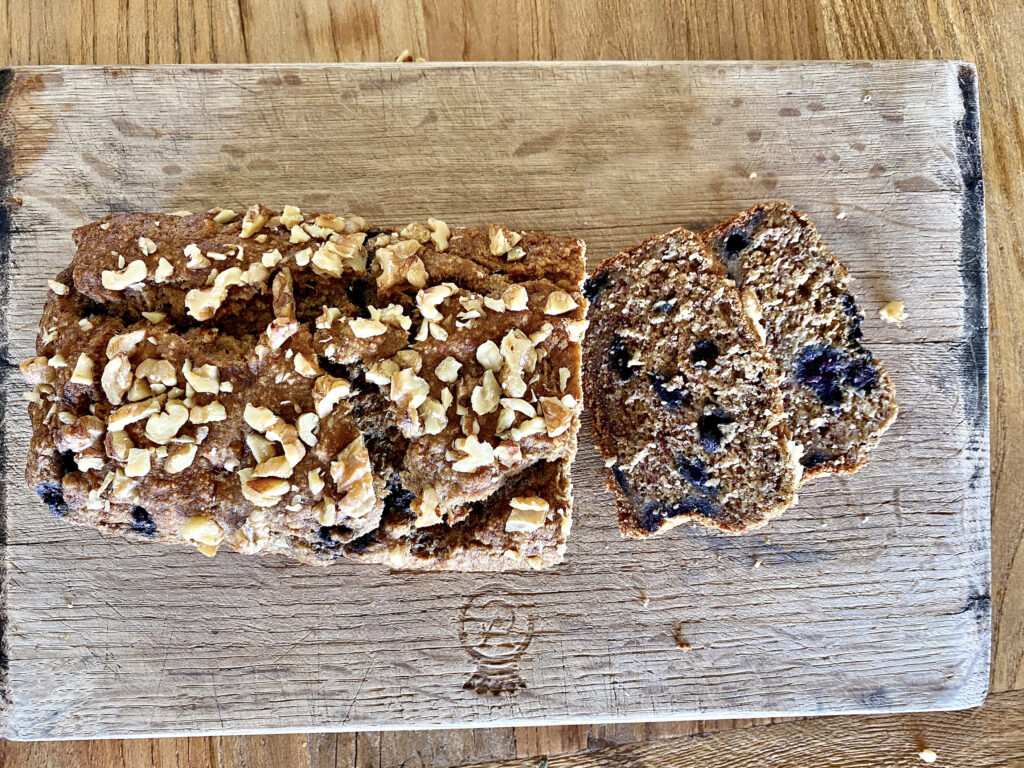 Here's another banger to get you through lockdown, and the best thing about this one is you don't need flour; you can just whizz up some rolled oats and Bob's your aunt! It's a dense, filling sweet loaf just perfect with a big smear of butter or coconut oil. And it's scrumptious as toasted. The recipe is also dairy-free – and gluten-free IF you're okay with oats (if you are coeliac, it's probably not for you).
Works best in smaller tin. If you have a large loaf tin you may want to 1.5 x the ingredients.
Prep time – 15 minutes
Cooking time – 1 hour
Ingredients
1 tbsp ground linseed (flax seed) soaked in 3 tbsp cold water (or use chia seeds)
2 1/2 cups rolled oats (use GF if necessary)
1 1/2 tsp baking powder
1 1/2 tsp ground cinnamon
1/2 tsp baking soda
1/2 tsp salt
2 large ripe bananas, mashed
1/3 cup plant-based milk (or regular milk)
1/3 cup brown sugar (or coconut sugar)
3 tbsp neutral oil (grapeseed, rice bran, light olive oil)
2 tsp pure vanilla extract
1/2 cup frozen blueberries (optional)
1/3 cup chopped walnuts, for topping (optional but delicious)
Method
Preheat the oven to 170c regular bake and line a small/medium loaf tin with baking paper all the way up the sides.
Add the oats to a food processor and whizz them on a high speed for about 5 minutes until you have a fine but grainy flour – tipping the processor up every now and then to combine them evenly. It will still be a little coarse, and won't look as fine as normal flour, that's okay. Tip into a large mixing bowl along with the baking powder, cinnamon, baking soda and salt. Stir to combine.
Add the mashed bananas to another bowl with the milk, sugar, oil and vanilla. Stir, then add to the flour mixture along with the linseed mixture and stir until all in combined evenly. Stir through the blueberries.
Scrape the mixture into the prepared tin and sprinkle with the walnuts (if using).
Bake in the oven for about an hour, or until a skewer poked in comes out clean. Leave to cool in the tin for 10 minutes, then carefully transfer to a cooling rack.
It's easier to slice after it's cooled right down – even refrigerated –  but it's yummy to eat hot anyway, who cares if it crumbles a bit! I keep it in the fridge.
Serve with dairy-free spread, coconut oil or butter. It's also really delicious toasted with honey.
Keeps for a couple of days covered at room temperature or in the fridge.
.
*(I've adapted this recipe from Anthony William, who's my favourite fruit & vege guru. )