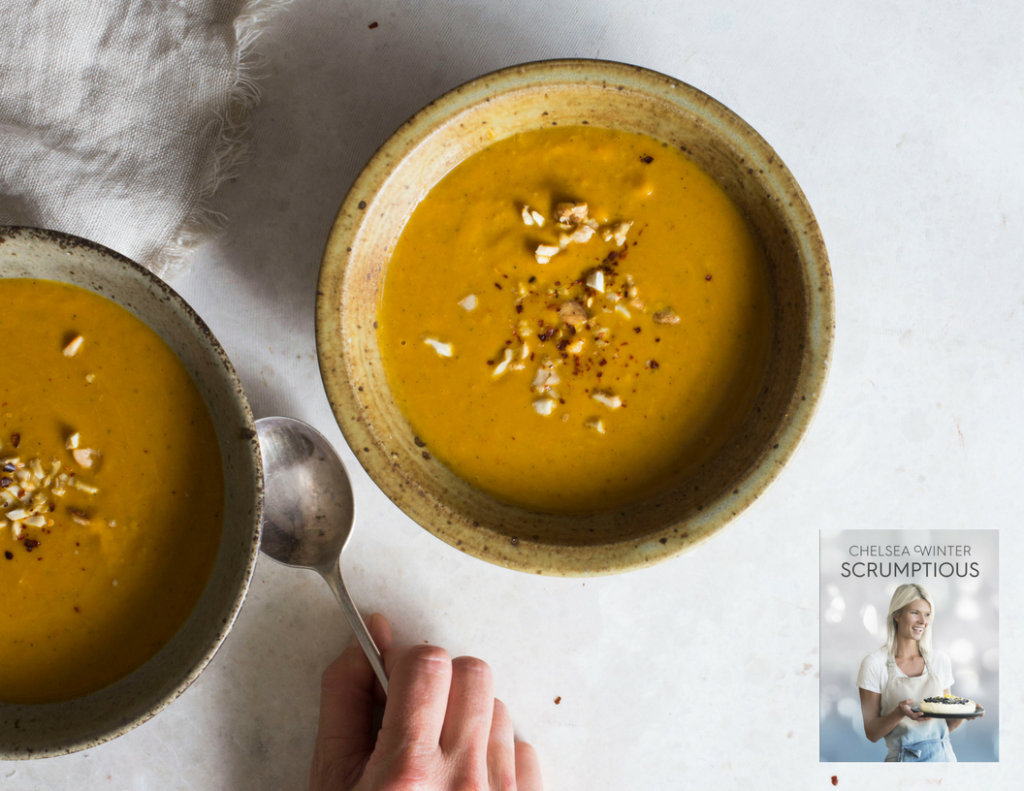 Creamy roasted Thai pumpkin soup
I love the simplicity of this soup – bung everything in the oven to roast, then zap it all up into a smooth, creamy, aromatic soup. The flavours are lovely and adds a little freshness to your winter soup lineup. If you need this to be vegetarian, use vegetable stock – you can also leave out the fish sauce and add more salt at the end. This is also dairy-free and can be gluten-free if you use a GF stock.
Prep time – 30 minutes
Cooking time – 1 hour 15 minutes
Serves 8
Ingredients
2kg crown or butternut pumpkin
2 whole bulbs garlic, unpeeled
3 large shallots, quartered (or use 1 large onion)
2 sticks celery, roughly chopped
3 sticks lemongrass (or ¼ cup lemongrass paste)
¼ cup roughly chopped ginger
2 whole large red chillies (or 1 tsp chilli flakes)
2 tbsp peanut or rice bran oil
1 ½ tbsp brown sugar
1 tbsp ground cumin
5-6 cups vegetable or chicken stock
400ml can coconut cream (not light)
1 x bunch coriander, leaves and stalks chopped separately
3 tbsp fish sauce
1 tbsp lime juice
½ tsp fine black pepper
Method
Preheat the oven to 180c regular bake.
Scrape the seeds out of the pumpkin and discard. Chop the unpeeled pumpkin into rough 7cm chunks. Add to a large roasting tray with the shallots (or onion), celery, the garlic bulbs, lemongrass, ginger, chillies (remove the seeds from one or both chillies if you don't like any spiciness – but I like to leave them in) oil, brown sugar and cumin. Season generously with salt and pepper, then toss to coat everything evenly.
Bake in the oven for 45 minutes, stirring about half way through. Increase the temperature to 200c fan bake and bake another 15 minutes. Remove from the oven and wait until cool enough to handle.
Peel/slice the skins off the pumpkin. Squeeze the garlic from their skins. Discard all the skins and add the garlic and pumpkin flesh to a soup pot (your largest saucepan). Add all the rest of the roasted vegetables as they are. Add the stock, coconut cream and the chopped coriander stalks. Cover, place over a medium heat and bring to a simmer for 15 minutes.
Remove the lemongrass stick (if using).
Using a stick blender, carefully puree the soup until it's very smooth – or, cool it down first and put into blender or food processor in batches, watching out for splatters.
Add the lime juice, fish sauce and black pepper and season to taste with salt if needed.
Stir through the coriander leaves just before serving.
If you think it needs more fish sauce, lime juice or chilli to taste, feel free to add these in.
Serve a little extra chilli if you like, or an extra swirl of coconut cream (or yoghurt) and extra fresh coriander.
Tips/storage
If you don't have a stick blender you can use a food processor or a blender to puree the soup, but you must wait until the soup has cooled to warm to avoid a hot soup explosion.
If you can find fried shallots at your supermarket or specialty food store, these make a truly delicious garnish.
This soup keeps for a week in the fridge, and can be frozen for up to three months.