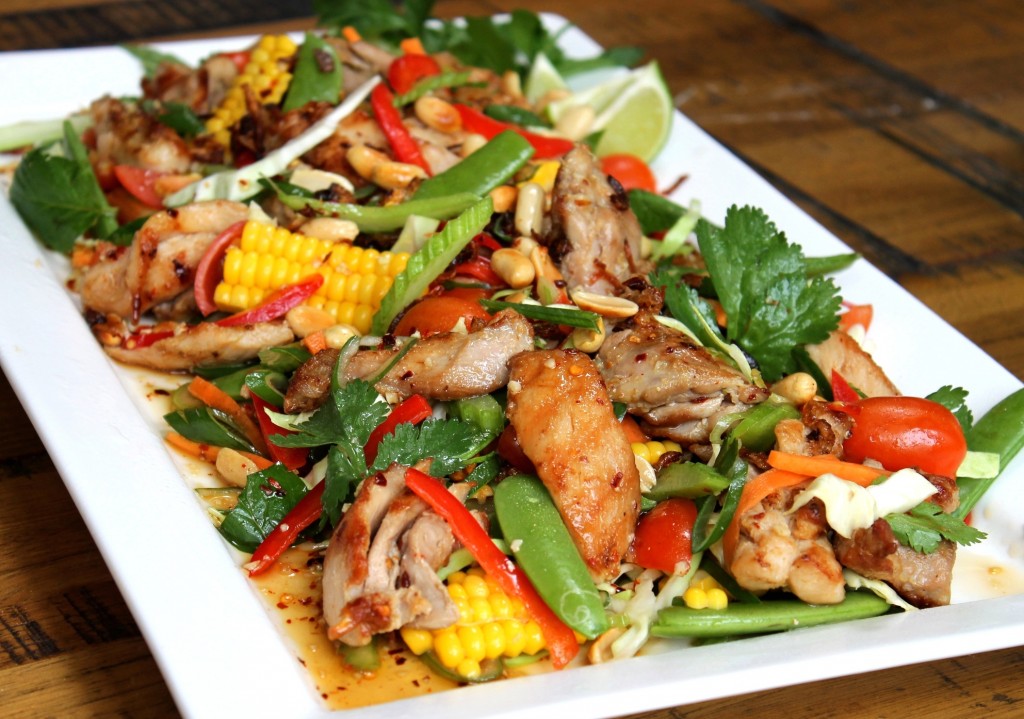 Sometimes when I eat a crappy boring salad, I realise why there's a saying 'You don't win friends with salad'. Salads need to be bursting with loads of different flavours and textures, and it needs to fill you up if you want to make a meal out of it (so to speak). Like this one! A chicken salad that's delightfully fresh, healthy, vibrant and tasty. You could swap the chicken for beef and sear it so it's still nice and rare if you like. And be flexible with the fresh salad ingredients – try and use what's seasonal, colourful and with a nice textural contrast.
I added fried shallots to the top of this one – just peel and thinly slice shallots, gently fry in some neutral oil over a medium low heat until brown and crispy, drain on paper towels and season with salt. Or just sprinkle with crispy noodles!
Ingredients
Chicken
800g chicken thighs, skinless and boneless
1 tbsp soy sauce (use gluten-free if needed)
1 tbsp ginger juice (squeeze the juice out of finely grated or chopped ginger)
3 tsp sesame oil
2 tsp ground cumin
Zest of 1 lime
Peanut or canola oil, for frying
Dressing
2 tbsp brown sugar
2 tbsp fish sauce
1 1/2 tbsp fresh lime juice
1 clove garlic, crushed
Big pinch chilli flakes or 1 chopped deseeded chilli (optional)
Salad ingredients (take your choice of some or all – or add anything else you like)
Finely chopped purple or green cabbage
1 avocado, sliced
Mung bean sprouts
Cherry tomatoes
Snow peas/sugar snap peas
Spring onion, chopped
Carrot, peeled and finely sliced
1 red capsicum, finely sliced
Celery stalks, chopped
Sweetcorn, steamed and kernels sliced off (or use tinned)
Cucumber, deseeded and sliced
Fresh finely chopped herbs – basil, mint, coriander
3/4 cup toasted peanuts or cashews
1/2 packet rice stick noodles or vermicelli
Method
Slice the chicken into chunks, place in a bowl with the rest of the chicken ingredients and toss to coat.  Set aside (for a few minutes, or as long as you can).
Mix the dressing ingredients in a small bowl and whisk to dissolve. Taste and if need be, add more sugar, fish sauce or lime until the sweet/salty and sour flavours are balanced to your liking for a dressing. Set aside.
Heat a little peanut or canola oil on BBQ grill or frying pan over a high heat, add the chicken when then pan is nice and hot, and cook until done, turning a few times.
Soak the noodles in a bowl of boiled water for 5-10 minutes until soft. Drain and arrange on the bottom of the platter.
Place all the salad ingredients in a bowl, toss with half the dressing and arrange on a large serving platter. Top with the chicken pieces  and nuts, and drizzle the rest of the dressing on top (it'll run down and soak into the noodles).